And Have Some Fun With Your Marketing
by Julie Escobar
Consistency is a powerful element in successful marketing. That's why so many of our clients wisely choose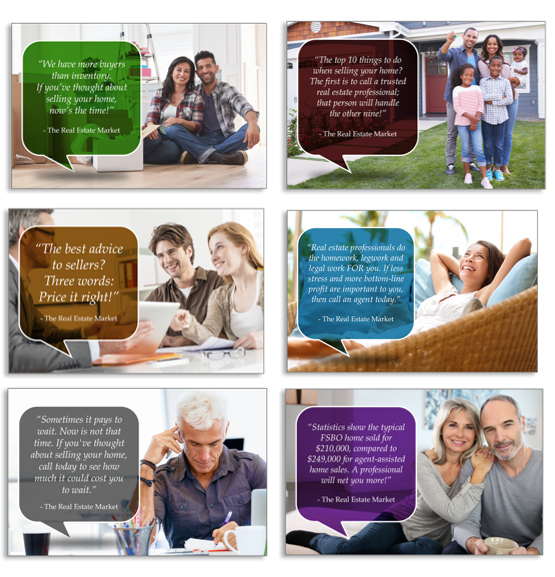 to pick a postcard series to stick with for three to six months at a time. It's also why you'll see this strategy play out in our Master Marketing Schedule. We pick a series and make the postcards from it a monthly tip for reaching out to the consumers in your marketplace to build your book of business.
This week's schedule strategy is to send the Waiting Could Cost You postcard from the Market Quote Series to at least 100 new prospects in an area where you want more listings. I love this series. It's simple and effective and gives potential buyers and sellers insights into what is happening right now in the real estate market.
If you've thought about using it, here are some suggestions for the copy on the backside of the card. 
Invite people to a real estate question and answer event. Have some fun with it.
Offer something of value such as a Comparative Market Analysis, Home Price Analysis, or a Free Report.
Share some hyper-local information such as listing and sale metrics, or even local event information such as school schedules, neighborhood event calendars, etc.
Share your personal insights on what people need to know about real estate on a local level.
Drive people to a blog post or social media page to learn more information.
Make sure you are writing your copy in a conversational and engaging way and don't be afraid to let your personality show through! Be sure to spell-check before you finalize your postcard, then place your order. (It's sometimes helpful to write out what you want in a Word document first and paste it into the system for less frustration and spell-checking.) Many of our top agent clients choose the first week of every month to spend 30-60 minutes to make sure their marketing is done and checked off the list for the month for each category of customers they want to reach or they break it down by week, based on the Master Marketing Schedule.  Be sure you are connecting with:
Need help putting your marketing in motion? Contact our team today at 866.405.3638! They are terrific at helping agents grow their businesses.