Door Hangers are the perfect tool for branding yourself as the neighborhood expert. They catch attention, provide the perfect reason for canvassing, and are an easy and effective leave behind.
Here are seven ways to SCORE BIG using Door Hangers.
1.  Content is key
The right door hanger for the right situation is key. Who are you trying to attract? Our Listing Inventory Series of Door Hangers are designed specifically to help agents find more sellers.
We also offer FSBO's Door Hangers and Expireds Door Hangers, which are handy to have in the car when you come across a FSBO that just popped up or see an expired come off the market that's close by.
In addition, you can use door hangers to brand yourself, spotlight a new listing, or advertise an open house.  The possibilities are endless.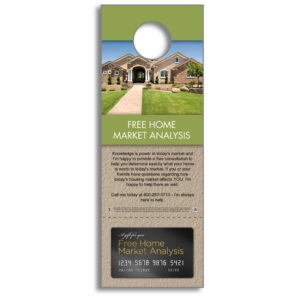 2.  Include a call to action
Often agents will put time and energy into getting their message right, then forget to tell their prospects what they want them to do next.  Always make sure there is a call to action that's simple and direct on your marketing pieces. For a memorable call to action select our Free Competitive Market Analysis Door Hanger.
3.  Know your neighborhood
Know how many homes are in the neighborhood you are canvassing. Then, based on the number of homes, come up with a strategic plan for conquering the whole area over time. An easy way to confirm how many homes are in a neighborhood is to use a tool available on our EDDM page (HERE). Once there click the "Get Started" link. On the next screen, there is a link to "choose your carrier route" this tool will allow you to find out how many homes are in a given area so you're sure to order enough door hangers.
4.  Keep them readily available 
Keep a variety of door hangers available to address different niche markets so you are prepared for any opportunity that might cross your path. Many agents stock their trunks with various materials including, objection handling brochures, extra business cards, listing agreements, presentation folders, and door hangers.  As the saying goes, "To be prepared is half the victory".
5.  Timing is everything
If you want to just get the hangers on the door without actually talking to many people, mornings (after people leave for work) are good.  If shaking hands and making connections with potential sellers and buyers is what you are after, then early evening after people have made their way home, is a smart choice.
6.  Blitz an Area
Take your team along and create a plan of attack that includes breaking up the canvassing in sections. Then blitz the neighborhood from all sides and begin the process of branding the area and officially introducing everyone to the new area experts.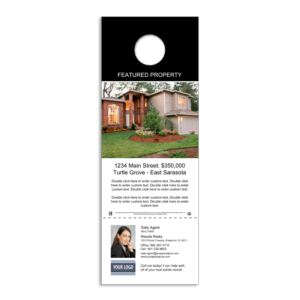 7.  The layered approach
Prior to delivering door hangers to a specific neighborhood or in conjunction with this effort, make a few phone calls, send some agent introduction postcards or a community newsletter.  That way when you are meeting face-to-face, your prospects will be more likely to recognize you as the 'neighborhood expert.'  If you're using the listing inventory door hangers, we have Listing Inventory Postcards that compliment them nicely. You can find them here.
Get prepared for your next FSBO sighting by ordering 100 FSBO Door Hangers today to have available to leave on the door of the next home you see with a FSBO sign.
Need help targeting the perfect niche of sellers? Use our mailing list tool to create the ideal list or call our support team for assistance at 866.405.3638!
PLUS: Get Instant Access below to 3 FREE tools that will help you CONQUER Your Market this year!
1. An Easy & Effective Agent Business Plan – Treating your business like a business it is crucial to your success. Our one-page simple, yet powerful agent business plan is the answer! – Click Here
2. Marketing Dollars Success Tool – Enter your numbers into our Free online calculator to find out how to get the best ROI from your marketing dollar, instantly! – Click Here
3. Get a 12 Month Expert Marketing Plan – Get a free 12-month plan for What marketing to do when. Four key target markets included, Niche Marketing, Listing Inventory, Geographic Farming, and Sphere of Influence – Click Here
Also…check out these cool tools created to make YOUR life easier 🙂
Turn One Listing Into Many – All From Your Mobile Phone, Click Here
Automatically Send Your Just Listed/Just Sold Postcards – Work Smarter Not Harder, Click Here
Become a Neighborhood Brand – With the Market Dominator System, Click Here