Proactive vs. Reactive Agents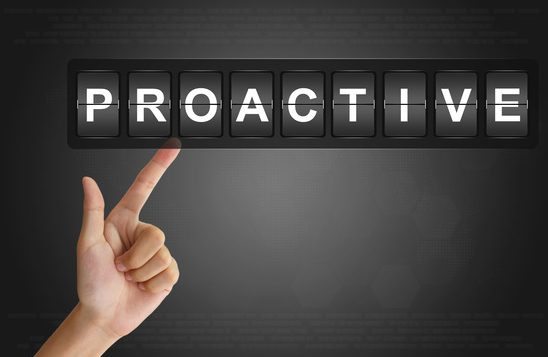 The Difference Between Calm & Commission Chasing
By Julie Escobar
One of the biggest challenges for people getting into the business of real estate is the fear of NOT knowing when they will get paid.  Commission only? Are you kidding me?  While that's a genuine concern when you're brand new and haven't learned the ropes yet, what's interesting is how many people are STILL unclear about when and where their next commission will come from though they've been in the business for years.  The common denominator for that dilemma lies in whether they take a proactive or reactive approach to their business.
First and foremost?  You are an independent contractor, and as such you are running a business entity, so treating it as such is more than common sense – it's a must.  Proactive agents know where their leads are coming from because they are putting systems in place to ensure that they are marketing themselves in the areas that matter most such as:
Their sphere of influence: Those folks that already know them, like them, trust them and would do business with them. They know that if they stay in touch monthly, contact regularly, and make these VIPs a priority, they can expect a referral, listing or sale from one in twelve each year. (Marketing methods of choice: Newsletter, Holiday Postcards, Recipe Cards, Content Cards, Annual Customer Appreciation events, and a phone call or visit at LEAST twice per year.)
Their geo farm: The market area they most want to dominate. Smart agents choose a neighborhood that already has some turnover, does NOT have another agent with the substantial presence or market share, and has a price point that makes sense for them to invest in marketing. (Marketing methods of choice:  Market Dominator, Just Listed/Just Sold postcards, Open Houses, Neighborhood Update/Free Offer Series and farm canvassing at least three times per year.)
A niche: That tribe of people or customers you most like to work with.  Maybe it's first time home buyers, or seniors, or medical professionals, or boaters. Whatever group you feel connected with – make yourself known as the go-to agent.  (Marketing Methods of choice, Newsletters, Lifestyle Interest Postcards and attending or sponsoring events specifically targeted to that niche.)
Lead generation: Continuously casting new nets for new business as well as constant prospecting the three segments above. (Marketing Methods of choice: Reaching out to local businesses for networking and referrals, partnering with local PTAs and sporting teams, using Every Door Direct Mail to market to blanket a new carrier route, Listing Inventory postcards.)
These agents aren't shy about sharing their success rates either.  They use social media wisely, are active and visible in the communities they service and they broadcast their results via Just Listed/Just Sold postcards and online announcements.  Examples: Sold in TWO days!  Was on the market with another agent for six months. Now sold in just one week!
Reactive agents? Pretty much none of the above. They spend the bulk of their time working with buyers and usually only actively seek a new listing once the one or two they have in inventory sell.  I love what Darryl Davis shared in his last article with us.  "It's no longer listings are the name of the game – it's listing INVENTORY is the name of the game."  He compares it to owning a shoe store and having no shoes left to sell.
Bottom line: When you are reactionary, as in, "I have no income coming in – let me go take a listing now," your life is stressful. You worry about providing for yourself and your family.  You aren't sure if you need to go "get a real job".
When you are proactive, you make marketing and prospecting part of your daily routine.  You KNOW your numbers.  "I need to speak with X number of people each day to get X amount of appointments, to do X number of listings, X amount of sales, and X number of closings."  You use time blocking to prioritize your time and activity. You use systems to automate your marketing or simplify the processes.
If you're a brand new agent or are an agent that needs less stress, more business and are ready to get to the next level in your career – kick that reactive stuff to the curb and jump in with a proactive plan to build your business.
Need help working with your sphere, farm or niche? We've got everything you need to succeed at www.prospectsplus.com or call our team at 866.405.3638.