Insights from Helene Nunez
by Julie Escobar
We seriously have the best customers. They are always so generous in their willingness to share ideas, experience, and strategies with our readers. I loved the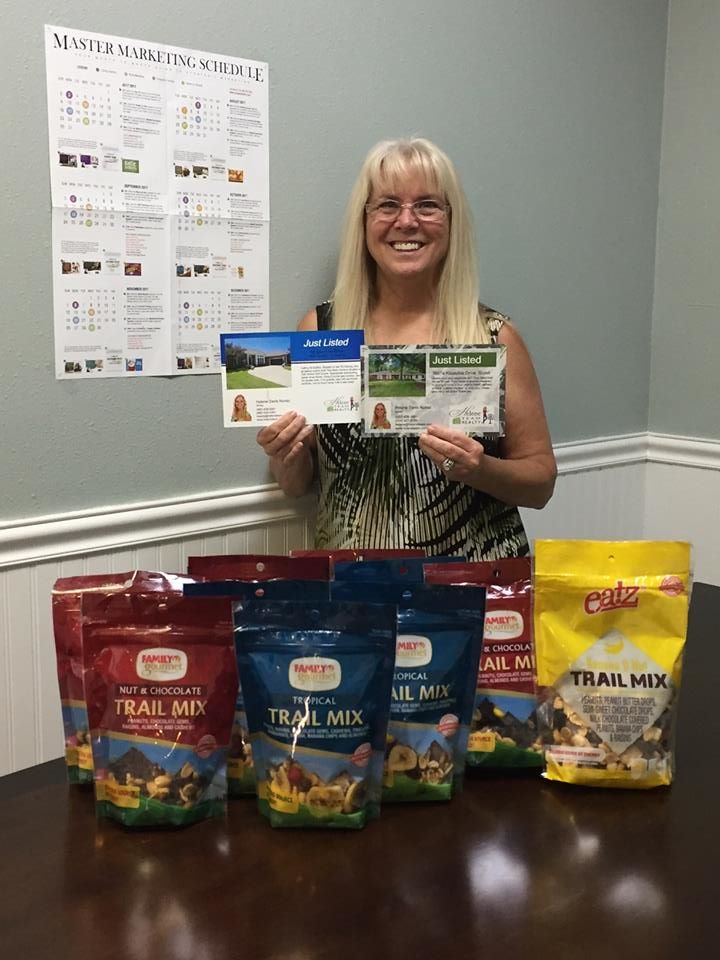 spirit of one of our customers who recently jumped into the $10K Realtor Contest with a fun entry, who turned one Master Marketing Schedule idea into an exciting and fun opportunity to reach out to some of her current clients. Meet Helene Nunez and see what SHE'S doing to shake things up in her market!
Q:  Thanks for sharing your ideas with us! Can you first tell our readers a little about yourself?
A: Sure, I am a mother of three daughters and two stepdaughters, and I am so blessed to have 12 healthy grandchildren. I am a native of Tampa, Florida, where Irma just paid a visit! I am so thankful my family is all safe. I am a family of seven. I have two older brothers, then me, then two more brothers, then two sisters. (We are all a family of workaholics!) My Mom, Abby, and stepdad, Bob, came here to Louisiana to avoid Irma. My mom is/was a licensed broker in Tampa, and if truth be known, she could sell ice to an Eskimo!  My sister Paula is also a Realtor in Tampa. And she is super amazing and is a true workaholic, like me! I moved to Louisiana in 1995.  I started real estate in 2003 with Keller Williams, then three years later opened Helene Team Realty. I was very nervous taking the broker exam, and I told my two clients that wanted me to list their home that failure is not an option. I had to pass this broker exam, and God was with me, and I passed!  I always wondered what I wanted to do when I grew up, and in my very first week of being a Realtor, I KNEW I'd found my calling. I was terrified, but absolutely love what I do.
Q:  I loved that you took on one of the fun Master Marketing Schedule tips and chose the Trail Mix Day! How fun is that?  What made you choose that and what kind of reaction did you get from clients?
A: Well, when I saw that it was National Trail Mix Day, I thought, I can do that! So, I went out and purchased several bags of Trail Mix, and took it to the clients I was currently working with, and man, oh man, they were so excited! And, their excitement, made me realize even more that I found the right company to work with. I love your ideas!
Q:  What do you like most about the Schedule and what, if anything, surprised you about it?
A: I was totally surprised by most of the ideas. Man, they are fantastic. I love the schedule because it gives me ideas that I could not possibly think of myself. What great inspiration.
Q:  What's most important to you in terms of staying top of mind with your sphere of influence and farm area prospects?
A: Staying top of mind with your sphere is everything. It is so important. If you don't stay in touch, your past client can and will buy from another agent. Real estate is about building long-standing relationships. You see, you want to sell to your client, and when done the right way, then, they refer their family, friends, and even their children to you when they come of age!
Q:  So many agents struggle to market because they never put a database together. What advice would you have for them?
A:  No database??? You have to have a database to build your business. That is the most basic need. And, be sure to feed it daily. And, one day when you retire, you will actually have a business to sell.  Your book of business IS your database.
Q:  How often do you personally connect with your sphere?
A: I try to contact my sphere four times a year. Some have moved and have different addresses, and some have changed their cell phone numbers, but I drive by their house and drop off a little gift. Maybe some fresh baked cookies, or a treat of some kind. But it is so important to stay top of mind with your sphere.
Q:  What expert advice would you have for agents just beginning to brand and market themselves in an area?
A: In order to grow your business be consistent. Start with a database. That IS your business. Educate yourself. Knowledge is power, and the more you know, the more you can protect your clients' interest. Yes, it takes time and money. But, if you stay disciplined, the money will follow and you can build a great business.  I'd also like to share one of my favorite quotes by Albert Einstein: "Strive not to be a success but rather be of value."  If being of value is your focus, success will follow.
Q:  If agents have a referral for you, how can they reach you?
A: The best way to reach me is by my cell phone 504-427-6183. My office number is 985-639-3991. Email helene@heleneteam.com and my office is in Olde Towne Slidell, 2010 First Street, Slidell, LA 70458.
Thank you so much, Helene! You're awesome! If you are a customer and would like to share ideas of your own, please contact me today to set up an interview! I can be reached at julie.escobar@prospectsplus.com.
Be like Helene! Jump into the contest!  
CLICK HERE TO LEARN HOW YOU CAN WIN $10,000.