How to Stay Top of Mind All Season Long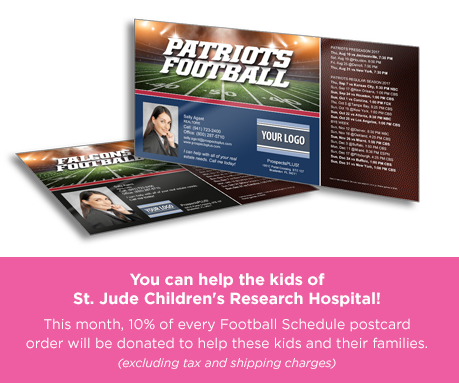 By Julie Escobar
UPDATE: There's just about a month left to order your football schedule cards BEFORE the first official game of the season, and time is running out on our St. Jude promotion. From now until September 15th, we'll donate 10% of every football schedule postcard order (excluding tax and shipping charges) to the kids and families of St. Jude Children's Hospital.
Why should you order? Legions of fans from coast to coast are gearing up for the famous battle cry – "Are you ready for some FOOTBALL?"  Even if you're not a fan, you have to appreciate their enthusiasm-right?  You also should appreciate the excellent opportunity to get your name, contact information and offer into the hands (and on the refrigerators) of local fans in your market ALL SEASON LONG with fun, game-changing football schedule cards!
These handy handouts are an agent favorite this time of year. Why?  Because they are TIMELY and results producing – and most importantly, consumers keep them, share them and sometimes even ask for more!  They are a great way to be remembered and considered a resource.  And that is a winning combination in today's competitive market.
AWESOME AGENT IDEA:  Love this idea from one of our customers, Michael Fraga, who shared the strategy he used: "I ordered 200 of the football magnets to place in the community, and boy was the response overwhelmingly positive. I was reached out to by phone, text, and email, thanking me for the magnet, which I'm positive went on their fridge, and needless to say, this is going to be an annual mailer! Plus, I downloaded the PDF and put it on my Real Estate Facebook page, offering to mail one to anyone who didn't receive one and would like to be added to my mailing list. I receive 8 requests in two days, 5 of which I don't even know, and I also had two customers ask for cards and marketing material to send me referrals from their client base!"  Awesome idea Michael!
Here are three ways agents are using these terrific football schedule postcard tools:
They're mailing them to their sphere and geographic farm area.  That keeps them top of mind with the clients and prospects that they are most focused on gaining business and referrals from.
They're ordering MAGNETIC versions of them.  Then either hand-delivering them to their sphere and farm areas or placing in envelopes with a note to their top customers.
They're using them as give-aways.  The magnetic versions of these are best – but a printed shell postcard does the trick as well for great give-aways at open houses, local coffee shops, community events and even local businesses that you're networked in.  It's a win-win! If you are ordering the magnet postcards use promo code SUN10M to save 10% off your order (excluding postage). 
Affordable, timely and simple-to-order, you're certain to score big with those in your market area with these football-friendly tools!  So if you're ready for some football – and some referrals – click here to see the wide spectrum of game-day team schedules!
REMEMBER — From now until September 15th, we will donate 10% of EVERY football series postcard order to St. Jude Children's Research Hospital!  Help us help the kids — and stay top of mind all season long! 
And if you need help with these or any of our marketing products – just call our terrific customer care team at 866.405.3638.  They're happy to help!