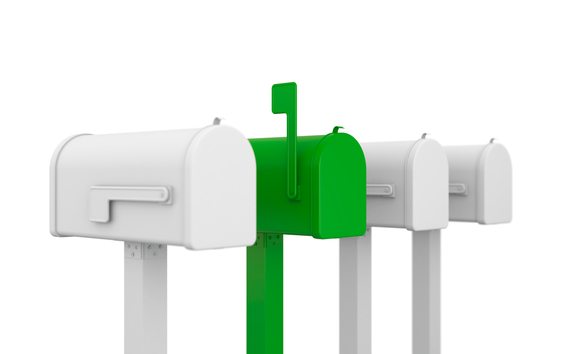 Getting the Inside Scoop to See If EDDM is Right for YOU and Your Business

By Julie Escobar
Wow.  We've had a lot of calls recently about this powerful (and affordable) service now provided by the U.S. Postal Service.  It allows you to literally get in EVERY DOOR in a geographic area for as low as 18.3 cents in postage per piece.  But there are a LOT of questions out there – and a lot of folks unsure about which way to go in terms of getting their message in the right hands to help brand themselves in a market.  So I put on my fact-finding hat so that I could give you guys the inside skinny on some things you need to know about this service to determine if it is really right for you.
Fact #1:  According to direct marketing statistics, businesses which get the majority of their clients from within a 3 mile radius of their office are:  REALTORS®, mortgage brokers, insurance agents, dentists, chiropractors…(the list goes on – but did you catch that first one?) Love that!
Fact #2:   This is the most cost-effective means to deliver your message to an ENTIRE market area.  As a SATURATION mailing tool – you can literally send up to 5,000 pieces each day (to be delivered to EVERY SINGLE mailbox on your chosen carrier route) still pay no more than 18.3 cents in postage per piece.
Fact #3:  There is no postage permit necessary – only the required indicia which is fairly small needs to be placed on your mailing piece.  (We've got that for you- no worries!)
Fact #4 – You don't need a mailing list.  This is a biggie!  One of the toughest components that agents find in building their book of business is developing their LIST.  While it IS one of the best practices you can ever do to build long-term referrals and keep your customers and clients calling YOU back for the duration of your career – it is a stumbling block for many.  So while you're waiting to get your list together (go ahead and hire a broke college kid to start data entry today – they need the money and you need a database!) – the EDDM™ system is the perfect way to start branding yourself and discover NEW PROSPECTS to put into your sphere!
Fact #5:  You can send standard mail flats, irregular parcels, periodicals, and bound printed flats.  But – your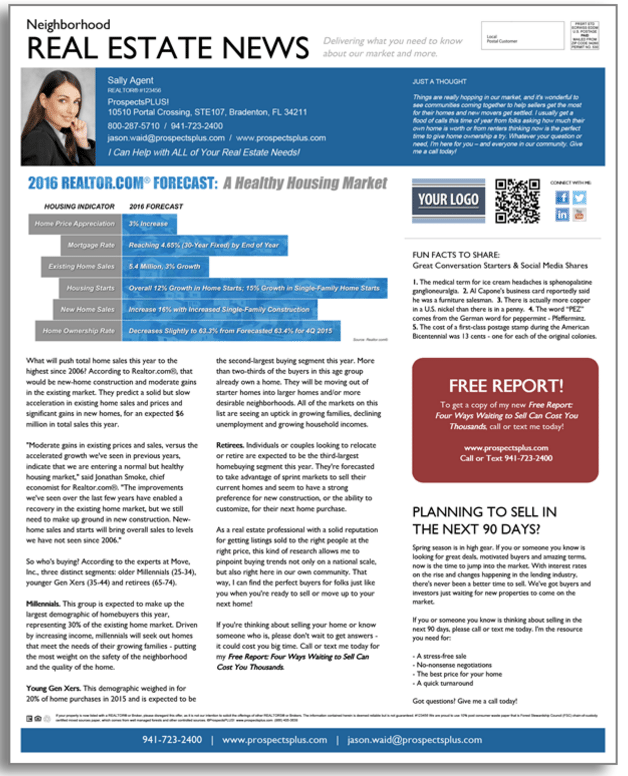 mailing piece cannot be more than 15′ long, 12′ high and .75′ thick.
Fact #6:  The common mailing pieces for EDDM™ used by REALTORS® are newsletters, open house postcards, just listed postcards, just sold postcards, introduction/neighborhood specialist announcements or workshop invitations (first time home buying seminars, short sale seminars, workshops for seniors, renters. buy workshops, etc.)
Fact #7:  You can select whether or not you want your mailing delivered to P.O. Boxes and Farm mail routes!
Fact #8:  Your mailing will saturate every consumer within your carrier route AND  it can also include delivery to businesses.  However – you CANNOT just send to businesses.
Fact #9:  When choosing your carrier routes – remember to choose WISELY.  With this system – you must mail to EVERY home on the carrier route.  So it's important to look at the market you want to saturate and budget accordingly.  If your route has 1,000 homes in it – then you'll need to provide mailings for every home.  The average carrier route has about 250-500 homes in it.  When using the carrier route selection tool from USPS – we always recommend 'de-selecting all' first – when you get to that screen so it doesn't pull up every route in your zip code (that can be a little intimidating!)  Then, based on YOUR budget, you can choose the carrier routes in your market with the number of homes you can comfortably afford to send to repeatedly.
Fact #10:  To piggyback on #9, while this is a much more affordable mailing option for most agents,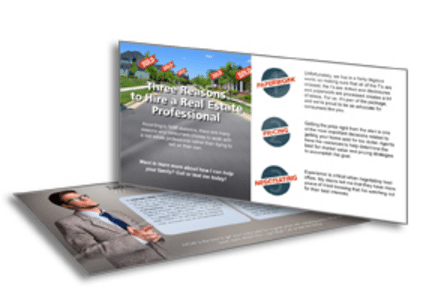 remember this is still direct marketing.  So if you can only afford to (or care to) send a mailing ONCE to an area – then it will more than likely not glean you the results you are looking for.  Keep that 3-7-27 rule in mind.  It takes 3 impressions for someone to recognize your name, 7 impressions to put your name with your business and 27 to become a 'top of mind' brand name in someone's head.  So better to mail to 300 people ten times for example than to send one mailing of 3,000 if you want to build that awareness and trust.
Fact #11:  You'll need to include a form (PS Form 3587) with your mailing that identifies the carrier routes, number of homes in the route, etc.  It's a government form so – while it's a little mind-boggling – it's not too bad!  (And with our service we'll even fill it out for you so no worries!)
Fact #12:  Your mailers have to be bundled and banded in groups of 100 and include a "facing slip" on each bundle.  So that's not a lot of fun – but again – we do that for you if you like.  Besides – you've got to think about those delivery folks!  Can you image if you gave them one giant stack?  Yikes!
Fact #13:  If your best target market is actually in other cities or states, you can use Priority Mail® to ship your Every Door Direct Mail mailings to the Post Office in that area.  How cool is that?  This is especially helpful if you are working with vacation properties or investors.
Fact #14:  You have OPTIONS.  Whether you're an all-hands-on-deck kind of person and want to do everything yourself or whether you just want to choose your mailing piece, pick your routes and have the rest all done for you – we've got a solution that works for you, your market and your budget.  Learn more about how Every Door Direct Mail – just click here!
Fact #15:  You don't have to do it BY YOURSELF.  The truth is, this is an exciting and affordable opportunity to saturate a market with your message but there are variables, budgets and geographic areas to consider.  Sometimes (all right – most of the time) it's good to have another person to help walk you through the process.  Our EDDM specialists have the experience and knowledge to do just that – just give them a call at 866.405.3638.  They're happy to help. 
Hope that helps!  Happy marketing!