The Sum of Small Things

by Julie Escobar
The market is hot and competition is hotter.  One big secret to success is to stay top-of-mind with your book of business.  And while that doesn't have to be a HARD process – it does need to be CONSISTENT.  That got me thinking about one of Floyd Wickman's quotes, "Great results are the sum of small things, done well, repeatedly."  Boy isn't that the truth?  I once asked Floyd to expand on that a little for us – and here's what he had to offer:  "That's one of my favorite sayings too, and it's so true.  In fact, nothing defines that more than a commissioned salesperson picking up the phone and making a simple call to folks in their book of business—even if for no other reason than to say hello.  There is no higher thing they can do to shift their results in this business than to create those conversations.  In fact, in our courses we teach agents that for every 12 conversations they have, they can expect a referral.  To me, that's the number one way to stay top of mind AND build your business."
Great advice.  Floyd also shared that you can't 'nurture' everyone.  So every agent should have two lists – one which is their book of business – those folks you are building a relationship with over time.  Your second list should be your database. That's a list of everyone who's ever inquired, been on your mailings lists, or internet leads that you can send drip campaigns to until they are ready to make a move. Your database is your least expensive list to market to – but it also yields much lower results than your book of business.
So number one?  Take Floyd's advice.  Pick up the phone to everyone in your book of business.  Decide how you want to break that up – 10 a day, 20 a day or as Floyd used to say, "Call until you get one."  Block off that time just as critically as you would a listing appointment – because it IS that critical.
Number two?  Get out of stealth mode. I can't tell you how many agents rarely leave the office or their homes but call us to say – how can I get more business?  Get OUT there in your community and get noticed!  Take part in charity drives, school events, and host Q & A sessions at the local library or coffee shop.  The more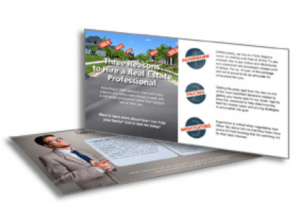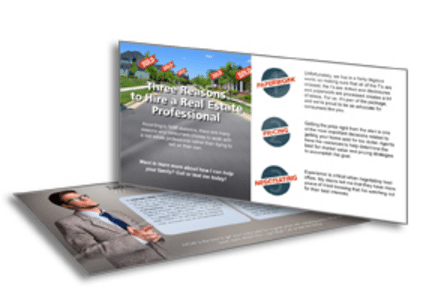 VISIBLE you are – the more likely people are going to say YOUR NAME when asked if they know anyone in real estate!
Number three?  SEND them something tangible.  For all the obvious reasons, we're fond of direct response mail postcards– because they are easy to order, quick to send and don't take up a lot of your valuable face-to-face or voice-to-voice time with prospects and those in your book of business or sphere.  Monthly holiday cards, recipe cards, newsletters, or our content cards are a great 'touch' each month that are budget-friendly, can be ordered in minutes, and allow you to stay top of mind.  Keep things mixed up as well. Check out our Master Marketing Schedule if you haven't already for some creative and way outside the box ways to get in front of your clients in ways that are sure to have you REMEMBERED!
Number four?  Be HYPER-LOCAL.  There's a reason this term is all the buzz right now – it's because it is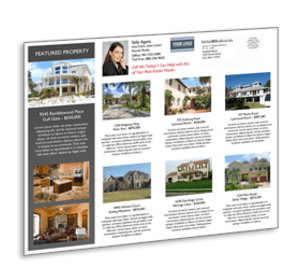 EXACTLY what consumers are looking for in their resources. Home buyers and sellers need to know what is happening right there in YOUR market – rather than just get sucked into the national news of what's happening nationwide or even globally.  What are prices doing in their neighborhoods?  What's happening in the schools in your area?  What new businesses are coming in or closing?  Who are the trusted resources, business or service professionals in YOUR area that they can call.  Start being the one to consistently deliver THAT kind of information – and your name, brand, reputation and referrals will skyrocket.
Number five?  Expand your reach.  If you're not saturating the neighborhood or market area you want to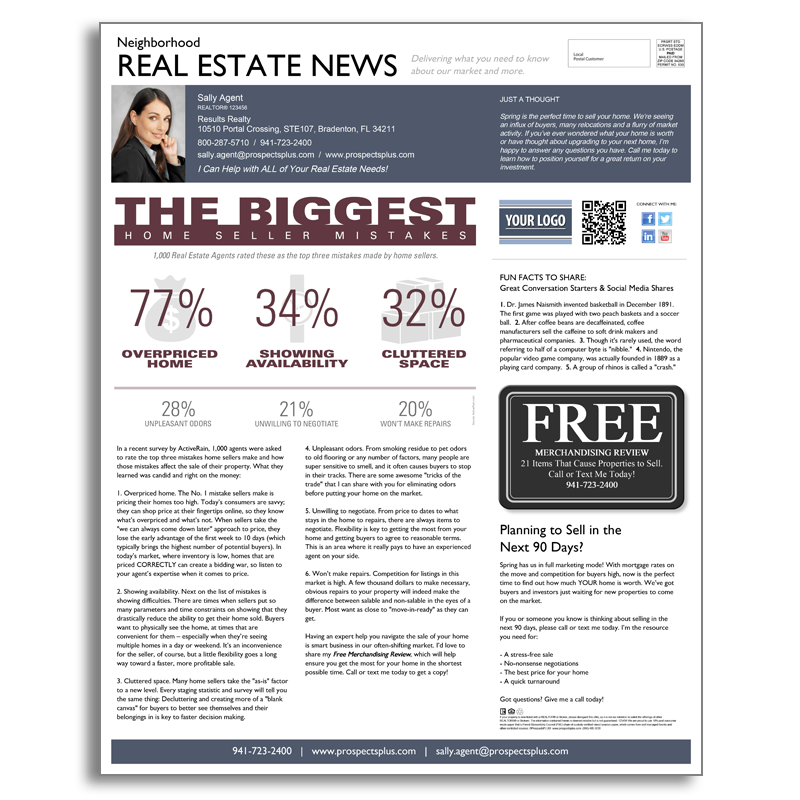 dominate, then turn to Every Door Direct Mail (which gets you literally into every mailbox).  Our Market Dominator System is becoming quite the differentiator for agents across the nation.  In fact, one agent just shared this experience with us, "The monthly ordering process is easy. Some months I simply upload my photo and company logo and submit the already created newsletter. Other times I customize it. Either way, the newsletters are distributed to 527 of my neighbors. Over the 11 months since I started, the EDDM marketing pieces have resulted in 5 listing appointments. This month, I have a seller preparing their home to list with me and received a buyer referral from a neighbor who receives my newsletters. It's great to see some fruit from the seeds I planted." Our advice? Follow his lead and plant those seeds! 
Now, what are you waiting for?  Get out there and start getting your name, business and face recognized as the incredible real estate resource you are!  And if you need help – give our team a shout at 866.405.3638 for systems that can help you do all of that and more!