Win Them Over With Mortgage Savvy
Remember real estate school? What fun it was to learn about such thrilling topics as riparian rights, avulsion, and tenancy by the entirety. Unless you were planning on selling ranch, investment or water-front property, these topics were quickly pushed to the back of your mind once you got your license. Then came the real learning: how to generate leads, work with buyers and sellers and the anatomy of a mortgage.
While you may have had a broker or mentor who walked you through the fine art of generating leads, the mortgage process is typically something we learned on our own, piecemeal.
If, as newbies, we were confused over the mortgage process, think about how clueless your first-time buyers might be.
Get them up to speed
Only 30 percent of them are familiar with the mortgage process according to a Consumer Financial Protection Bureau (CFPB) and the Federal Finance Housing Agency (FHFA) survey. That's a whole lot of buyers who are blindly entering a huge financial transaction.
The mortgage profession, like real estate, boasts a workforce with a variety of backgrounds, education, skills, and experience. Like our industry, there are those who work hard at providing customer service and there are those who seemingly couldn't care less.
Sadly, as they do when choosing a real estate agent, the vast majority of homebuyers (77 percent, according to the survey above) choose the first lender they speak with.
This offers the customer-service-oriented agent a brilliant opportunity. Make explaining the mortgage process, from start to finish (and in plain English) a part of your buyer consultation meetings. It's customer service on steroids.
Go beyond referring your clients to a lender
Surf the internet for home buying advice and agent websites typically offer some form of "See a lender." This is skimpy advice that adds nothing of value to the reader.
Providing answers to their most frequently asked questions is valuable. What does DTI stand for and how is it determined and what role does it play in the mortgage process? Explain what "mortgage origination" means. What are "discount points?"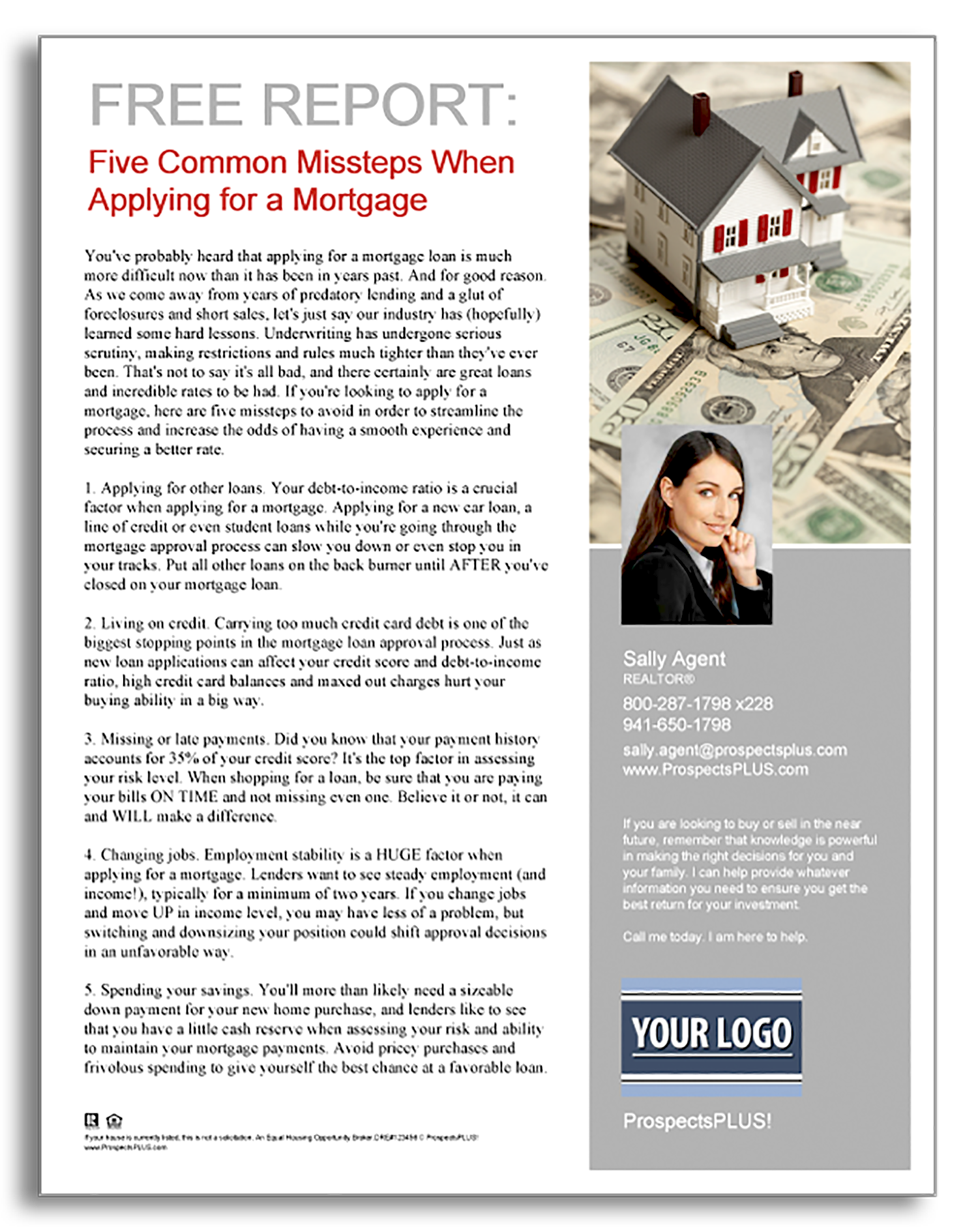 Explain the different players who work behind the scenes for a typical borrower. For instance, what does an underwriter do? An infographic or even a text walk-through of the life cycle of a home loan could do the trick here.
And, don't neglect counseling your buying clients about protecting their credit during escrow (not making large purchases on credit, not changing jobs, not moving money around).
How to get the word out
While a basic explanation during your buyer consultation is a must, your website is another vehicle for spreading the word about the mortgage process. From articles in the "Buying" or "Financing" section of your site to blog posts about different aspects of mortgages (down payment assistance, what to expect at closing, etc.) can all help educate your client.
Getting back to the buyer consultation: use handouts to cut down the amount of time it takes to explain the mortgage process. Start with an explainer sheet or infographic that walks them, step-by-step- through the process. Include a glossary of mortgage terms that they can refer to when needed.
Include a page on various mortgage programs, such as FHA, VA and USDA and another on down payment assistance programs in your area. Then, package them all up in one of our presentation folders for them to take home with them.
Explaining the mortgage process to your buying clients does more than add to their customer service experience. Knowing that they need to hold off on that appliance-shopping trip to Lowe's or Home Depot prevents a common mortgage disaster.
Also, knowing what to expect during the process allows them to relax into it. And, we're sure you'll agree that relaxed clients are the easiest to work with.
Order the Free Report Chop $24,000 Off Your Mortgage and give out everywhere as a Free Offer on your direct mail pieces, at Open Houses, and in your community.
Make sure everyone knows who the expert agent is who will be there for them, answer ALL their questions and guide them in the right direction.
Need help targeting the perfect niche of buyers or sellers? Use our mailing list tool to create the ideal list (it's easy) or call our support team for assistance at 866.405.3638!
PLUS: When you have time…here are 2 free ways we can help you CRUSH IT in 2018!
1.  The 12 Month Done-For-You Strategic Marketing Plan.
The Real Estate Marketing Planner is a powerful 12-Month-Guide that strategically defines what marketing to do when. Four key market segments are included, Niche Marketing, Listing Inventory, Geographic Farming, and Sphere of Influence – Click Here
2. The Free Online ROI Calculator. 
Consistency and automation are the keys to success. Discover how effective direct mail marketing can dramatically increase your bottom line. Enter your statistics in our Free online ROI Calculator and click the 'CALCULATE MY ROI' button to see your results instantly! – Click Here
Also…check out these cool tools 

 Three Click Postcards – Just snap a home photo & create a postcard all from your mobile phone
MLSmailings.com – Automated Just Listed, Just Sold Postcards
Market Dominator System – Become a neighborhood brand
Want to Refer a friend or colleague? Refer them, Here. THEY get a Free $25 Gift Card and YOU become their hero. BTW, you also get a $25 Gift Card too (now that's what I'm talking about)!