The Strategies That Make it Easy
The reason most FSBOs have decided to try and sell themselves is usually they are eager to save money. Many also don't trust agents due to a bad experience from their past.
Therefore, it is your job to slowly earn their trust over time by demonstrating how your expertise can be of help.
How you accomplish this is through consistent communication, professional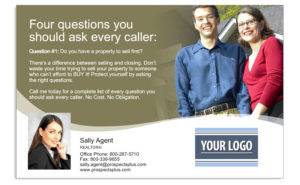 marketing, and effective presentation tools.
Compelling marketing
Getting the attention of a FSBO can be challenging. Often their guard is up and they aren't open to talking to agents.
The FSBO Postcard Series is an ideal way to communicate and educate by sending a series of targeted postcards over time raising questions that will compel the seller to call you for help.
In addition, for that spontaneous FSBO drive by, keep a stack of FSBO door hangers on hand in your car trunk for a quick leave behind any time you see a For Sale By Owner sign.
Furthermore, providing an offer for a Free Report in all of your marketing creating a reason for them to contact you. The report, For Sale By Owner FSBO First Aid Information, contains persuasive statistics and in-demand content that will peak the seller's interest and open their mind to an agent solution.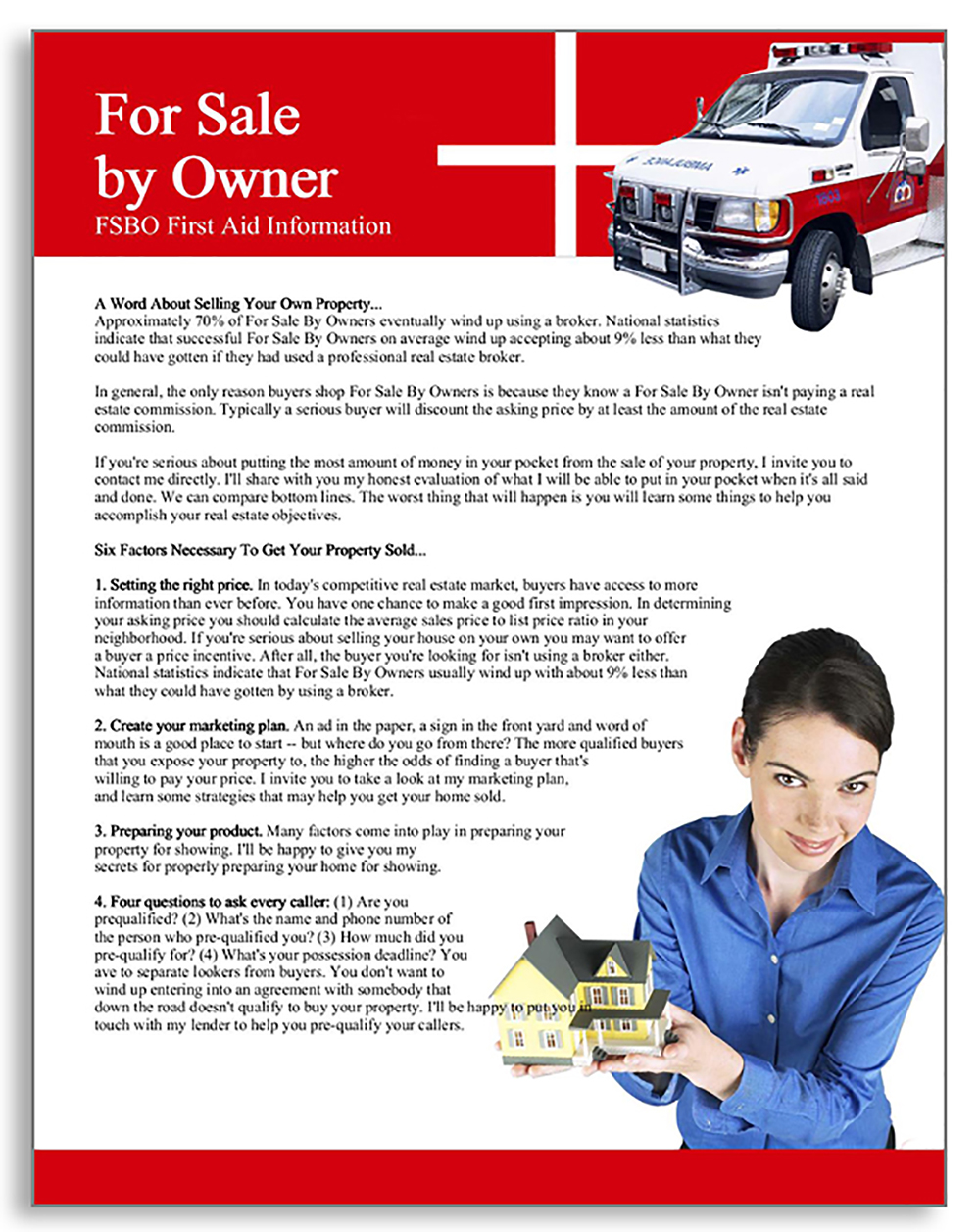 For Sale By Owner FSBO First Aid Free Report
Many FSBO homes probably are overpriced but surprisingly with the information available on the internet, many get close to the right price. However, more often than not, they still don't understand they can likely get more for their home using a real estate professional.  
The biggest reason this is true is the exposure an agent can create for a property as opposed to what a FSBO can do on their own. An agent enters the property into the MLS where it is broadcast marketed via the paper, home guides, a wide range of internet sites, and to other agents. This creates greater property exposure and more competition leading to a higher selling price.
The Merchandise Review
A great strategic tool that allows you to walk sellers through all the components of the salable listing is the Merchandising Review. It even helps to answer some questions before they're raised. The Merchandising Review is available as a Free Download Here.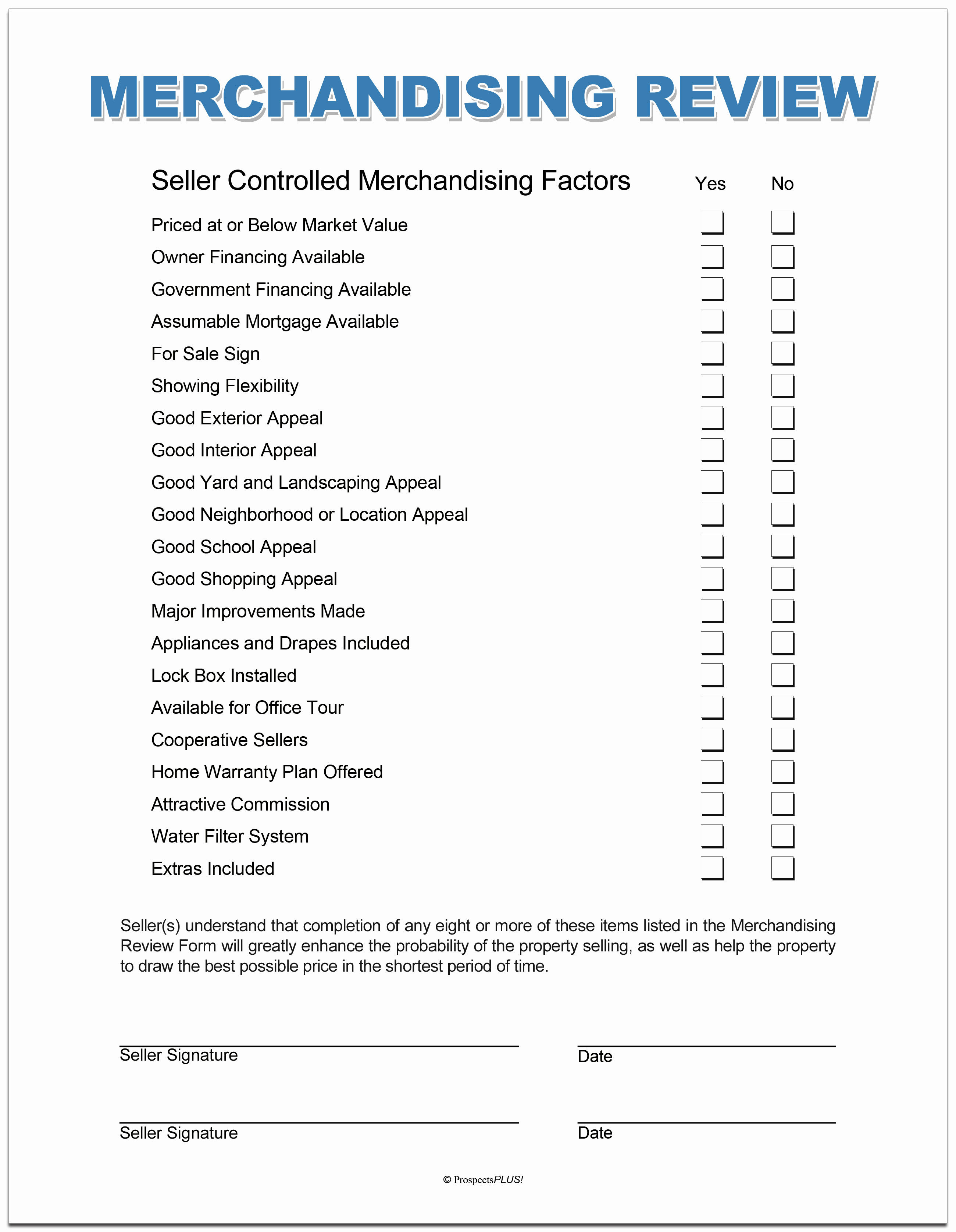 As soon as you see a new FSBO, contact them to offer to complete a 'no obligation" Merchandising Review. Explain the tool allows you to make a comprehensive analysis of whether their home is salable in today's market. Then schedule a 20 minute time to meet with them to go over the Review.
Walk them through each item and negotiate the issues that might keep the property from selling.  Correct these issues, and ask if they would allow you to show them your marketing plan.
The key to success
The truth is most FSBOs do end up using an agent.  According to NAR, statistics show only 8% of the homes sold are FSBOs. And 31% of FSBOs don't market their properties. They need someone like you to lend your expertise for a headache free sale that achieves the most money.
Other tasks that NAR has shown are difficult for FSBOs include: pricing the home right (18%), preparing the home for sale (13%), understanding the paperwork (12%), helping the buyer obtain financing (6%), timely selling (3%) and time to devote to the sale (3%).
FSBOs really are the "low hanging fruit" but the keys to success is consistency and timely communication. Most deals are sealed after the fifth contact. Know your business and your market and you'll create a presence as the expert in your market for FSBOs.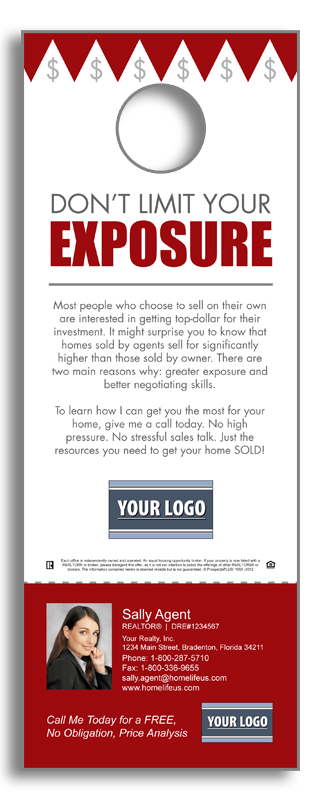 Get prepared for your next FSBO sighting by ordering 100 FSBO Door Hangers today to have available to leave on the door of the next home you see with a FSBO sign.
Need help targeting the perfect niche of buyers or sellers? Use our mailing list tool to create the ideal list (it's easy) or call our support team for assistance at 866.405.3638!
PLUS: When you have time…here are 2 free ways we can help you STILL CRUSH IT in 2018!
1.  The 12 Month Done-For-You Strategic Marketing Plan.
The Real Estate Marketing Planner is a powerful 12-Month-Guide that strategically defines what marketing to do when. Four key market segments are included, Niche Marketing, Listing Inventory, Geographic Farming, and Sphere of Influence – Click Here
2. The Free Online ROI Calculator. 
Consistency and automation are the keys to success. Discover how effective direct mail marketing can dramatically increase your bottom line. Enter your statistics in our Free online ROI Calculator and click the 'CALCULATE MY ROI' button to see your results instantly! – Click Here
Also…check out these cool tools 

 Three Click Postcards – Just snap a home photo & create a postcard all from your mobile phone
MLSmailings.com – Automated Just Listed, Just Sold Postcards
Market Dominator System – Become a neighborhood brand
Want to Refer a friend or colleague? Refer them, Here. THEY get a Free $25 Gift Card and YOU become their hero. BTW, you also get a $25 Gift Card too (now that's what I'm talking about)!