From the Master Marketing Schedule
by Julie Escobar
Build your collateral collection. Choose four or five of your favorite Content Cards, and have 25 of each shipped to you. There are more than sixty to choose from on a wide variety of consumer-friendly information. These panoramic-size postcards are perfect for helping you stand out as a resource that home sellers and buyers can turn to in your market.
Where can you use them?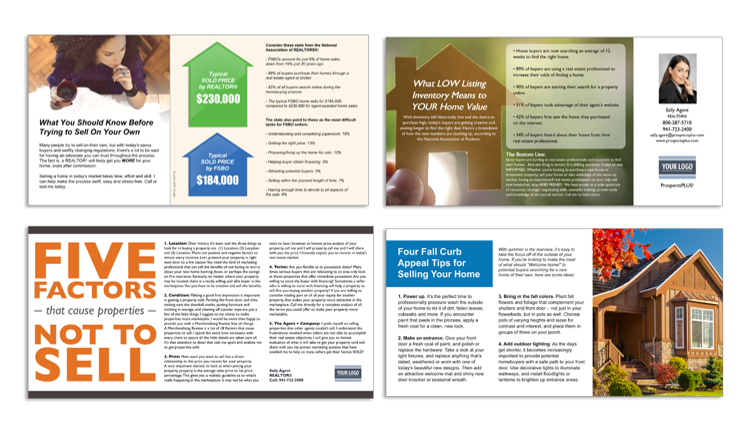 Open houses
Add to your pre-listing packages
Collateral for buyer or seller workshop
Client pop-bys
Geo farming hand outs
Ask if local offices or car dealerships will let you leave some behind in waiting rooms
For any ship-to-you postcards (other than EDDM), this month use promo code AUG10SH to save 10% off your order, excluding postage.
While you're on the site – peruse the free reports that are easily downloadable as pdfs for your site and social media content you might like to share!  Find them all here. 
Collateral tools such as free reports and content cards provide great visuals when presenting and as objection handlers. When working with consumers, often you'll have both analytical customers as well as those who respond to visuals. The content gives you the analytic information you need, and the tangible piece gives you the visual. Both go a long way towards lending authority to you as a sales professional.
Oh — and as a reminder… As long as you're ordering shipped-to-you material, you might want to get your hands on some Football Schedules with magnetic backs. They are a hot-ticket item this time of year, and right now they are helping us help the kids and families of St. Jude Children's Research Hospital!
From now until September 15th, we will donate 10% of EVERY football series postcard order to St. Jude Children's Research Hospital!  Help us help the kids — and stay top of mind all season long! Click the banner below to get started!

Good luck this month and happy listing! We're here if you need us. Call our marketing team at 866.405.3638 if we can assist you in any way!