How You Can Beat the Odds
By Real Estate Speaker and Trainer Todd Robertson
There are many factors that lead to success in this business, and of course, many that can stop an agent in their tracks. This week, I wanted to share some of the biggest factors agents face when trying to dominate in a geographic farm, why 90% of agents fail and what they can do differently than their competitors to come out on top.
1. Fear and Uncertainty. In today's world, fear is unfortunately an all too common and powerful headline that garners attention thanks to mass media. HOWEVER, in the real world of listing and selling real estate, consumers don't want fear and they don't want uncertainty. They want and need an agent who comes from a place of 100% clarity and certainty. They want an agent who is respectful, responsible, competent and CONFIDENT. They need to know that the person handling this big transaction in their life has everything it takes to ensure their best interests are cared for. Be that agent for them by ensuring that you have the right tools, systems, training and marketing plan in place.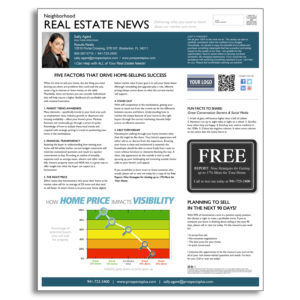 2. Money. The old adage is true, it takes money to make money and marketing effectively costs money.
Consistently. And that's not something everyone is ready, willing, or able to sign on for. However, to brand yourself as the turn to agent in your geographic farm, there's really no way to get around spending marketing dollars. Fortunately, you can spend smarter by using systems that are designed to capture market share while utilizing budget-saving tools such as Every Door Direct Mail. Our Market Dominator System does just that – and it allows you to send the very largest possible marketing piece acceptable for EDDM – 12×15, and puts you literally in every door in the geo farm of your choice for just $1 each. That's smart marketing.
3. Impatience. One thing that seems to stop many agents from developing a successful farm is their inability to hang in there for the duration. When they don't get instant results from their marketing, they give up. I get it. I walked in those shoes as an agent as well. But one and done mailings or marketing is never ever going to result in establishing a dominant position as a competitor.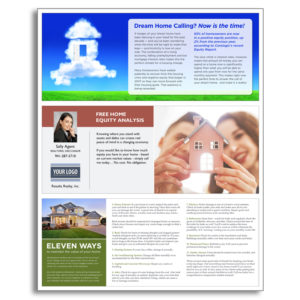 What does that? Consistency. Repetition. Showing up month after month after month. That's the winning formula.
4. Becoming a "Victim". You know the drill. The ones who get sucked into the market doom and gloom around the office coffee pot and buy into other agents' ideas of why your marketing or theirs just "doesn't work". Stop. Stay in your own lane in terms of mindset. There will always, always, always be people who want to drag you down, tell you that you can't accomplish something, or root you in negativity.
It's up to YOU to stay focused on your WINNING formula of skill building, market-savvy tools and systems, and consistent, repetitive follow up and let others worry about their own track to success.
5. Not Having a Campaign. What's the old Ben Franklin saying? "Fail to plan and you're planning to fail?" It's true. Without a viable marketing campaign plan in place, you have no way to gain traction in a market area. That's why our Dominator Members commit to sending their 12×15 Market Dominators every month for two years – because they know that's what it takes to truly own a market. To become THE brand in a geographic farm. They also know that if left to their own devices, most agents would have a tough time consistently researching, creating, and producing a powerful, direct-response marketing piece all on their own every single month. So they work smarter, not harder, and tap into a system like the where it's all done for them.
6. Bogged Down in Busywork. Top agents know the highest and best use of their time is prospecting, presenting, and closing – not all the minutiae of busy work that can easily, and effectively be delegated to a virtual assistant or admin. It's easy to be super busy being busy and not making any money. I know, it's less intimidating to spend a day trying to design your own postcard than it is to pick up the phone and call until you get a listing appointment – but which one will get closer to those goals you just set faster? Delegate. Use systems. Use pre-designed, time-tested tools that are done for you. And yes – pick up the phone!
Give yourself your best shot at developing a geographic farm. Lean into a powerful mindset of certainty and confidence and put a strong campaign that works in place so that you can effectively brand yourself in that farm as the agent to call. If you need help with that, I'm happy to share some additional strategies. Email me (todd.robertson@prospectsplus.com) and let's talk.
Need help? Contact our marketing team at 866.405.3638. They're incredibly knowledgeable, and ready to help get your geo farming and all your marketing on track to close out this year stronger than ever!