Keep Your Real Estate Email Newsletters From Being Trashed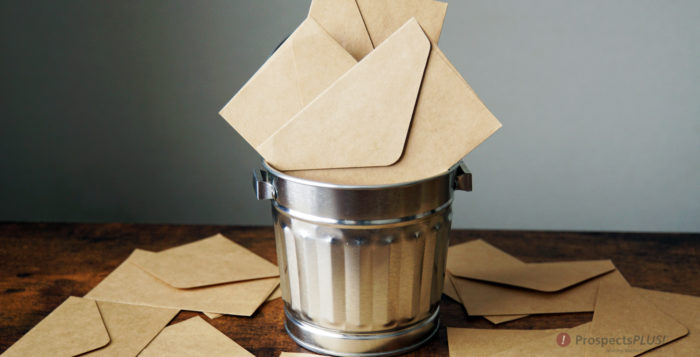 One surprising rule ✔️
It may seem odd for a company that provides direct mail services to the real estate industry to offer advice to agents about best practices for email. Especially when statistics claim that direct mail is more effective than email marketing.
But we agreed to set aside this space on our website to offer up the latest real estate marketing advice of all stripes, even if it doesn't directly sell our products.
Besides, most successful agents use a multi-pronged marketing approach that includes a mix of different marketing techniques.
If email is one that you use and you're not getting the ROI you expected, read on for some tips on how to turn it around.
There is no such thing as a 100% open rate
So, wipe that goal from your list.
"If you want a 100 percent open rate, send one email to your mother," says Dela Quist, an email pioneer and CEO of Alchemy Worx.
If your goal is to improve your click-through rate, without depending on Mom, start with what's "above the fold" in your email message – the subject line.
That's the come on – the lure. Head to a magazine stand (yes, they still exist. . .even in supermarkets). Check out which tantalizing blurb on each cover makes you want to purchase the publication so you can learn more.
The same holds true for blog post headlines – notice what it is about the title that makes you want to read more.
Your marketing email's subject line is its "main cover line" (magazine industry lingo), title (in blogging) or headline. Treat it with all the attention it requires. It will make or break your open rate.
"69% of email recipients report email as spam based solely on the subject line,"
according to OptinMonster.com.
Think about the last time you wrote a listing description. Your MLS limits the number of words you can use, some more than others. It's frustrating to fit enticing, compelling text into such a small space, but not impossible.
Now take that same skill to your email newsletter. With even less space, you'll need to make the subject line irresistible.
Ways to deal with the subject line
Choose the lead story from your newsletter. If the headline isn't enticing, change it.  "3 steps to beat an investor to win your dream home," is far more intriguing than "How to win a bidding war."
It also includes the numbered list, which many email experts say is a favorite among email recipients.
Then, ensure that your subject line includes at least one adjective and the more powerful, the better. To understand the psychological punch some adjectives convey, think about restaurant menus.
For instance, you're going to order lunch in a diner. Which entree sounds more intriguing?
Chicken pot pie
Grandma's flaky chicken pot pie with garden-fresh vegetables.
For dessert, are you more likely to order "chocolate cake," or "5-Layer, Espresso-Soaked Chocolate Cake?"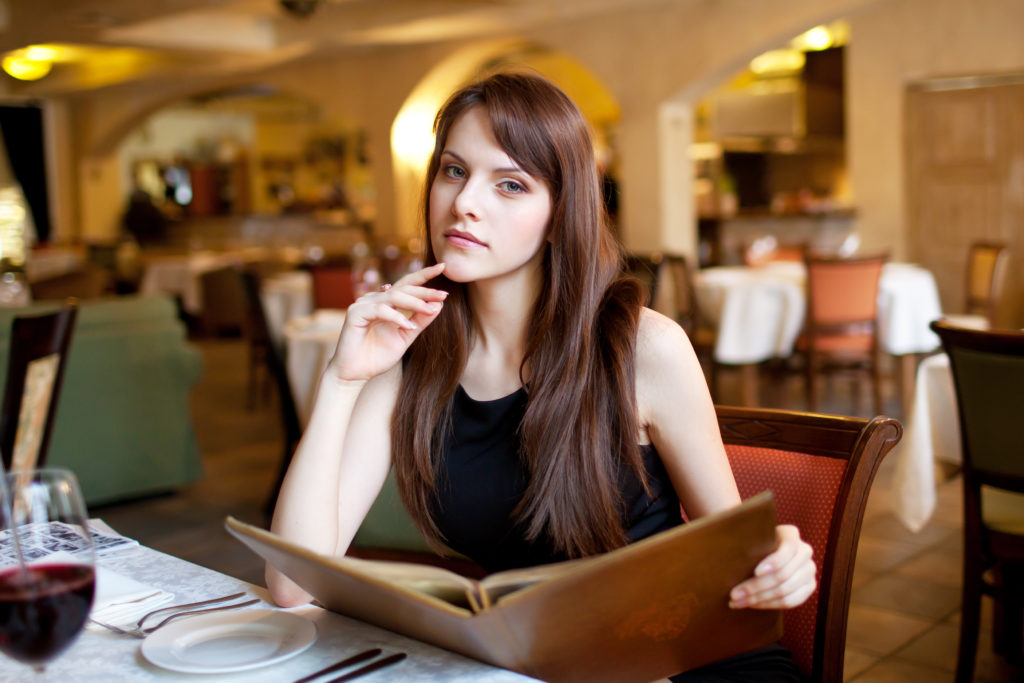 Need a template?
"Number or Trigger word + Adjective + Keyword + Promise = Clickable Headline"
According to an unnamed writer at BlogSiteStudio.com, copywriter and autism specialist Catherine Pascuas claims that "When you're writing, you want to think about pulling psychological strings. Appeal to each person's needs, wishes, joys, and sorrows."
To do that, she came up with the above formula for headlines.
Use either a number or a trigger word, not both. If you choose to use a number, make it odd and reasonable (not more than 9). Trigger words include what, when, how and why.
Slip in a powerful adjective or one that describe resolution of a pain point. These include brilliant, incredible, amazing, effortless, easy, painstaking, fun, free, powerful, surprising.
Next comes what Pascuas mistakenly calls a "keyword," and the unnamed writer explains as "rational" [sic]. Neither hit the mark. The word both of them were looking for is "noun," because the next thing you'll plug into the formula is the noun that the adjective or trigger word describes (duh).
These include words such as tips, reasons, shortcuts, facts, mistakes, ideas, ways and secrets.
Pascuas final element of the headline formula is "promise," described as "a value proposition or a dare." We would add that it might also be a desired outcome or a disaster avoided.
"5 brilliant ways to ensure you get a home loan."
"3 Surprising Shortcuts to Come up with a Down Payment"
"How to Easily Dispute a Home Appraisal"
If you publish a lot of list-type blog posts and newsletter articles, you may prefer the following, easier formula, that has made the rounds across the internet as well.
(odd number) (adjective) (mistakes/tips/insights/shortcuts) for (achieving/avoiding) (desired outcome/disaster)
And, here it is in action:
"3 Surprising Tips to Beat the Competition in a Bidding War"
"5 Easy DIY Projects to Help your Home Sell Quickly"
"7 Disastrous Mistakes to Avoid when Hiring a Listing Agent"
Addressing a poor click-through rate starts at the top of your email. Starting with the subject line may just bring you somewhat instant gratification.
You might also like:
Creative Marketing: Be Daring, Be Memorable
Avoid These 4 Common Real Estate Agent Marketing Mistakes
---
Need help targeting the perfect niche of buyers or sellers? Use our mailing list tool to create the ideal list (it's easy) or call our support team for assistance at 866.405.3638!
PLUS: When you have time…here are Free killer tools to help your success this year!
1. Become a Listing Legend Free eBook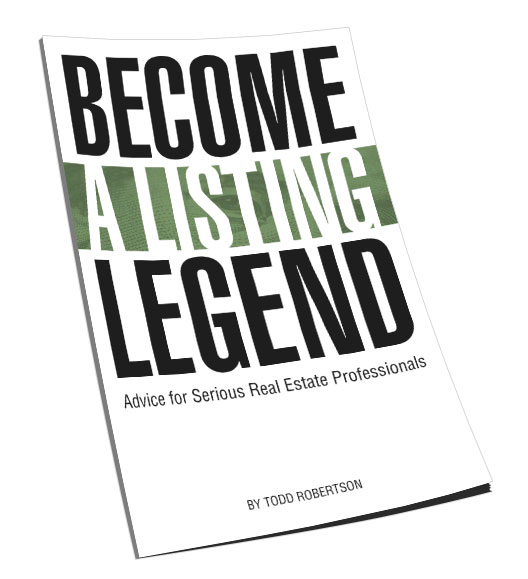 Ready to take a vertical leap in your real estate career? If you're looking for inspiration…and the tools and methods to dominate a market and go to the top in real estate…you'll find them in this free book. – Click Here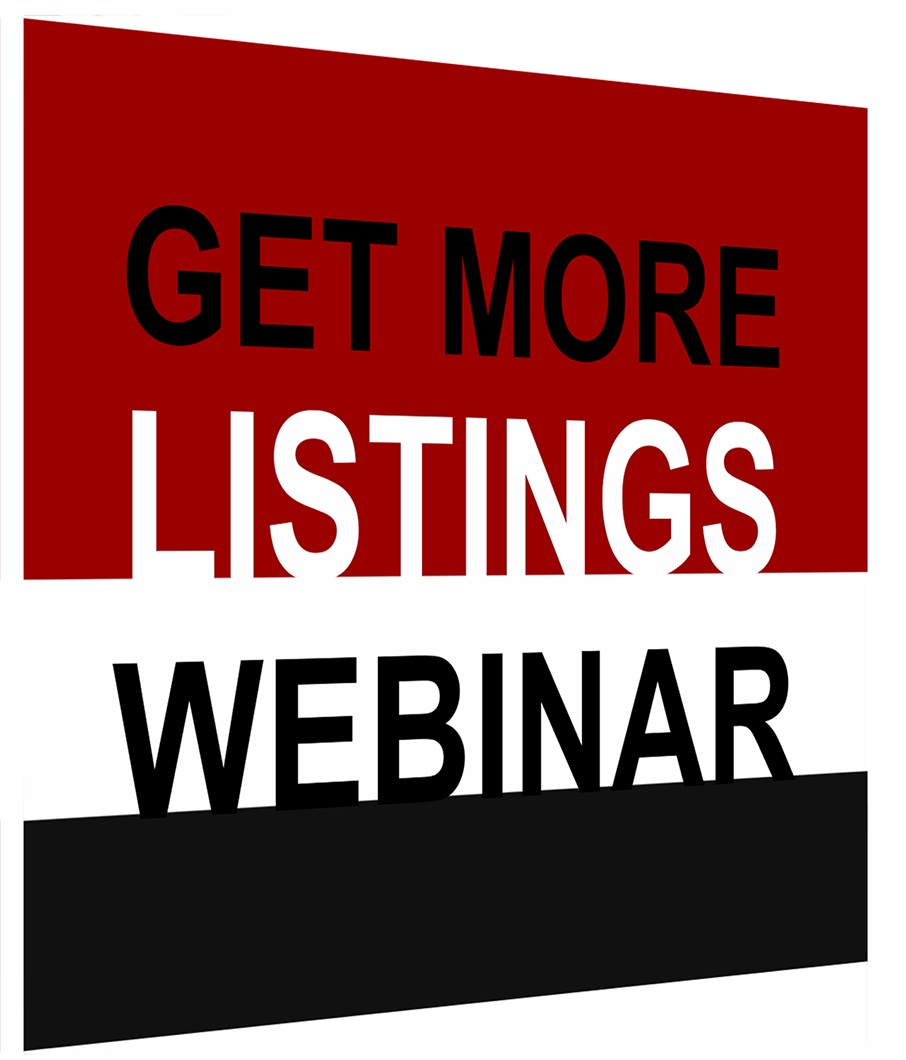 "Get MORE Listings & Begin to Dominate Your Market!" Free online webinar. Learn the 3-7-27 strategy for explosive growth, why 95% of agents have less than 20% market share, and how to become the agent everyone competes against. – Click Here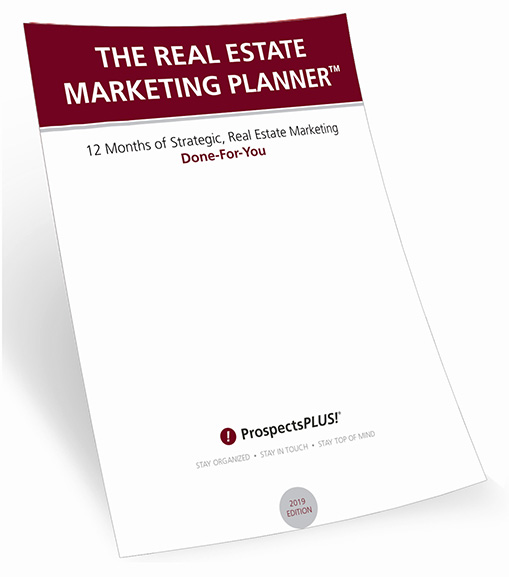 3. The 12 Month Done-For-You Strategic Marketing Plan
The Real Estate Marketing Planner is a powerful 12-Month-Guide that strategically defines what marketing to do when. Four key market segments are included, Niche Marketing, Get More Listings, Geographic Farming, and Sphere of Influence. –Click Here
4. The Free One-Page Real Estate Business Plan
Treat your business like a business it is vital to long-term success in this industry. Some agents may put together elaborate business plans, yet there's something powerful about keeping it simple. Check out our one page Online Real Estate Business Plan.  – Click Here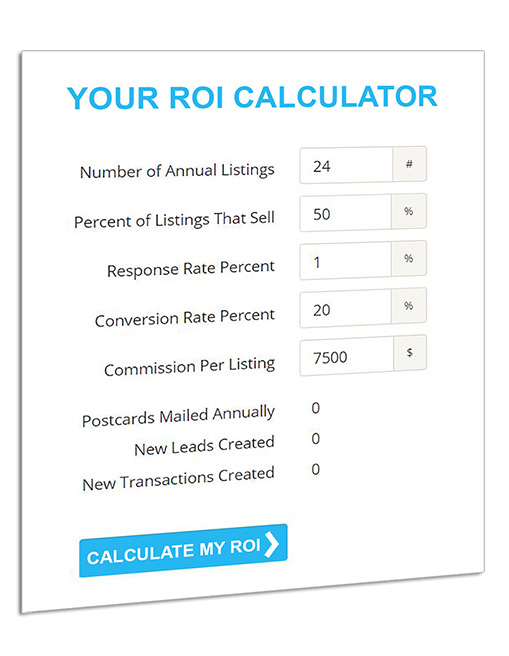 5. The Free Online ROI Calculator
Consistency and automation are the keys to success. Discover how effective direct mail marketing can dramatically increase your bottom line. Enter your statistics in our Free online ROI Calculator and click the 'CALCULATE MY ROI' button to see your results instantly! –Click Here