In the ever-fluctuating landscape of the real estate market, certain principles remain constant, one of which is the significance of a real estate agent's sphere of influence.
The sphere of influence becomes even more crucial in a low inventory market, where competition is fierce and properties are in high demand. Let's delve into why a real estate agent's sphere matters more in such challenging market conditions.
Trust and Personal Connection
A real estate agent's sphere typically consists of past clients, friends, family, and acquaintances. These are individuals who have already established a level of trust with the agent.
This trust becomes invaluable in a low inventory market where buyers and sellers may feel anxious or uncertain.
Clients are more likely to rely on someone they know and trust to guide them through the process, especially when there are limited options available.
Off-Market Opportunities
In a low inventory market, not all properties are listed on the Multiple Listing Service (MLS). Some sellers prefer a more discreet or selective approach to selling their homes.
Real estate agents with a well-established sphere often have access to off-market opportunities through their network. This can give their clients a competitive edge by allowing them to explore unadvertised properties.
Word-of-Mouth Referrals
In challenging market conditions, word-of-mouth referrals can be a game-changer. When clients have positive experiences working with an agent, they are more likely to refer friends and family who are looking to buy or sell.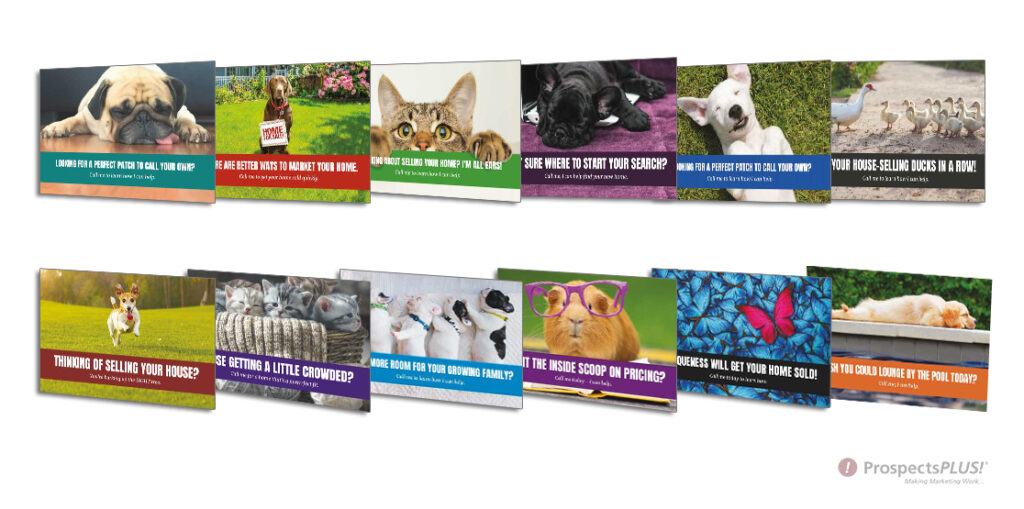 Animal Series is shown above. To see more, Click Here.
These referrals can generate a steady stream of business, helping agents thrive in a low inventory environment.
Local Market Expertise
Real estate agents who have built a strong sphere tend to have deep roots in their local markets. They know the neighborhoods, schools, property values, and market trends inside out.
This level of local expertise is invaluable, especially when helping clients make informed decisions in a competitive market.
Negotiation Skills
In a low-inventory market, multiple buyers often compete for the same property. This situation demands sharp negotiation skills.
Agents with a robust sphere can use their connections and local knowledge to negotiate effectively, increasing their clients' chances of securing the property.
Preemptive Opportunities
Real estate agents with an active sphere are often the first to know when a potential seller is considering listing their property. They can seize preemptive opportunities, connecting buyers with sellers before the property officially hits the market.
This proactive approach can lead to successful transactions in a market where timing is crucial.
Agents who cultivate and leverage their spheres effectively are better equipped to navigate the challenges of a low inventory market and excel in this real estate landscape.
---
2. The Free 6-Month Done-For-You Strategic Marketing Plan
The Real Estate Marketing Planner is a powerful 6-Month Guide that strategically defines what marketing to do and when. Four key market segments include niche Markets, geographic farming, sphere of influence, and past clients. – Click Here
3. The Free Interactive 6-Month Real Estate Business Review
The Free Interactive 6-Month Real Estate Business Review allows you to enter your business goals for the remainder of the year and get a breakdown of how many prospects, listings, closing, and so on are needed to reach your goals. – Click Here
4. The Become a Listing Legend Free eBook
Ready to take a vertical leap in your real estate career? If you're looking for inspiration…and the tools and methods to dominate a market and go to the top in real estate…you'll find them in this free book. – Click Here
---