While there are agents who are still managing to carry on business as usual during the pandemic, many are hunkered down at home, trying desperately to figure out what to do next.
You could bust your boredom like Katherine Hahn, but it won't do much to fan the flames of your real estate brand or make you more productive when we come out of the other end of this thing.
We've come up with several ideas to help you out and we start with hunkering-down reading material. Some of our suggestions are older books, but the information within them is still brilliant. Others are newer offerings with tips on digital marketing especially. And, a few are pure escapism.
Follow the link in the title of each book to learn more about it.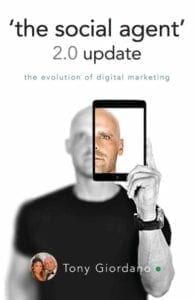 1. The Social Agent' 2.0 Update: The Evolution of Digital Marketing, Tony Giordano
Considered a "celebrity real estate agent," Giordano is also a national speaker and author who prefers to show, not tell, how to do social media right as a real estate agent.
The book's reviews on Amazon can attest to his success with that, with one reviewer claiming that "Tony goes into some detail on what to actually do, instead of just ideas, which I appreciate."
Giordano talks about "Online Presence vs. Present Online," and explains how "Everyone is present yet few have presence."
'the social agent' is also available at Barnes&Noble, which is currently offering free curbside pickup for online orders.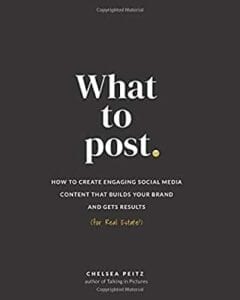 2. What to Post: How to Create Engaging Social Media Content that Builds Your Brand and Gets Results (for Real Estate), by Chelsea Peitz
Like "the social agent 2.0," this book dives deep into various social media strategies. Peitz, however, promises that What to Post is "… a step-by-step guide that will help you create a fail-proof social media content strategy that will give you an unfair advantage on platforms like Facebook and Instagram and generate FREE real estate leads."
Unlike a lot of real estate-specific books on the market, What to Post was published in February 2020, so you won't find a section about what to post on MySpace and other outdated, non-existent platforms.
Peitz, by the way, is the national director of social sales for Fidelity National Financial, as well as a social media coach and brand developer.
Since social media marketing should be among your go-to methods right now–while most people are hunkered down and spending lots of time online–this may just be the ideal book to read.
Go take a peek inside the book at Amazon.com.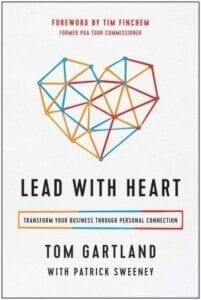 3. Lead with Heart: Transform Your Business Through Personal Connection, by Tom Gartland
First, let's address the Amazon ratings. There are only three and one of them is from what sounds like a disgruntled former employer. He or she really doesn't review the book, so we're disregarding it and hope that you will too.
Why?
Since its publication in 2018, many agents have suggested this book to others. For instance, Minnesota broker and mega-agent Kris Lindahl raves about Gartland's leadership principles.
Especially if you are leading a team of agents, give this book a read.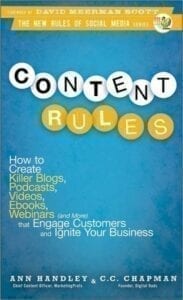 4. Content Rules: How to Create Killer Blogs, Podcasts, Videos, Ebooks, Webinars (and More) That Engage Customers and Ignite Your Business, by Ann Handley
We love that Handly devotes an entire chapter to creating case studies. Too few agents use them in their marketing and, if done right, they are so powerful.
But you'll also learn the art of blogging, how to put together a killer ebook, podcast or video.
Content Rules is also available at Barnes&Noble.
Escapism
After an evening spent watching the news or hanging out on social media, do you ever find yourself in "the panic that comes with knowing too much and being able to do so little?"
Elena Nicolaou, culture editor at OprahMag.com, calls this "coronanxiety." Her secret for fighting it?
"Feel-Good Books." Although many might consider this escapism, Nicolaou cites the many psychologists who "… recommend reading as a coping mechanism during high stress moments."
Fiction is ideal right now, the perfect vehicle for "… the off-ramp of reality," as Nicolaou calls it.
So, what's the recommendation? There are far too many to single out one. In fact, here's a link to the Modern Library's list of the "100 Best Novels" so you can choose. 
We've chosen a few of our favorite "couldn't-put-them-down" books:

11/22/63, by Stephen King
Appaloosa, by Robert B. Parker
The Art of Racing in the Rain, by Garth Stein
The Kin of Ata are Waiting for You, by Dorothy Bryant
The Kite Runner, by Khaled Hosseini
The Pillars of the Earth, by Ken Follett
Happy reading and stay healthy!
Send a postcard from the COVID-19 Series to your Sphere or Farm. Let them know you're thinking about them by offering DIY projects and family fun to keep busy during the stay-at-home orders.
Need help targeting a specific niche of buyers or sellers? Use our mailing list tool to create the ideal list (it's easy) or call our support team for assistance at 866.405.3638!
PLUS: When you have time…here are some Free resources we've made available to support your success.
1. The Free Real Estate Mailing List Guide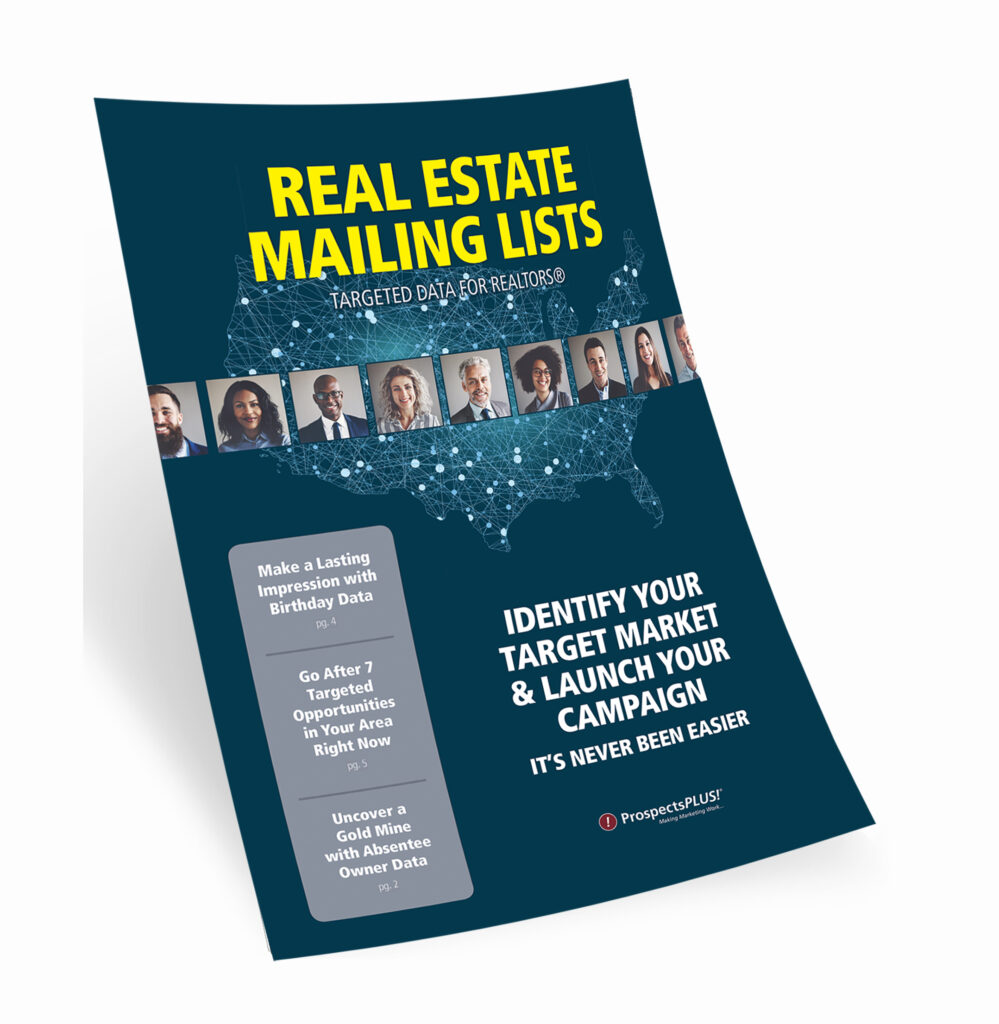 The Real Estate Mailing List Guide outlines the top tools for generating targeted mailing lists including Baby Boomers, Empty Nesters, Investors, Lifestyle Interests, High-Income Renters, Move-Up Markets, and more. The Guide also defines done-for-you marketing campaigns to match these markets. –Click Here
2. The 12 Month Done-For-You Strategic Marketing Plan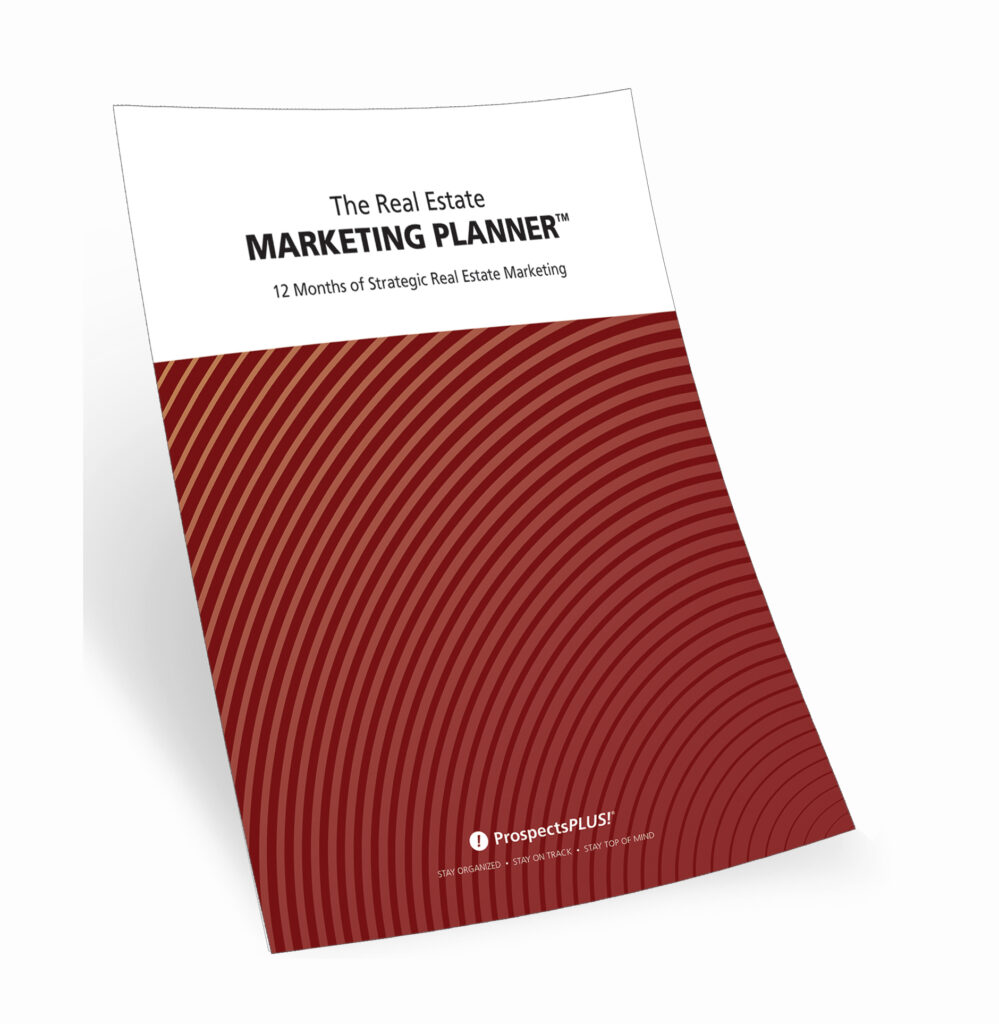 The Real Estate Marketing Planner is a powerful 12-Month-Guide that strategically defines what marketing to do when. Four key market segments are included, Niche Marketing, Get More Listings, Geographic Farming, and Sphere of Influence. –Click Here
3. The Free One-Page Real Estate Business Plan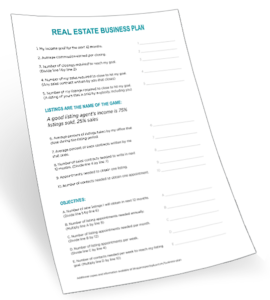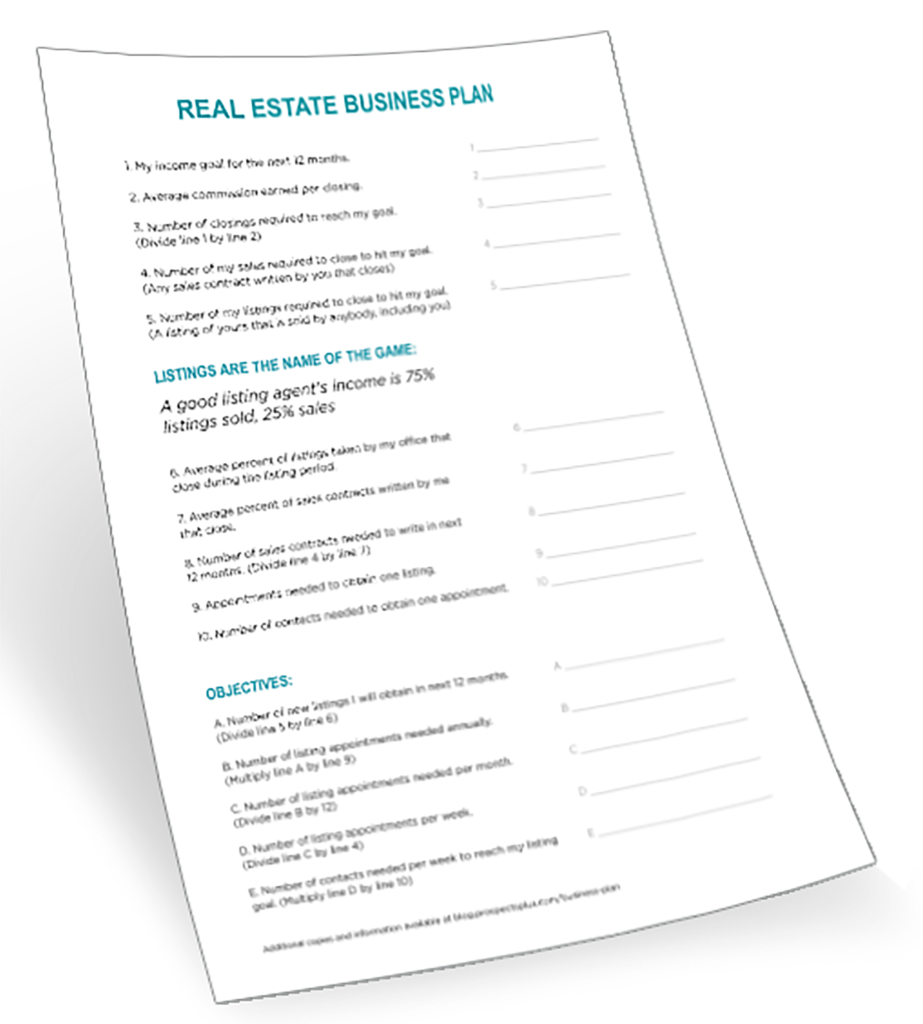 Treat your business like a business it is vital to long-term success in this industry. Some agents may put together elaborate business plans, yet there's something powerful about keeping it simple. Check out our one page Online Real Estate Business Plan. – Click Here
4. Become a Listing Legend Free eBook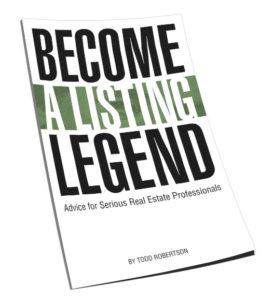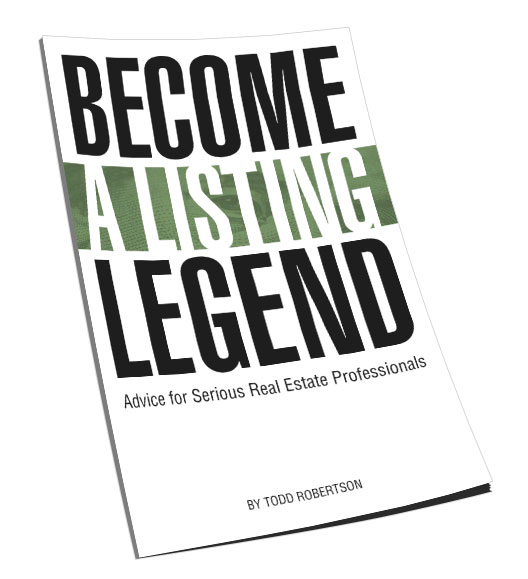 Ready to take a vertical leap in your real estate career? If you're looking for inspiration…and the tools and methods to dominate a market and go to the top in real estate…you'll find them in this free book. – Click Here
5. The Free Online ROI Calculator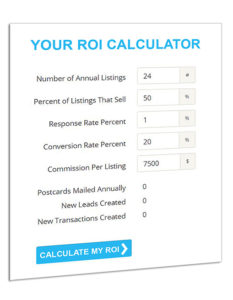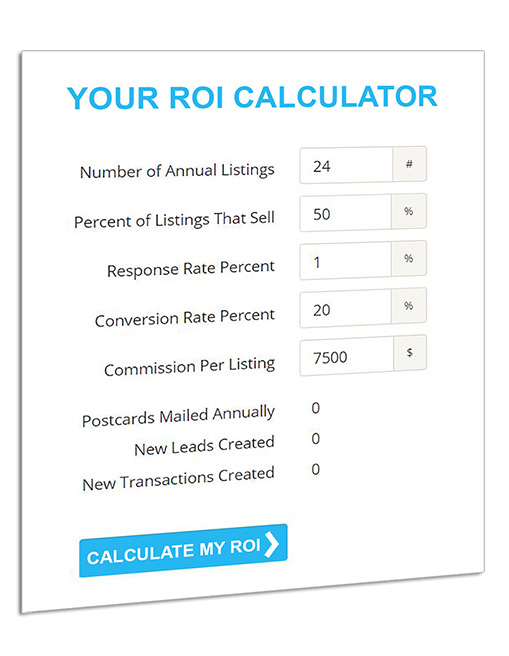 Consistency and automation are the keys to success. Discover how effective direct mail marketing can dramatically increase your bottom line. Enter your statistics in our Free online ROI Calculator and click the 'CALCULATE MY ROI' button to see your results instantly! –Click Here
6. The Real Estate Marketing Guide "CRUSH IT"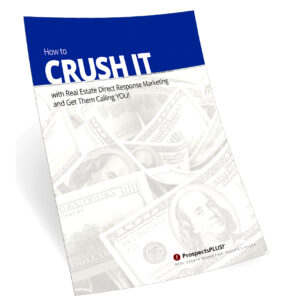 The "Crush It" Guide includes easy steps to launching an effective direct mail marketing campaign, how to create a targeted mailing list, the perfect way to layout marketing materials for success, seven opportunities available to target in your area right now. –Click Here