The direct mail revival is well underway and if you're toying with the idea of participating, remember the old "40/40/20 Rule"
40% of a successful campaign depends on the quality of the mailing list
40% depends on what you offer
20% depends on the quality of the message and the actual piece you mail out.
Read on to learn how to start a real estate direct mail campaign in 5 easy steps. 
1. Use the right mailing list
Reaching the right people at the right time is key to the success of any type of marketing, including direct mail. Choosing the people who populate your mailing list is your first job.
To decide who goes on the list, determine your purpose with each direct mail campaign. Are you trying to build brand awareness in a farm area? Generate leads? Buyer or seller leads?
It's critical to determine your "why" before doing anything else. "Why am I conducting a direct mail campaign? Who do I want to reach?"
Then, laser focus your list to that audience using our targeted mailing list search tools.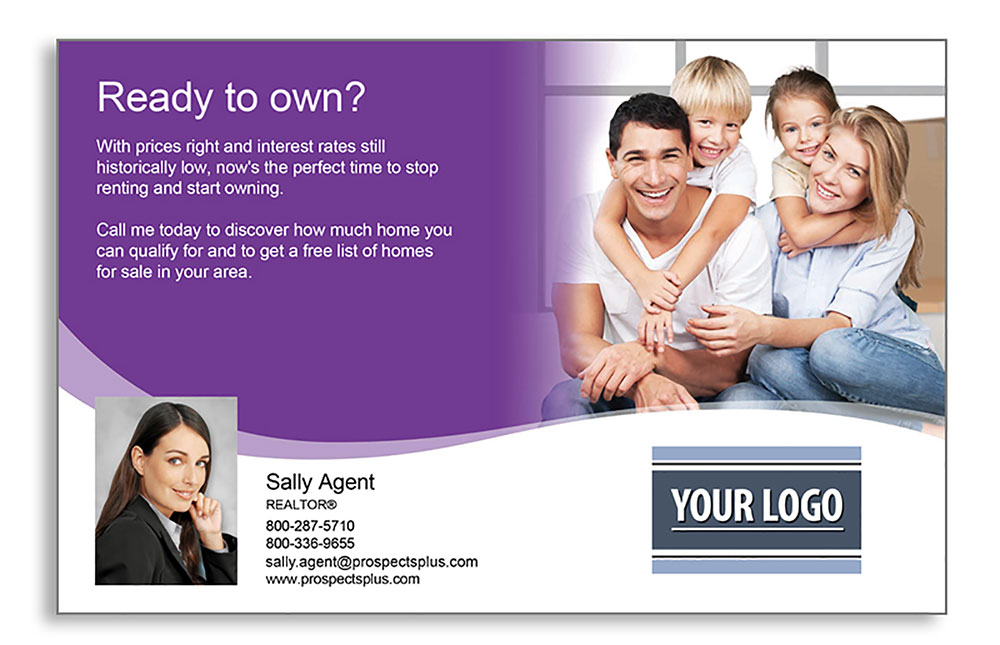 Suppose you want buyer leads from a particular subdivision. Sure, homeowners may be thinking of moving, but it's more likely that those currently renting are the best prospects. You'll need to find the homes in the subdivision owned by absentee owners, but target the tenants living in them.
2. Determine what you want them to do
You may think this is as easy as "Well, duh, I want them to buy or sell real estate."
But it's not that simple.
The second "40" in the 40/40/20 Rule refers to your offer, the second most important aspect of a successful direct mail campaign.
Retailers have an easier time with this one. Offering 20 percent off a product, free shipping or buy-one, get-one-free are all popular.
What about real estate agents? What can you offer that might compel a recipient of their postcards to act?
Free e-book on buying or selling a home
A list of down payment assistance options (national, statewide and regional)
Free reports, such as "How to Buy a Home with a Low Credit Score," "From Tenant to Homeowner" or "Buy a Home with No Money Down" (all about the VA and USDA loans).
Free list of homes for sale under a certain dollar amount.

The Free List of Homes postcard is available in the Postcard Section under the Free Offer Series.
If you offer enticing seller services, such as free home staging or a free pre-sale home inspection, by all means, play that up as your offer.
If you don't offer free services, consider choosing one to use as your offer just for the direct mail campaign.
Keep in mind, however, that the number of hoops you force them to jump through to take advantage of the offer impacts the response rate, according to Bob McCarthy at DMNNews.com.
The more they have to do, the lower the response rate.
3. Direct mail piece design
"One strategy we use to get our highest response rates is to make the offer the centerpiece of the mail package, McCarthy claims.
Whether you choose to include an actual photograph of the Ebook or special report (or whatever it is on offer) or use text to describe it, mention it boldly and repeatedly.
Your message (its length and graphic requirements) will determine the medium. Keeping it plain and simple? A standard-sized postcard may do the trick.
If it's graphics-heavy and you'll include substantial copy, consider using one of the larger postcard sizes (view them here).
Choose a font that's easy to scan as folks sift through their mail. Many direct mail experts recommend using a sans serif font, such as Arial, rather than Times New Roman or another serif font.
Consider varying the font size throughout the text, with more important items highlighted with a larger version of the chosen font.
Additional design tips to keep in mind include:
Ensure your headline is bold and compelling yet short and specific.
Use lots of white space to make the piece appear to be easily digestible.
Sub-headings help guide the reader through the text.
Use a high-resolution photograph.
Avoid placing text over photos.
Ensure that your offer stands out and that your contact information is easy to find.
4. Send it out . . . and keep sending
Naturally, you'll want to use ProspectsPLUS! for your direct mail campaign piece printing and mailing. With next-day printing and mailing, you can't go wrong.
Then, there's the follow-up – you know, that place where the "fortune" is.
While there's no rule as to how often to mail to your list, consistency is key, whether you choose to run your campaign monthly or quarterly.
Market conditions may prompt a change in frequency as well. New listings and just sold-homes in the area and other real estate news deserves a "touch" of everyone in your farm area.
5. Track your results
Tracking your results is vital to your direct mail campaign. One of the most popular methods used by agents is the creation of a dedicated landing page on their websites. The URL should be unique to the campaign so that you'll be able to learn your exact response rate (number of responses divided by the total number of pieces sent).
The response rate you can expect depends on how well you've carried out the aforementioned objectives. Marketing experts are all over the map when quoting an "average response rate, from 0.5 percent to 5 percent.
With the holidays coming up, now is the perfect time to plan an execute a 2020 real estate direct mail campaign.
We're here to help.
Download the Chop Your Mortgage Free Report and add it as an offer to all of your marketing (email, direct mail, website).
Keep this report on hand for open houses and for your listing presentions folder.
Need help targeting the perfect niche of buyers or sellers? Use our mailing list tool to create the ideal list (it's easy) or call our support team for assistance at 866.405.3638!
PLUS: When you have time…here are Free killer tools to help your success this year!
1. Become a Listing Legend Free eBook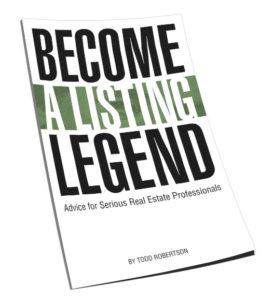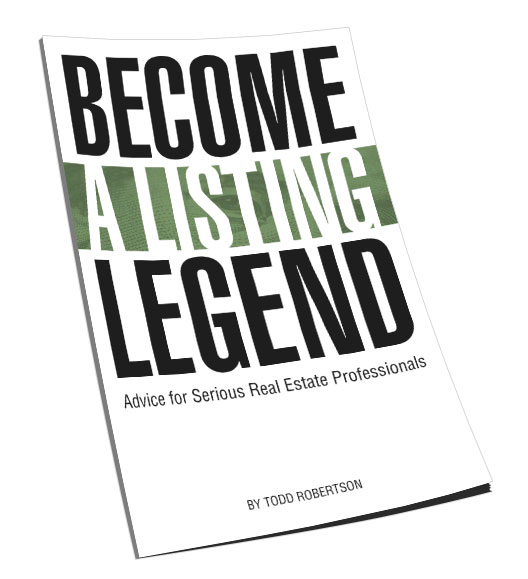 Ready to take a vertical leap in your real estate career? If you're looking for inspiration…and the tools and methods to dominate a market and go to the top in real estate…you'll find them in this free book. – Click Here
---
2. "Get More Listings" Free Online Webinar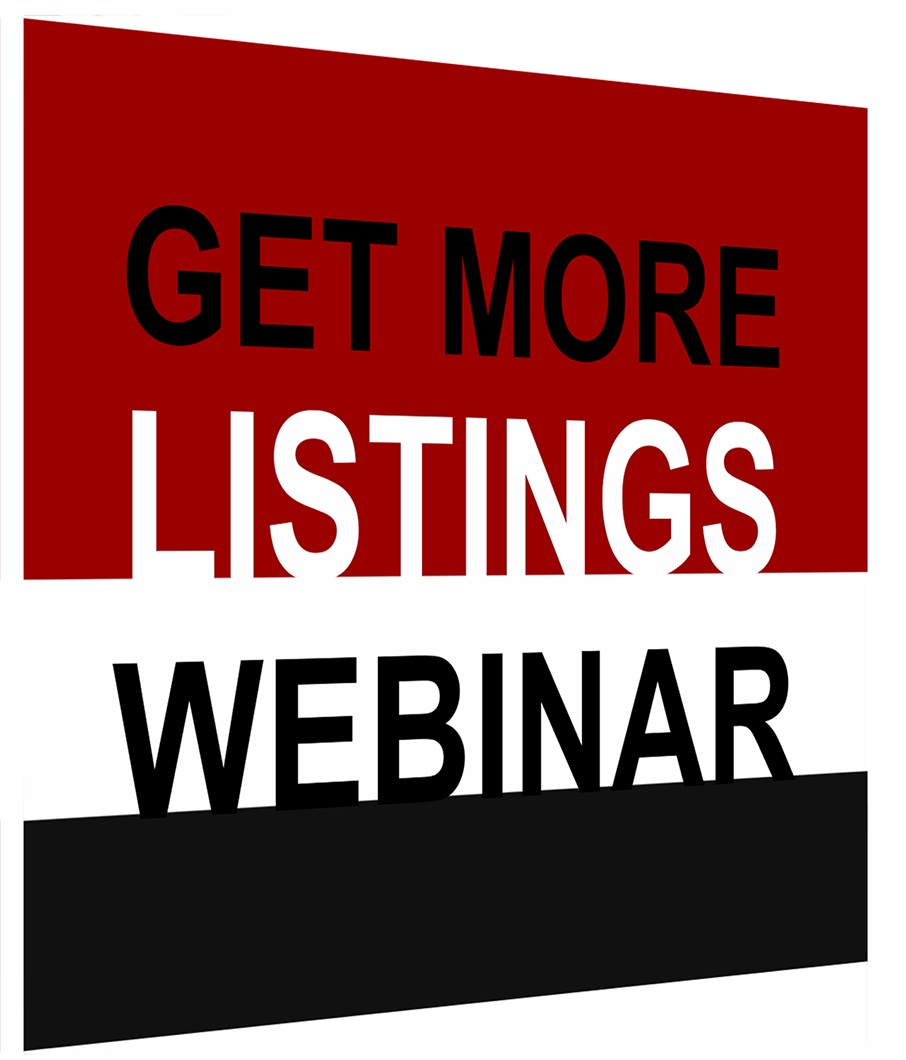 "Get MORE Listings & Begin to Dominate Your Market!" Free online webinar. Learn the 3-7-27 strategy for explosive growth, why 95% of agents have less than 20% market share, and how to become the agent everyone competes against. – Click Here
---
3. The 12 Month Done-For-You Strategic Marketing Plan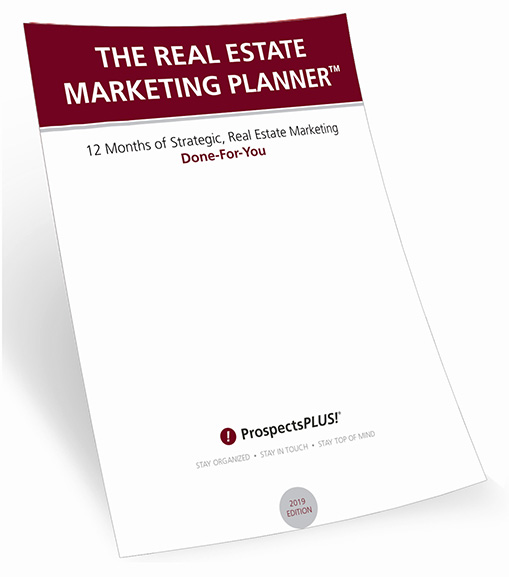 The Real Estate Marketing Planner is a powerful 12-Month-Guide that strategically defines what marketing to do when. Four key market segments are included, Niche Marketing, Get More Listings, Geographic Farming, and Sphere of Influence. –Click Here
---
4. The Free One-Page Real Estate Business Plan
Treat your business like a business it is vital to long-term success in this industry. Some agents may put together elaborate business plans, yet there's something powerful about keeping it simple. Check out our one page Online Real Estate Business Plan.  – Click Here
---
5. The Free Online ROI Calculator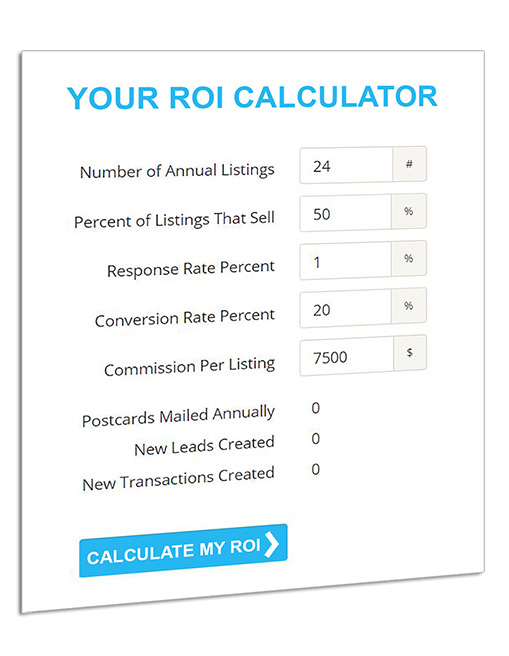 Consistency and automation are the keys to success. Discover how effective direct mail marketing can dramatically increase your bottom line. Enter your statistics in our Free online ROI Calculator and click the 'CALCULATE MY ROI' button to see your results instantly! –Click Here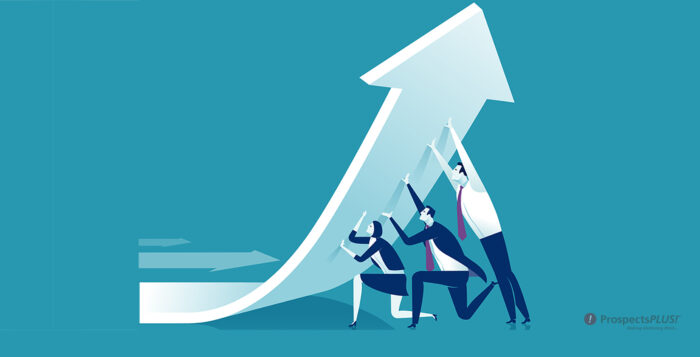 As the season begins to slow in the coming months, one way to remain productive is to spend your time reflecting on your marketing efforts and determine what's been working and what hasn't. This way, you'll have all your ducks in a row to kick off 2020 with a brand-new and ultra-strategic marketing plan.
Stop being a generalist
One of the most interesting dichotomies apparent in real estate professionals is between the longing to stand out and the strict adherence to the standard way of doing business.
This results in marketing messages that are nearly identical, which is why the public claims "all real estate agents are alike." If you truly want to stand out from everyone else you need to do something different. Start with your business structure.
Instead of trying to convince potential clients that you're good at everything, why not concentrate on being THE BEST in one area? Ditch the rookie mentality that too many agents hang on to – that you are an all-purpose generalist who "specializes" in all areas of real estate. There's nothing unique about that.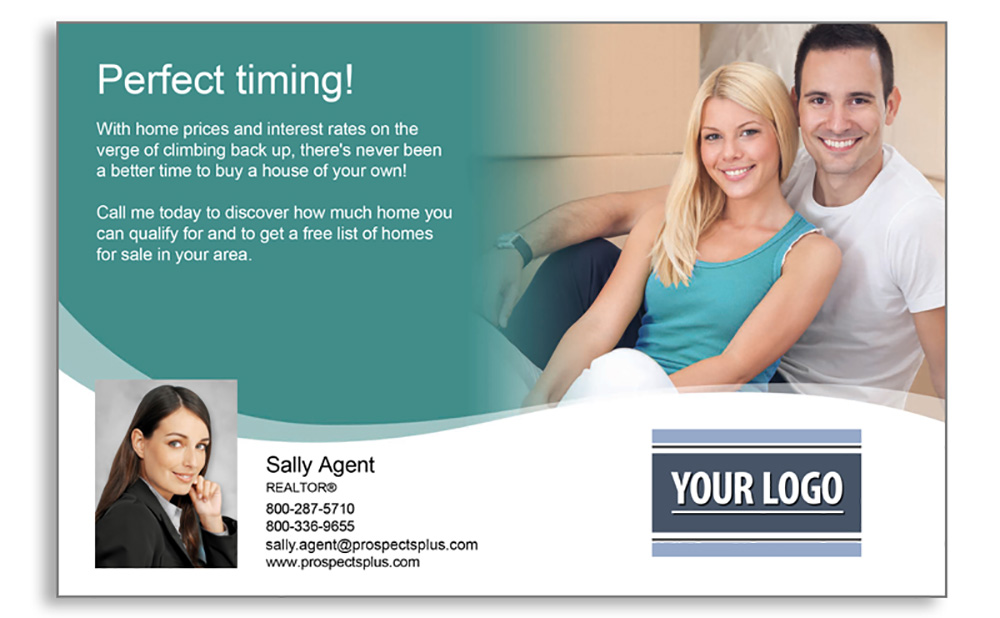 Be great at one thing
Decide that you'll stop trying to be good at everything and concentrate on being GREAT at one thing. Be productive during your slower time and think long and hard about becoming the true expert in a niche area of real estate.
Think about what you like best about your current practice. Are there certain clients you enjoy working with more than others? Buyers? Sellers? First-timers, Baby Boomers, families?
Are there certain properties that you've worked with more often than others? Maybe waterfront, ranches, condos or vintage homes.
Speak the same language
If all else fails, imagine your ideal client and then create a profile of that person. For example, suppose I'm a veteran and I've always felt most comfortable assisting other veterans in their real estate transactions.
After all, we have shared experiences and speak the same "language." There's my niche right there.
Maybe you're an equestrian and love working with other horse owners. Horse properties may be what you should specialize in.
Now you have someone specific to speak to. You understand their needs and can speak directly to them, instead of speaking in vague terms to all real estate consumers. Your content then becomes more valuable, your brand is better defined and your entire real estate practice is unique.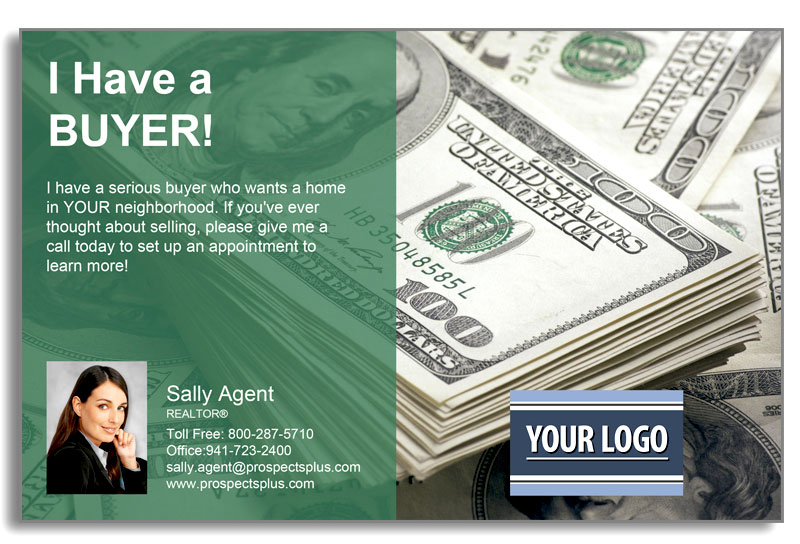 I once interviewed Steve Israel, owner/broker of Buyer's Edge in Bethesda, MD. Notice his niche is in the brokerage's name – buyers.
But, not just any buyers. Israel specializes in condos in downtown D.C. I asked him how he came up with this specialization.
He told me that his clientele was, by and large, first-time homebuyers. He also realized that "the condo market is a very vibrant part of the local market and that it lends itself well to being a niche."
His first productive step was to create a website packed with information and details about the various condo communities. Yes, it was time-consuming, which is why we suggest that you use the slow season to get this started.
Niching your real estate practice works best if you work in a medium to large market. Those in small markets may not find it quite as valuable.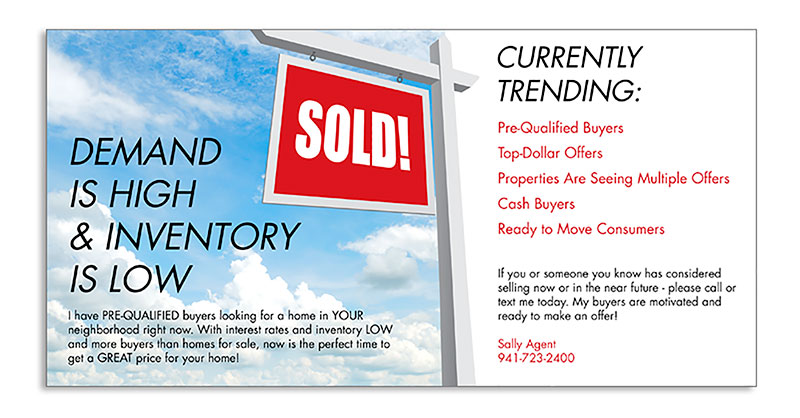 We are rapidly approaching a new year. Consider being productive and using the slower times to create something unique and prosperous that results in a powerful jump-start for the new year.
Send at least 100 of the Demand is High & Inventory is Low postcards from the Content Card Series to an area where you want more listings.
Need help targeting the perfect niche of buyers or sellers? Use our mailing list tool to create the ideal list (it's easy) or call our support team for assistance at 866.405.3638!
PLUS: When you have time…here are Free killer tools to help your success this year!
1. Become a Listing Legend Free eBook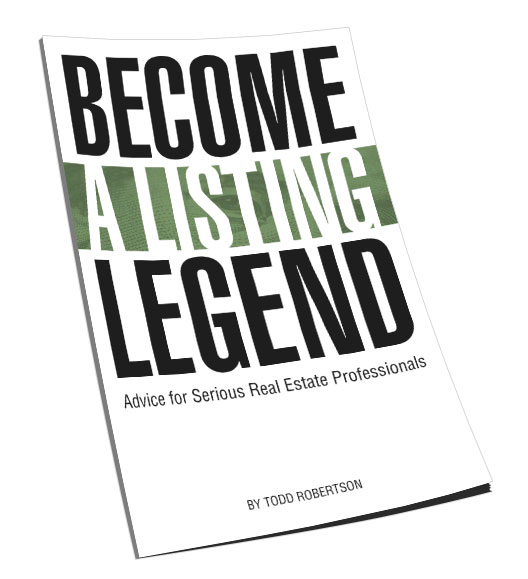 Ready to take a vertical leap in your real estate career? If you're looking for inspiration…and the tools and methods to dominate a market and go to the top in real estate…you'll find them in this free book. – Click Here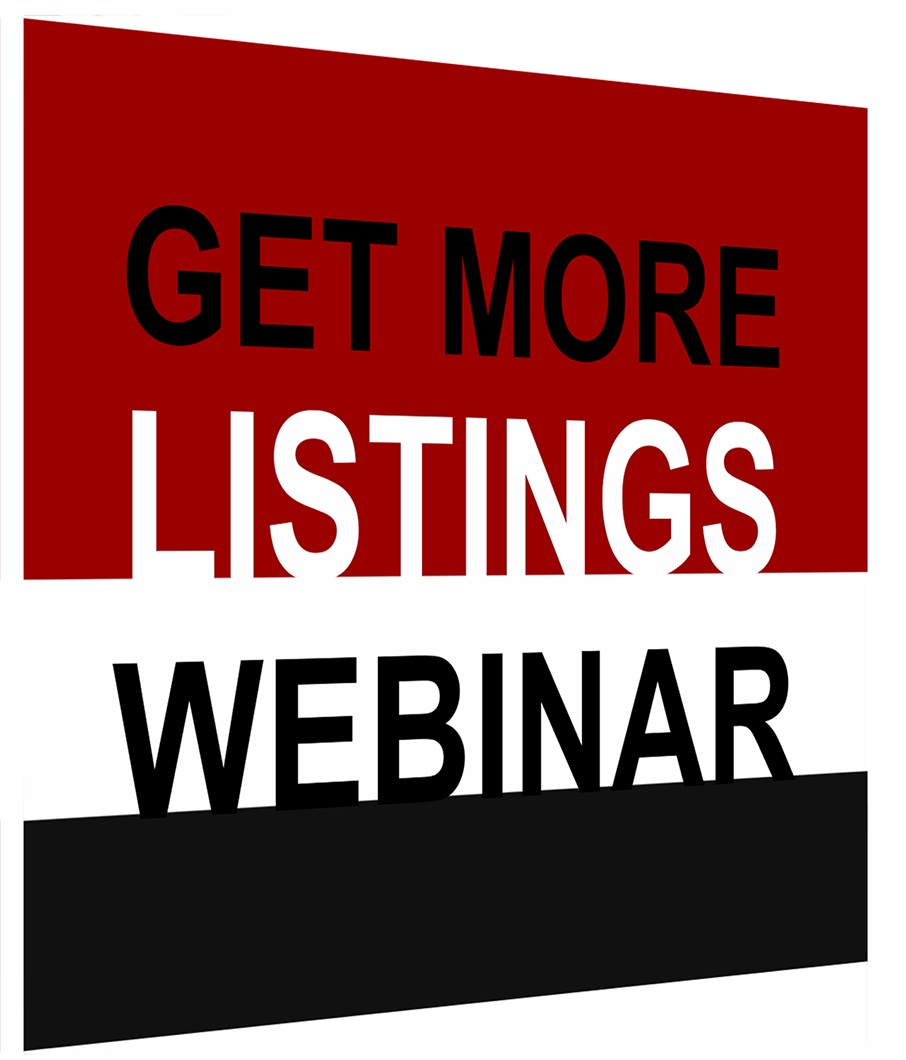 "Get MORE Listings & Begin to Dominate Your Market!" Free online webinar. Learn the 3-7-27 strategy for explosive growth, why 95% of agents have less than 20% market share, and how to become the agent everyone competes against. – Click Here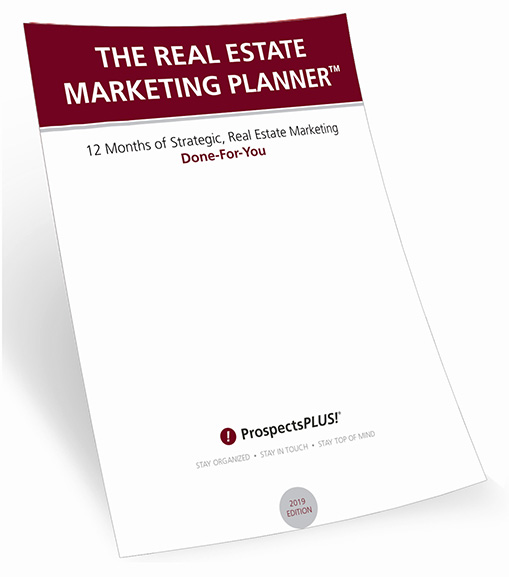 3. The 12 Month Done-For-You Strategic Marketing Plan
The Real Estate Marketing Planner is a powerful 12-Month-Guide that strategically defines what marketing to do when. Four key market segments are included, Niche Marketing, Get More Listings, Geographic Farming, and Sphere of Influence. –Click Here
4. The Free One-Page Real Estate Business Plan
Treat your business like a business it is vital to long-term success in this industry. Some agents may put together elaborate business plans, yet there's something powerful about keeping it simple. Check out our one page Online Real Estate Business Plan.  – Click Here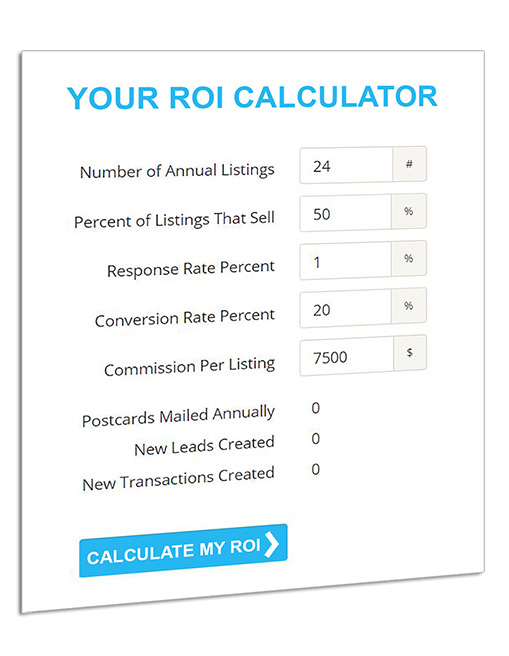 5. The Free Online ROI Calculator
Consistency and automation are the keys to success. Discover how effective direct mail marketing can dramatically increase your bottom line. Enter your statistics in our Free online ROI Calculator and click the 'CALCULATE MY ROI' button to see your results instantly! –Click Here