How to Choose a Real Estate Website That Won't Break the Bank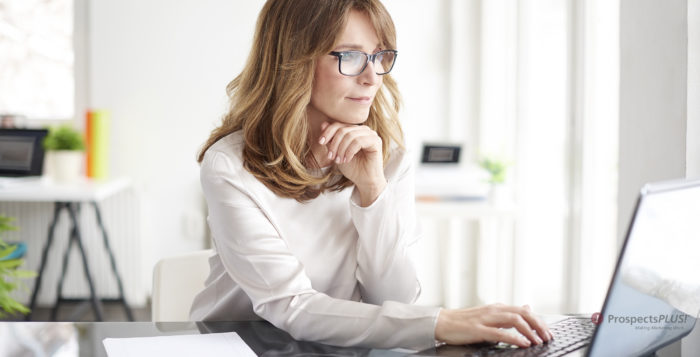 Once the ink dries on your business and marketing plans (including a budget), it's time to take the next step on your journey to wild success as a real estate agent and choose a website.
All real estate agents need a website (with IDX), in our opinion.
If that sounds like a blanket statement, it is. But that doesn't mean it's not accurate.
Real estate agent websites offer far more than the ability for consumers to search for homes for sale. If done right, a real estate website offers content to help homebuyers and sellers learn about the process, tips on how to be prepared to buy and sell and lots of local information.
For the agent, again, if done right, a website offers lead generation and a spot on the world wide web for potential clients to get to know you.
We get it – you're probably not flush with money at this point, and every penny counts until you get that first commission check.
So, we set out on a mission to find real estate website providers who won't put you in the poor house yet offer attractive, feature-rich websites to help you launch your new business.
Boomtown
Boomtown is basically a lead generator that sells websites with a CRM, mobile app and more.
And, since two of the tools you'll need from day one includes a CRM and a website, you can't go wrong with Boomtown's offerings.
It's also one of the quickest and easiest real estate websites to customize, which is ideal for the new agent.
Best of all, we know from personal experience that Boomtown's customer service is second-to-none.
Agents who leave positive reviews for Boomtown sites say that the sites are easy to use. Complaints include that customization of the sites has limitations.
Pricing is not published on the company's website. Vanessa Doctor at FitSmallBusiness.com was able to locate prices on a third-party website (as of March 2019). Prices vary according to which of the four plans you choose. We can't vouch for the accuracy of these prices, however.
Main plan: $1500 setup fee and then $1500 a month.
Launch: $750 setup fee and $1000 a month. Doctor also found that subscribers to this package are required to spend $250 or more per month on pay-per-click advertising.
CORE: $1700 setup fee and $1300 monthly.
Team/brokerage package: The same price as the Main plan.
 Placester
Placester offers a reasonably-priced IDX website, perfect for the beginning agent. At $99 a month, you can't beat the price. Plus, it's only $99 to set it up.
If you've joined the NAR, you'll get an even better price. Right now, Placester is offering $59 monthly plan. You'll find details at Placester.com.
The sites offer basic lead capture (which you can upgrade), IDX listing integration capability, tools to help with email marketing and more.
Positive reviews we found online mention:
"Easy to set up and use"
"Great looking professional templates"
"The standard templates are very clean and optimized for mobile"
While the low price is a big plus, some reviewers have found drawbacks and limitations with a Placester website:
"Difficult to contact customer service." Complaints about poor customer service popped up frequently in agent reviews of the company that we read.
The basic site is "lacking highly in customization." The same reviewer said that color themes are limited and "you are only able to choose from a limited selection of pages."
Easy Agent Pro
If you are seeking a robust lead generation website right out of the gate, check out Easy Agent Pro's offerings. Called "Leadsites," they offer a number of apps to help you with marketing and lead capture.
We like the "Brag Wall," a brilliant way to share reviews from clients to Zillow, Yelp, Facebook and more.
From squeeze pages to Instafarm and done-for-you-blogging, Easy Agent Pro is one you should definitely check out.
We reached out to the company's marketing manager, Lukas Termini, for pricing information. "The lowest price is $149, the "Basic package," he said in an email.
"It's usually recommended for brokers because it doesn't have IDX. But $179 is the standard option most folks go with," he added.
Considering what's included in that $179, we think EAP wins, hands down.
Positive reviews we found online include:
"Features a bold, modern, fun design. Fun add-ons and tools available. Great squeeze pages for lead generation."
"They make very impressive websites for a reasonable cost."
"Easy Agent Pro EDUCATES you AND demonstrates with their own marketing program that they truly understand how Google Ranking works."
"I have gotten more closings from having this website then I did in the previous 12 years using other website providers."
And, on the flipside:
"Takes some setup and management"
"The only problem is you don't own the website."
We searched and looked for more than an hour for negative reviews of Easy Agent Pro sites and the company and those two were all that we were able to round up.
The second complaint, by the way, was from a real estate agent podcast in which the reviewer began his comparison of Easy Agent Pro and Placester by saying that "Easy Agent Pro is top on my list."
Even if you finally settle on a DIY WordPress site, you'll be one step ahead of the other newbies in your market.
Here's wishing you much success as a real estate agent.
Download the Free Report, "9 Ways to Get More Money" and use it in all of your marketing (direct mail, emails), and on your website as an opt in.
---
Need help targeting the perfect niche of buyers or sellers? Use our mailing list tool to create the ideal list (it's easy) or call our support team for assistance at 866.405.3638!
PLUS: When you have time…here are Free killer tools to help your success this year!
1. Become a Listing Legend Free eBook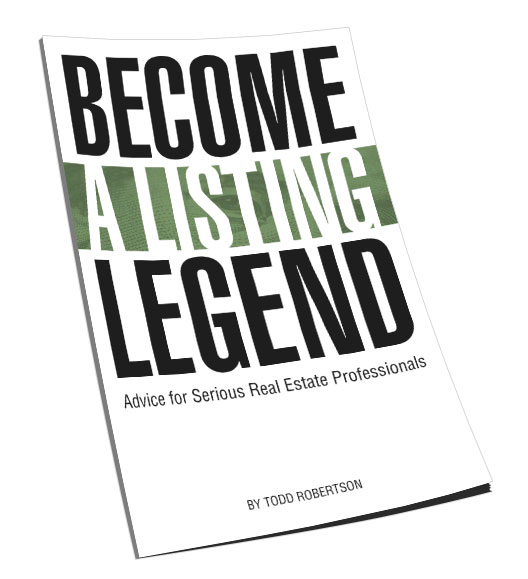 Ready to take a vertical leap in your real estate career? If you're looking for inspiration…and the tools and methods to dominate a market and go to the top in real estate…you'll find them in this free book. – Click Here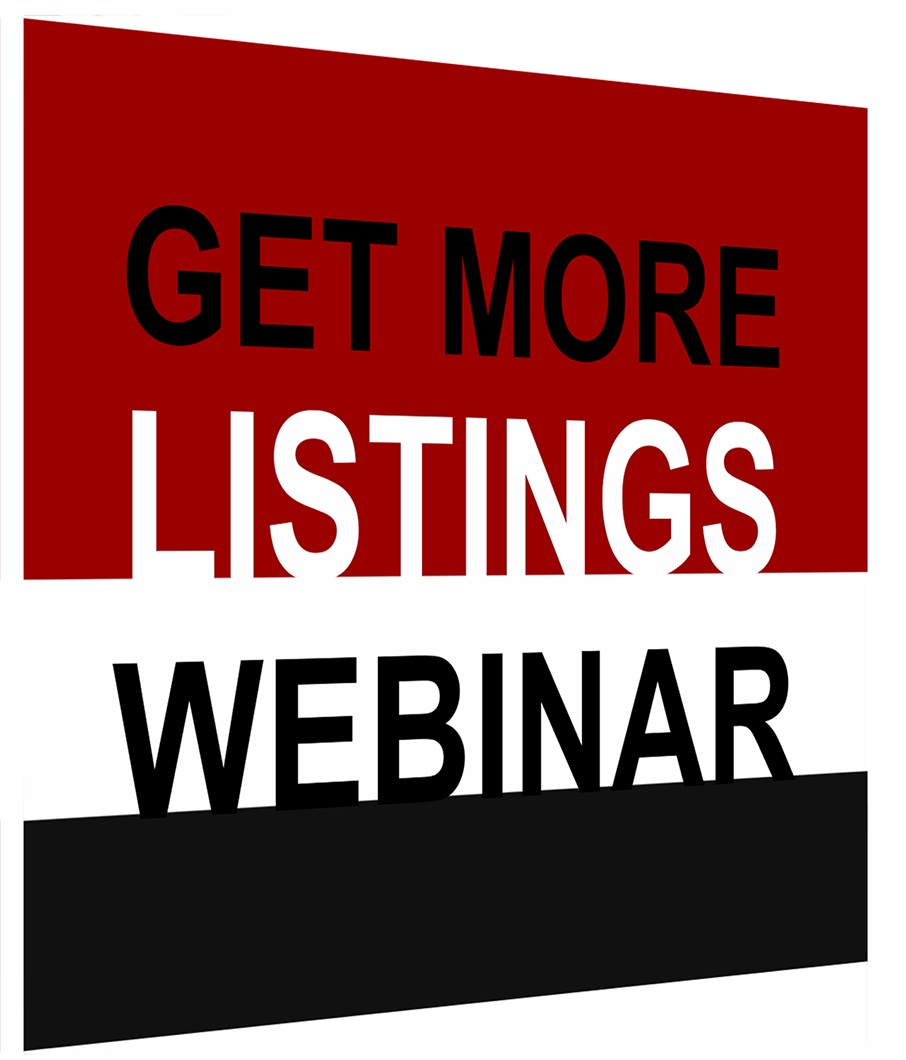 "Get MORE Listings & Begin to Dominate Your Market!" Free online webinar. Learn the 3-7-27 strategy for explosive growth, why 95% of agents have less than 20% market share, and how to become the agent everyone competes against. – Click Here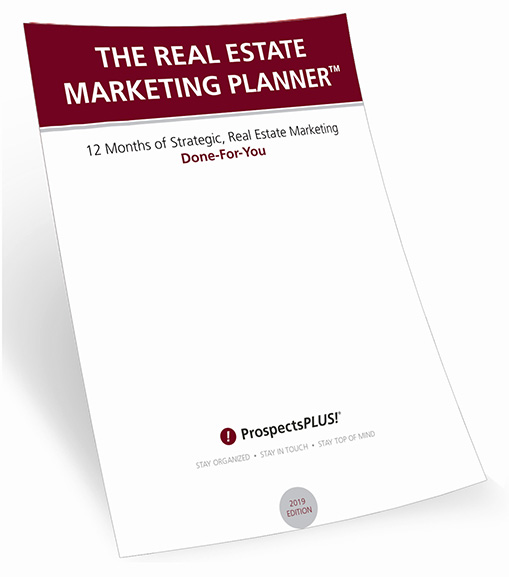 3. The 12 Month Done-For-You Strategic Marketing Plan
The Real Estate Marketing Planner is a powerful 12-Month-Guide that strategically defines what marketing to do when. Four key market segments are included, Niche Marketing, Get More Listings, Geographic Farming, and Sphere of Influence. –Click Here
4. The Free One-Page Real Estate Business Plan
Treat your business like a business it is vital to long-term success in this industry. Some agents may put together elaborate business plans, yet there's something powerful about keeping it simple. Check out our one page Online Real Estate Business Plan.  – Click Here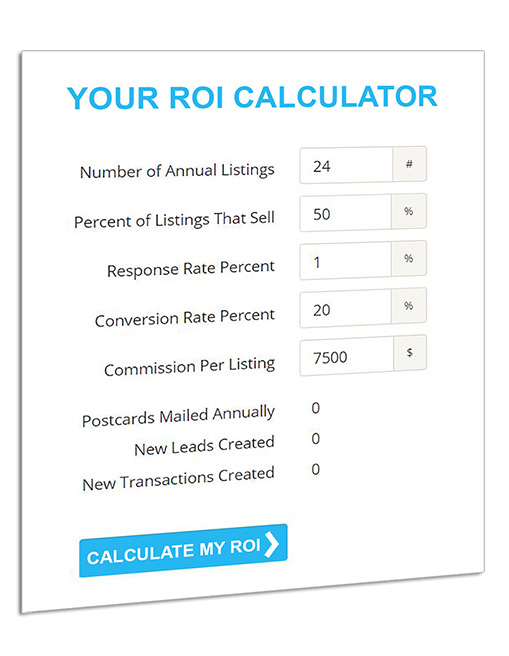 5. The Free Online ROI Calculator
Consistency and automation are the keys to success. Discover how effective direct mail marketing can dramatically increase your bottom line. Enter your statistics in our Free online ROI Calculator and click the 'CALCULATE MY ROI' button to see your results instantly! –Click Here