3 Must-Have Tech Tools for the 2021 Listing Agent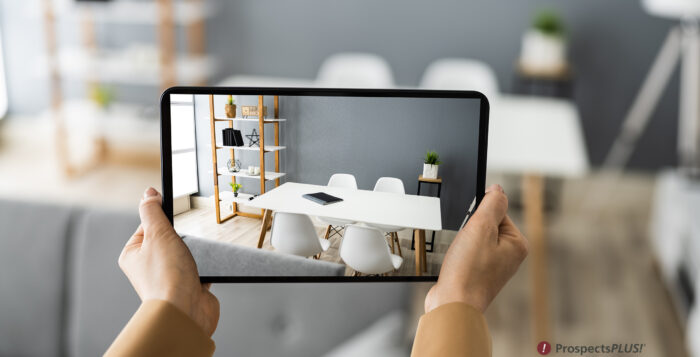 Last year at this time, Americans were just getting to know COVID-19. In fact, the World Health Organization declared the disease a pandemic on March 11, 2020.
A week later, the Las Vegas Strip shut down, some businesses became more "essential" than others and #StayHome became our way of life.
The giant question for real estate agents was about how they would perform the many in-person exchanges required in a typical transaction?
From listing presentations to open houses, inspections, appraisals and showings to closing, just about evert aspect of the real estate business was upended. The real estate industry responded swiftly, showing amazing resiliency.
Your business became virtual, with nary a hiccup.
If you're a new agent, the list of must-have tools is far different than it was in the past. Seasoned agents now seek guidance online about items once considered "luxury."
We've queried agents across the country to determine which listing agent tech tools are a must as we enter the second year of the pandemic. Today, we share with you the most popular responses.

1. Video conferencing software
The social distancing mandate put the kibosh on the traditional listing presentation. Today, the dining room table has pretty much met the fate of the closing table.
Both have been replaced, however. While you may not be sitting across the dining room table with a potential listing client, you can achieve the same end result via video conferencing software for real estate agents.
Who says there's no such thing as an overnight sensation? Not the folks at Zoom, that's for sure. Undeniably the most popular video conferencing software among the real estate agents we spoke with, Zoom offers video tutorials, live training and webinars to bring you up to speed.
Prices range from free to $19.99 per host, per month.
What do agents like about it? Reliability, support for those new to video conferencing and screen sharing capabilities.
Not all is well, though, at least among agents. "… I don't love it … the launch process gets confusing because of multiple window prompts, even after you've downloaded it," according to Craig C. Rowe at inman.com.
He adds, by the way, some good news for budget-minded agents: "Free accounts can have up to 100 people for 40 minutes and unlimited one-on-one meetings."
If you're new to the software, eliteagents.com offers a walkthrough.
Already use Zoom? Check out these hacks at techhelpline.com.
2. Floor plan software
Listings with accompanying floor plans receive 52% more clicks than those without floor plans, according to the folks at rightmove.com.
Additionally, one in 10 of the buyers interviewed by the property portal said that they wouldn't view a home for sale in person without seeing a floor plan first.
Finally, NAR finds that a floor plan is the third most valuable aspect of a real estate agent's website, right behind photos and the listing description.
Floor plans aren't expensive. Sure, you can go with a company that offers all the bells and whistles, but there are also those who offer the service for a reasonable price. Here are some that the agents we spoke with recommend:
3. Virtual tours
One listing agent we spoke with represents an older woman who is down-sizing. Because she suffers from lung disease, she is extremely fearful of catching COVID-19. The thought of random people touring her home led her to believe that selling to an investor was her only solution.
Luckily, she met a creative listing agent with a number of solutions, one of which was to restrict showings to virtual tours only. In-person showings were reserved for those buyers who submitted offers.
Her listing agent chose a Matterport virtual tour, which can be slow to create and, if you carry a lot of listings, it can get expensive. It remains, however, the gold standard of the real estate industry.
For alternatives, check out this piece from Mandy Ellis at NAR's magazine.realtor.
---
RIGHT NOW! RENTER Scheduled Campaigns are on SALE 10% OFF!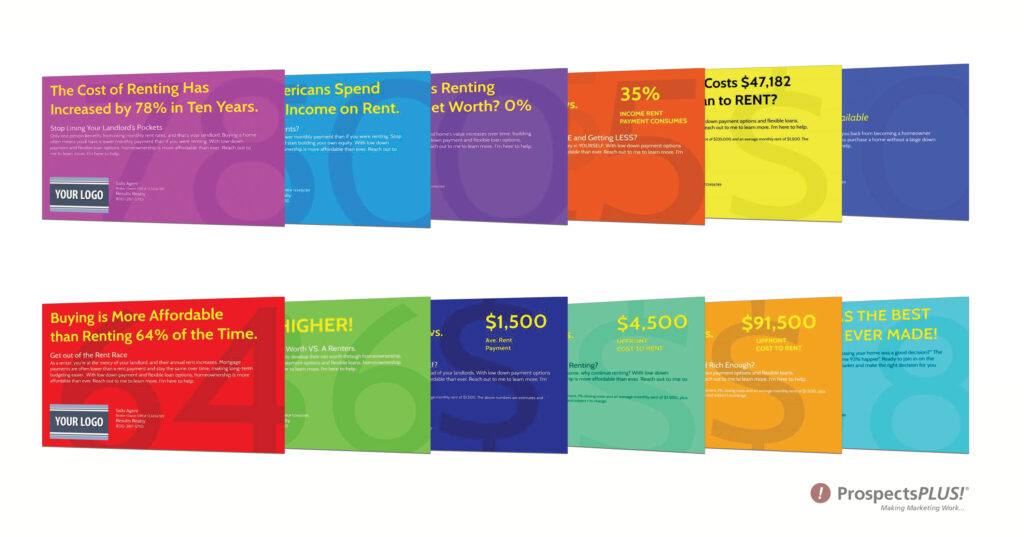 TO LAUNCH A RENTER SCHEDULED CAMPAIGN:
Click the "GO NOW" link, below (from a desktop or laptop computer).
And, remember, YOU DON'T PAY until each mailing goes out (cancel or change up until the night before mailing).
---
Please reach out to our support team at 866.405.3638 with questions or if there is anything we can do to help you with your success.
---
PLUS: When you have time…here are some helpful resources we've made available to support your success.
1. The Free 12 Month Done-For-You Strategic Marketing Plan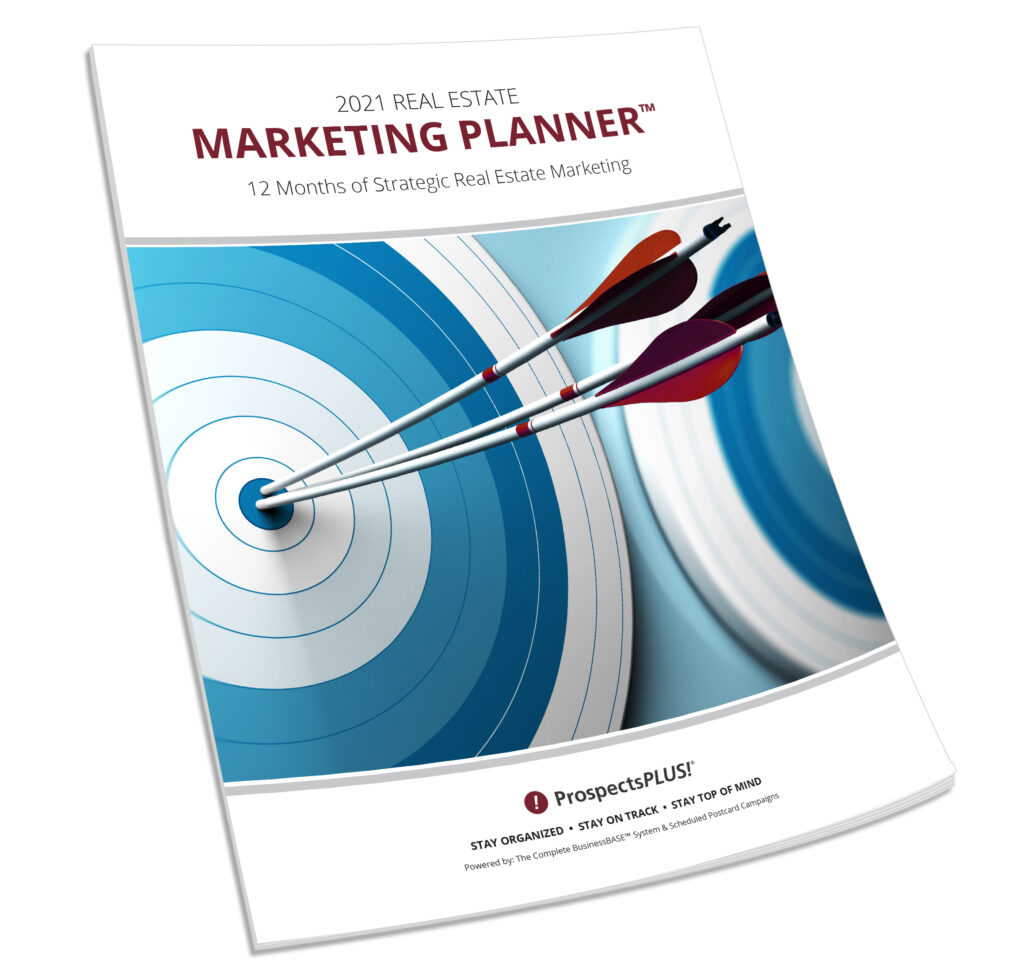 The Real Estate Marketing Planner is a powerful 12-Month-Guide that strategically defines what marketing to do when. Four key market segments are included, Niche Marketing, Get More Listings, Geographic Farming, and Sphere of Influence. –Click Here
2. The Free Interactive Real Estate Business Plan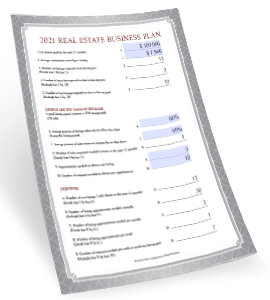 The Free Interactive Real Estate Business Plan allows you to enter your business goals for this year and get a breakdown of how many prospects, listings, closing, and so on are needed to reach your goals. – Click Here
3. Become a Neighborhood Brand
Become branded in a specific neighborhood with a 12X15 marketing piece sent automatically each month to an exclusive carrier route. Watch this video to learn more or Click Here.
4. The Free Real Estate Mailing List Guide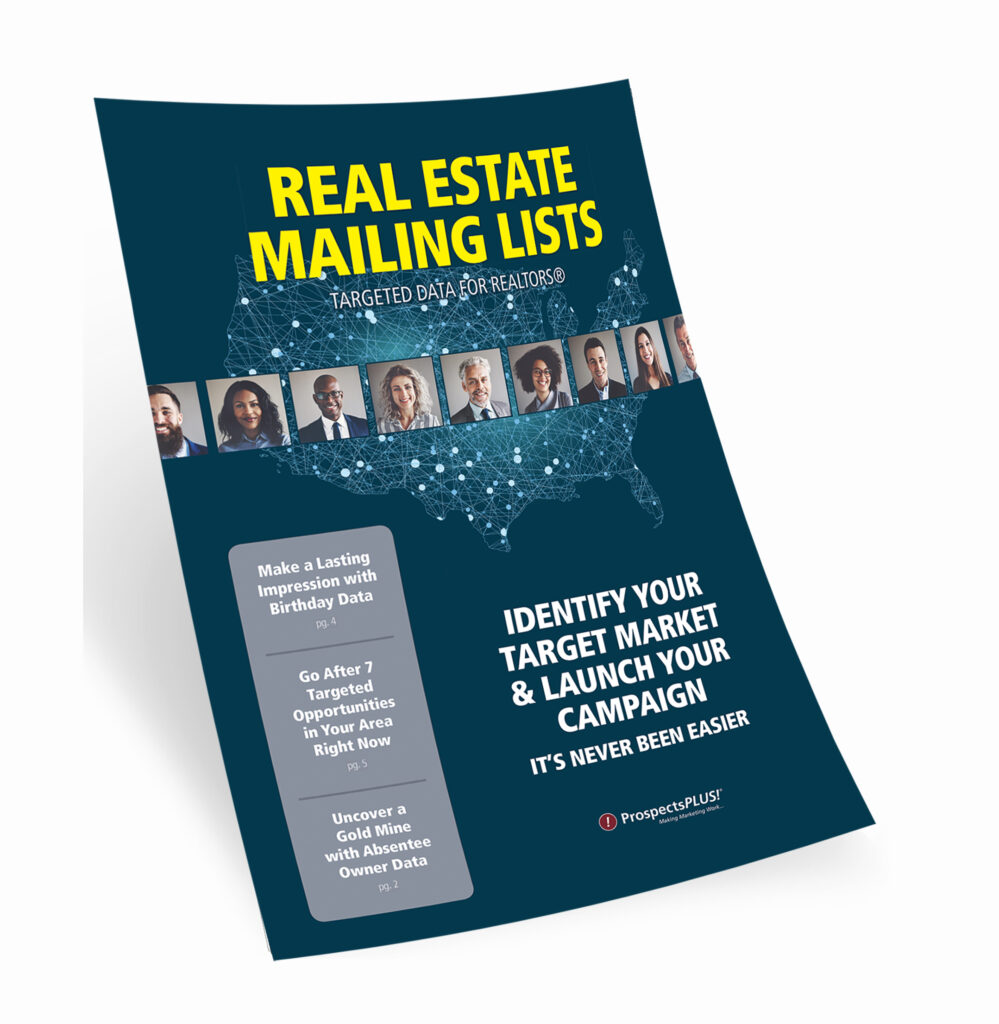 The Real Estate Mailing List Guide outlines the top tools for generating targeted prospecting lists including Baby Boomers, Empty Nesters, Investors, Lifestyle Interests, High-Income Renters, Move-Up Markets, and more. The Guide also defines done-for-you marketing campaigns to match these markets. –Click Here
5. Become a Listing Legend Free eBook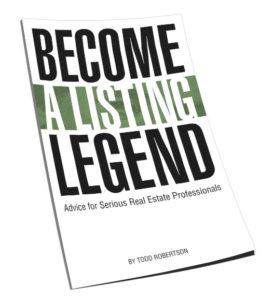 Ready to take a vertical leap in your real estate career? If you're looking for inspiration…and the tools and methods to dominate a market and go to the top in real estate…you'll find them in this free book. – Click Here
6. The Free Online ROI Calculator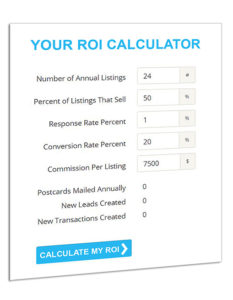 Consistency and automation are the keys to success. Discover how effective direct mail marketing can dramatically increase your bottom line. Enter your statistics in our Free online ROI Calculator and click the 'CALCULATE MY ROI' button to see your results instantly! –Click Here
7. The Free Real Estate Marketing Guide "CRUSH IT"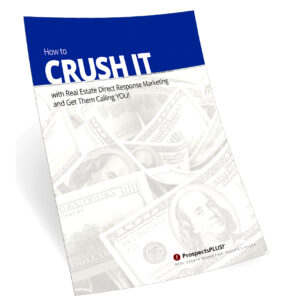 The "Crush It" Guide includes easy steps to launching an effective direct mail marketing campaign, how to create a targeted prospect list, the perfect way to layout marketing materials for success, seven opportunities available to target in your area right now. –Click Here