Seven Great Ways to Use Magnetic Calendar Cards

There are some powerful NEW ways to market yourself and your  business in this industry, but you have to hand it to the savvy agents who also don't discount the tried and true tools.  Like Just Listed postcards, Just Sold postcards — and of course – the annual Magnetic Calendar Postcard.
Why use Calendar cards? First, People still love them.  It's the perfect quick-reference for their refrigerator or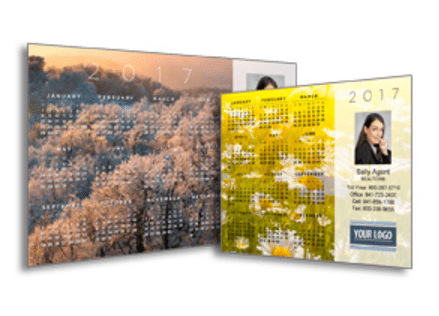 office cubicle.  So you're providing a resource people need – and that's ALWAYS a good thing. And secondly? Your brand stays top-of-mind all year around.  There's something to be said for having that kind of stick-with-it branding. Every time your customers reach for something in the refrigerator — your face and brand are right there reminding them who to call if they need anything real estate related.
 Here are seven great ways you can use them:
Ask permission to leave a stack of magnetic calendars by registers of your favorite businesses such as area doctors, dentists, restaurants etc.,  for people to take
Send them with a kind holiday note to current customers and the VIPs in your sphere as a simple thank you gift.
Walk your neighborhood farm and offer one to every homeowner you meet and let them know you are available to answer any real estate questions they might have.
Use a jpg of your calendar on your social media platforms and let folks know that you are sending them out and that if they'd like one of their own, to in-box you and you're happy to send.
These are perfect when you are attending local festivals, job fairs, and business expos.
Lots of agents are hosting impromptu "Ask Me About Real Estate" events at their local coffee shops, simply by visiting the shop, and putting up a sign.  These are great give-aways that people can take with them.
Use them as Open House gifts.
This month, save 10% off any magnetic calendar card with the promo code: ELF10M.
See all thirteen designs here.   
As always, we're here to help.  Our marketing team is experienced and well versed in what today's real estate professionals NEED, WANT and will make their lives and jobs EASIER.  If you're creating your marketing budget for next year and would like some guidance on which tools might work best for you and what that cost would be, call our team today at 866.405.3638 or email us at pmc@prospectsplus.com!