New Agent: Get Online Now with THIS Easy Real Estate Website Platform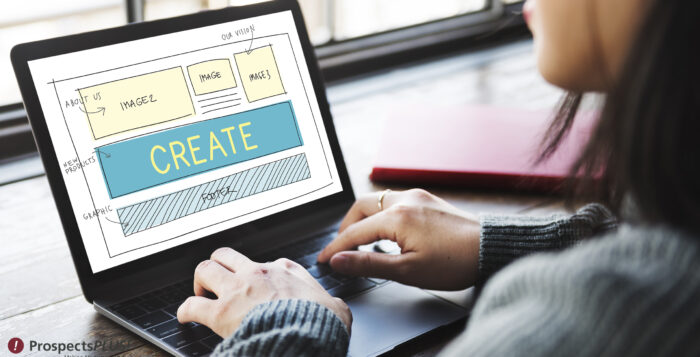 Your real estate website will be one of the most important marketing and lead-generating tools in your real estate business.
If you're just starting out in the industry, however, you probably don't have a lot of money to hire one of the larger real estate website development companies.
That's ok. It's important to get yourself online however you can, and a WordPress site may just be a sensible interim solution.
What is WordPress?
It's surprising, but not everyone is familiar with WordPress. So, for the newbie, WordPress is an Internet-gobbling content management system, powering more than 26 percent of all websites, to a total of more than 70 million worldwide.
If that's still too technical, think of WP as a blogging-platform website-builder-E commerce platform. Sort of a one-stop-shop, if you will.
Its popularity stems from the fact that it's open-source, so modifications and improvements occur frequently and fixes happen rapidly, unlike closed-source software such as Microsoft Office or Adobe Acrobat.
WordPress is easy
The number one reason to consider WordPress for your agent website is that it's so easy to use.
It offers not only one-click installation but functionality options that allow for easy updates to your site – even if you're completely unfamiliar with blog publishing, RSS feeds, and IDX capability.
No developer or webmaster is needed for every little tweak you want to make.
WordPress is customizable
You won't need to take coding classes to customize your WordPress site. Just think "widgets," which are simple to use and give you design control over the WP theme.
There are widgets for just about any use, from advertising open houses and just-sold listings to user registration and social integration.
Google loves WordPress
Getting your website to rank higher in search engines is important to your real estate business and WordPress helps you do just that. When you use WordPress' built-in features, such as tags and categories, Google learns what your pages are all about and that's good for SEO (learn more about how to supercharge your site's SEO, here).
Then, there are the SEO plugins that can help your site rank quickly. Best of all, they're easy to install, even for the novice.
Of course, you'll still need to walk the walk and talk the talk by ensuring that your site has relevant content.
It's easy to add content
Yes, content is still king when it comes to generating traffic to your website. In fact, Google's "Quality Rater Guidelines" insist that a website's content should be "maintained and updated regularly" to receive the highest ranking.
And, how should agents accomplish this? By blogging, and fortunately, WordPress includes a built-in blogging platform that is a snap to use.
It's all about IDX
At the end of the day, the main reason someone visits your website is to search for homes for sale in your market and they can't do that without IDX (Internet Data Exchange) and its seamless integration into your WordPress site.
But it doesn't stop there. You can include interactive maps and other search features as well. These include:
Sharing property data on social media
Allowing visitors to create a list of favorite listings and share them via email or social media
Enabling users to subscribe to new listing alerts
Integration with your CRM
Harnessing the power of WordPress and IDX for your agent site is the best step you can take right now for your new business.
It's not called "Marketing Media," but "SOCIAL media." Get social. Join pertinent groups and engage with people. A new year will be upon us before we know it. While penciling out your 2022 business goals, vow to leave the dated aspects of your business behind, where they belong.
---
Did you know our Farm, Get More Listings Scheduled Campaign is currently on sale 10% OFF the first month?
SALE ENDS IN 3 MORE DAYS!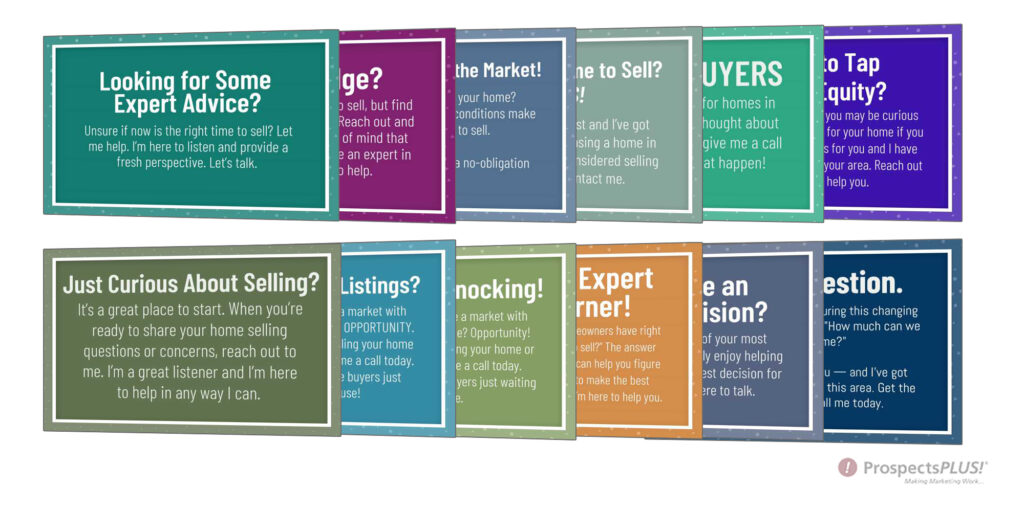 Get More Listings Postcard Campaign (shown above). Learn more, HERE
TO LAUNCH A GET MORE LISTINGS CAMPAIGN:
Hit the "CLICK HERE" link, below, to schedule your campaign (from a desktop or laptop computer) and choose the Get More Listings I or II Series.
USE PROMO CODE: LIST10 to get 10% Off at check out.
And, remember, YOU DON'T PAY for each mailing until it actually goes out (cancel or change up until the night before the mailing goes out). This sale expires 11/20/21.
Launch a Get More Listings Campaign Now, CLICK HERE!
Please reach out to our support team at 866.405.3638 with questions or if there is anything we can do to help you with your success.
---
PLUS: When you have time…below are some helpful tools to support your success.
1. The Free 12 Month Done-For-You Strategic Marketing Plan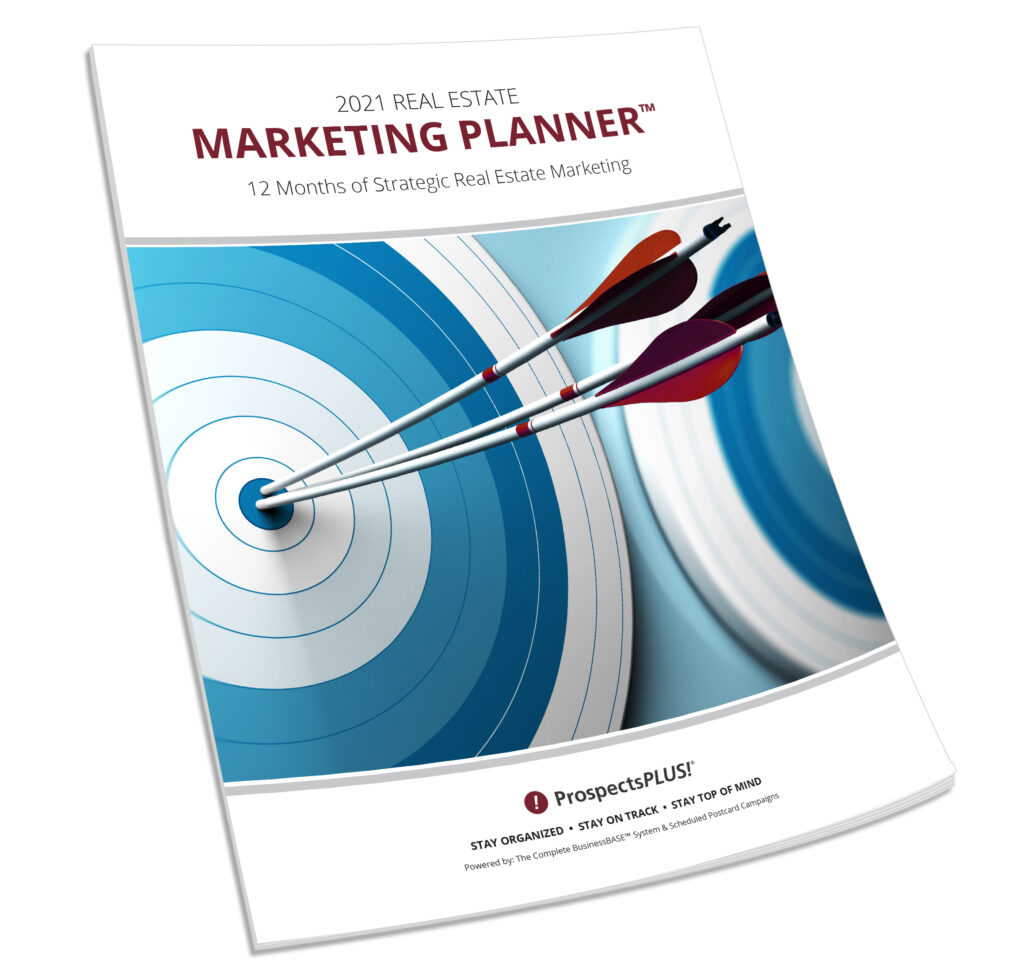 The Real Estate Marketing Planner is a powerful 12-Month-Guide that strategically defines what marketing to do when. Four key market segments are included, Niche Marketing, Get More Listings, Geographic Farming, and Sphere of Influence. –Click Here
2. The Free Interactive Real Estate Business Plan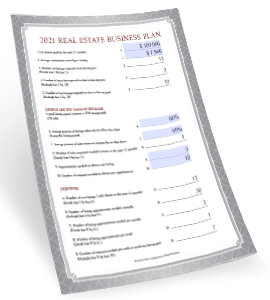 The Free Interactive Real Estate Business Plan allows you to enter your business goals for this year and get a breakdown of how many prospects, listings, closing, and so on are needed to reach your goals. – Click Here
3. The Automated Way to Become a Neighborhood Brand
Become branded in a specific neighborhood with a 12X15 marketing piece sent automatically each month to an exclusive carrier route. Watch this video to learn more or Click Here.
4. The Free Real Estate Mailing List Guide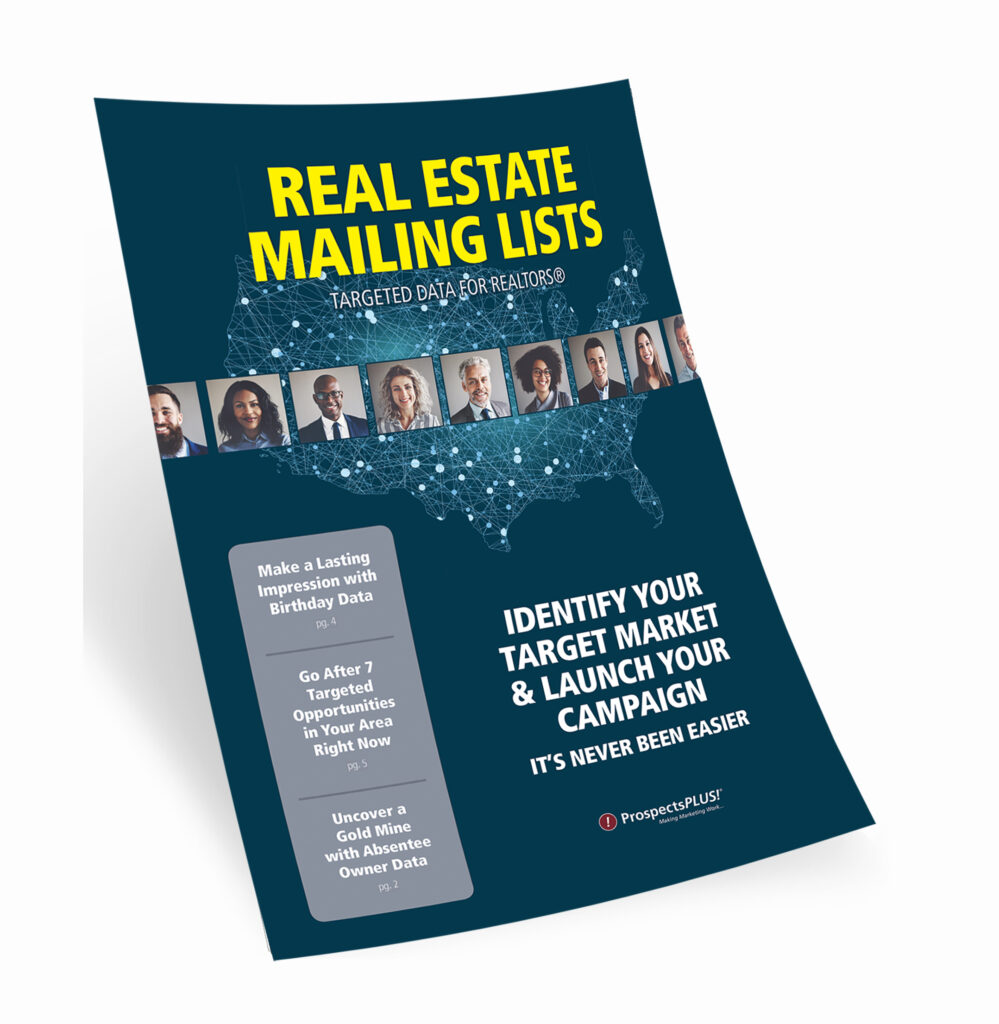 The Real Estate Mailing List Guide outlines the top tools for generating targeted prospecting lists including Baby Boomers, Empty Nesters, Investors, Lifestyle Interests, High-Income Renters, Move-Up Markets, and more. The Guide also defines done-for-you marketing campaigns to match these markets. –Click Here
5. The Become a Listing Legend Free eBook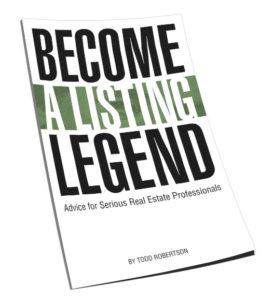 Ready to take a vertical leap in your real estate career? If you're looking for inspiration…and the tools and methods to dominate a market and go to the top in real estate…you'll find them in this free book. – Click Here
6. The Free Online ROI Calculator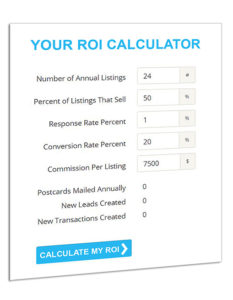 Consistency and automation are the keys to success. Discover how effective direct mail marketing can dramatically increase your bottom line. Enter your statistics in our Free online ROI Calculator and click the 'CALCULATE MY ROI' button to see your results instantly! –Click Here
7. The Free Real Estate Marketing Guide "CRUSH IT"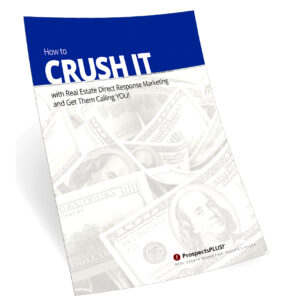 The "Crush It" Guide includes easy steps to launching an effective direct mail marketing campaign, how to create a targeted prospect list, the perfect way to layout marketing materials for success, seven opportunities available to target in your area right now. –Click Here