Need Real Estate Leads? Work That Sphere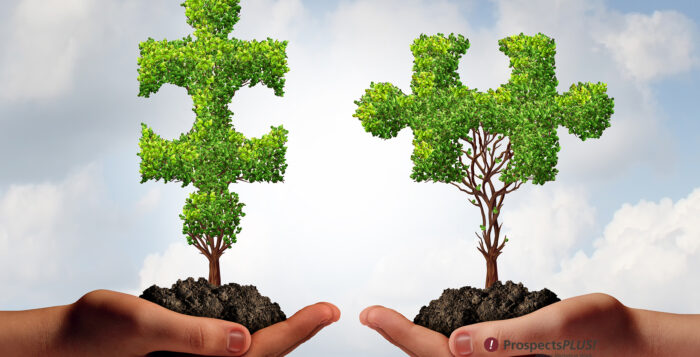 Recently, I read an article over at Inman.com, written by Troy Palmquist. The subject is how to "… beef up your referral network," and Palmquist offered some brilliant tips including one that should be unnecessary.
Why? Because reminding real estate agents of the value of their real estate sphere, shouldn't be necessary in 2020.
Yet, too many agents let it slide, taking for granted the relationships that those names in their CRMs represent.
Your sphere can be the lifeblood of not only a referral network, but of your entire business if it's consistently nurtured.
For that to happen, however, you need to devote more time to your sphere. In other words,
Focus on lead quality, rather than lead volume.
It takes time to nurture your SOI, to grow it, and, thus, to prosper from it. But the good news is that the tasks involved in accomplishing these goals are far easier and more comfortable for the agent than the constant rotations of the hamster wheel that is new lead gen.
So, consider stepping off that wheel and working smarter, not harder.
Let's take a look at your CRM
If you're a new agent, "SOI" may mean little more than three letters. So, let's start there.
A sphere of influence in sales is a group of people over which you have some influence and to whom your opinion matters.
In essence, it's a group of people who already know, like and trust you. This group naturally includes close family members, colleagues from your previous jobs and anyone else you've had a cordial relationship with.
Established agents: Are these contacts easy to filter in your CRM?
There are numerous ways to categorize those names.
Think about it: when creating marketing pieces, you don't want to be sending information on buying a home to your seller leads and vice versa.
So, the best place to start is to categorize by whether the contact is a potential buyer or seller.
You'll have lots of folks that don't fit either category because they're friend, family or others in your sphere.
Create a category for your SOI as well. It's ok if someone in your sphere is also a potential buying or selling client, their info will come up when you search for either.
Need additional CRM organizational tips? Check out these websites:
Now you're all set to communicate
Go through your CRM and pick out anyone in your SOI. Remember, they may or may not also be in the market to buy or sell, but they should be a target marketing audience.
How you market to them is your choice, whether it's via email (not very effective) or snail mail, this audience requires mostly generic information, such as:
How the market in your area is doing
The percentage increase in local home values
Homeowner DIY tips
Local events
Restaurant and Mom & Pop store reviews
Local and national economic news (in plain English)
Local, state and national down payment assistance programs
Much of the topics that fit your SOI make amazing newsletter fodder and, right now, direct mail is the way to deliver it.
Basically, you just want to send them something consistently that reminds them that they have a trusted friend in the real estate business.
Use free social media strategies for all their worth
If you don't have a social media strategy, or haven't been paying attention to the one you have, get busy changing that. If you're too busy, it's worth it to hire an intern or virtual assistant to keep on top of it.
We get it that you don't have time for a whole lot of schmoozing, so start with one platform. Facebook – it has near-perfect user demographics for real estate marketing.
If you haven't been on Facebook in some time you may not be aware of how it's changed. Users are far more aggressive, bullying of those who disagree on popular news topics is common. The environment is really quite ugly, but it doesn't impact the platform's effectiveness for marketers.
You'll want to engage with your followers, but avoid (at all costs) becoming involved in the political threads that are quite popular right now. To avoid the temptation, don't even read them; just scroll right by.
If you aren't a member of any local Facebook groups, find out which ones those in your SOI enjoy and join them.
Your real estate sphere of influence can be a goldmine if you work it. Keep in touch, ask for referrals, and engage with them on social media.
Send a postcard from the Animal II Series to your Sphere of Influence and keep those lines of communication open.
Need help targeting a specific niche of buyers or sellers? Use our Demographic Search Tool to create the ideal list (it's easy). Or call our support team for assistance at 866.405.3638!
PLUS: When you have time…here are some helpful resources we've made available to support your success.
1. Become a Neighborhood Brand
Become branded in a specific neighborhood with a 12X15 marketing piece sent automatically each month to an exclusive carrier route. Watch this video to learn more or Click Here.
2. The Free Real Estate Mailing List Guide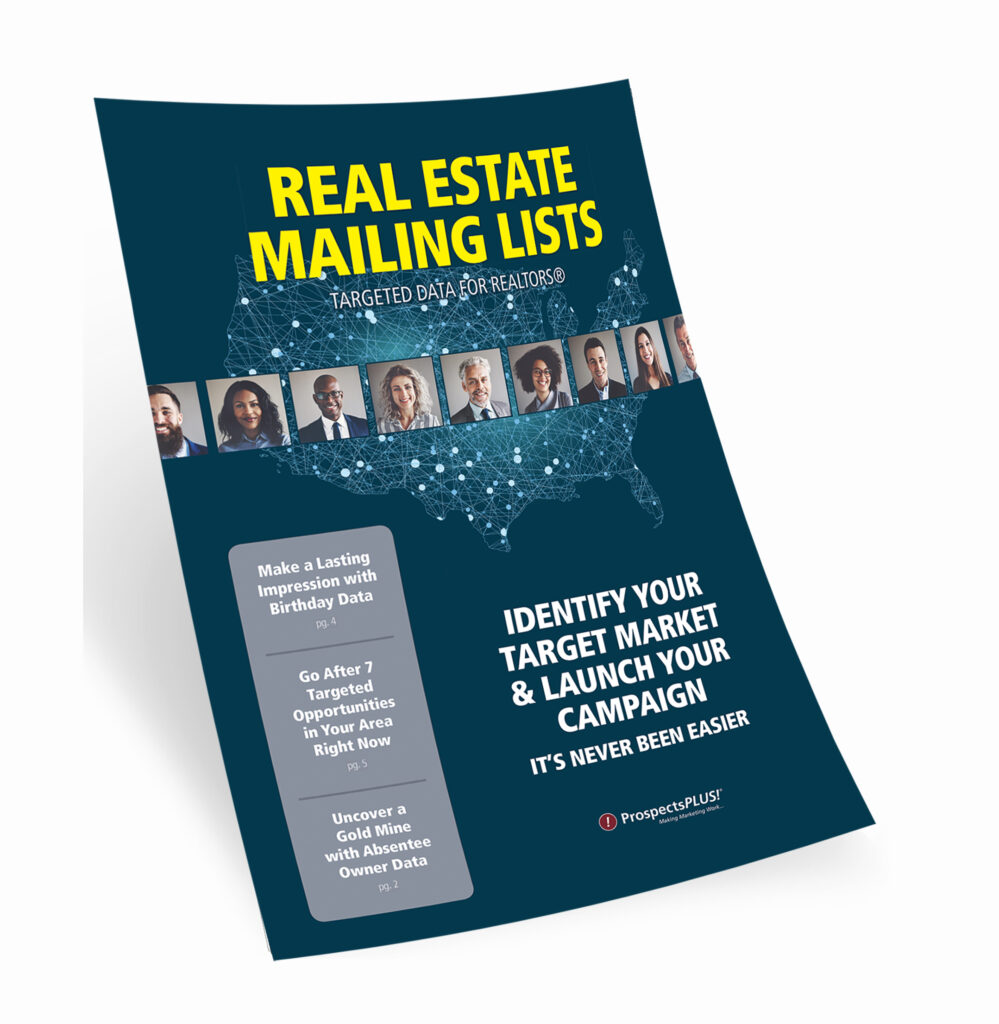 The Real Estate Mailing List Guide outlines the top tools for generating targeted prospecting lists including Baby Boomers, Empty Nesters, Investors, Lifestyle Interests, High-Income Renters, Move-Up Markets, and more. The Guide also defines done-for-you marketing campaigns to match these markets. –Click Here
3. The Free 12 Month Done-For-You Strategic Marketing Plan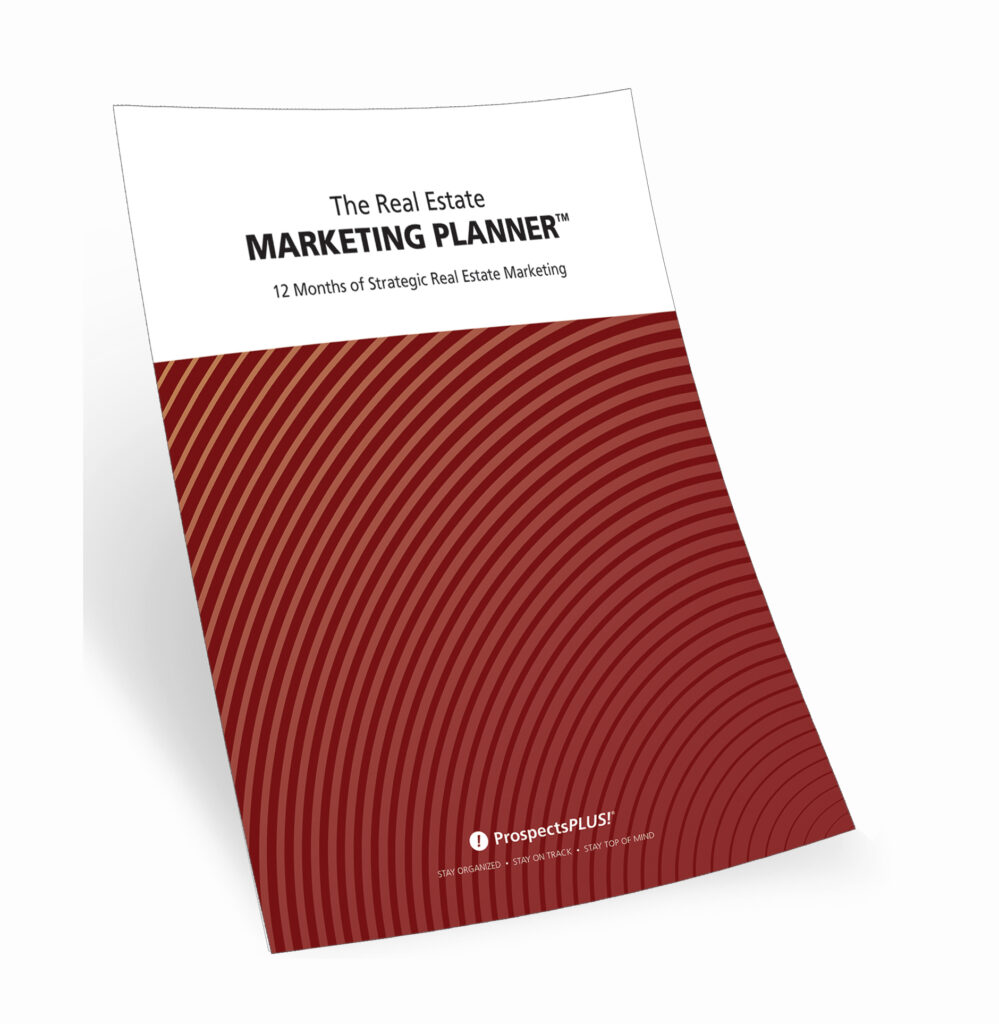 The Real Estate Marketing Planner is a powerful 12-Month-Guide that strategically defines what marketing to do when. Four key market segments are included, Niche Marketing, Get More Listings, Geographic Farming, and Sphere of Influence. –Click Here
4. The Free One-Page Real Estate Business Plan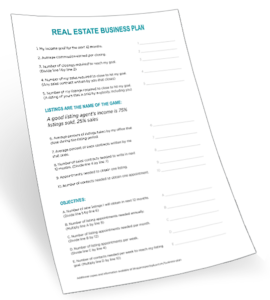 Treat your business like a business it is vital to long-term success in this industry. Some agents may put together elaborate business plans, yet there's something powerful about keeping it simple. Check out our one page Online Real Estate Business Plan. – Click Here
5. Become a Listing Legend Free eBook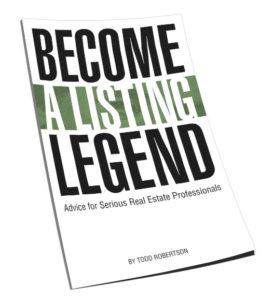 Ready to take a vertical leap in your real estate career? If you're looking for inspiration…and the tools and methods to dominate a market and go to the top in real estate…you'll find them in this free book. – Click Here
6. The Free Online ROI Calculator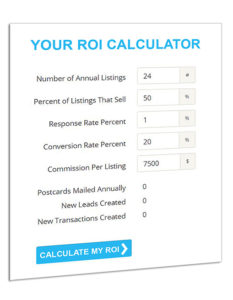 Consistency and automation are the keys to success. Discover how effective direct mail marketing can dramatically increase your bottom line. Enter your statistics in our Free online ROI Calculator and click the 'CALCULATE MY ROI' button to see your results instantly! –Click Here
7. The Free Real Estate Marketing Guide "CRUSH IT"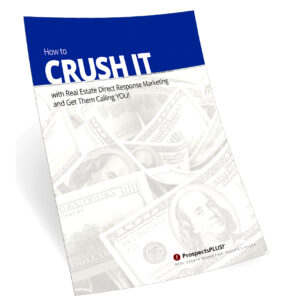 The "Crush It" Guide includes easy steps to launching an effective direct mail marketing campaign, how to create a targeted prospect list, the perfect way to layout marketing materials for success, seven opportunities available to target in your area right now. –Click Here