Weekly $100 ProspectsPLUS! Gift Card Winner (October 23rd)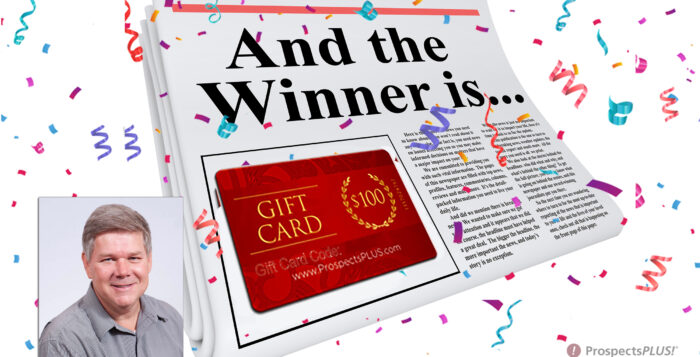 Congratulations Joe Cooper on being our $100 ProspectsPLUS! Gift Card Winner!
Joe shared this story regarding his experience using marketing pieces from ProspectsPLUS!,
"I had taken a break from using postcards as my business was going well. I guess I thought advertising and promoting my Just Solds on Facebook was enough. It took a while but I noticed that my business was starting to be flat. I was still a top producer but where I used to have more listings than I did buyers, I now had twice as many buyers as I did listings.
I took a hard look at my business model and realized that it had been around two years since I'd used Just Listed/Just Sold postcards. I decided to start back up and see if it made a difference. Well, it has. Almost immediately, my listings have picked up!
What I like about ProspectsPLUS! is the value for the price. The cards are high quality (sturdy with vibrant colors) and they are mailed super quick which I really like. When I sell a listing, I order the cards and know within 24 hours they are taken to the post office! Their postcards are definitely the jump start I was looking for with my business. I spend a little money on cards but the ROI is well worth it".
Joe recently sent out postcards from the Just Sold Series.

Need help targeting the perfect niche of buyers or sellers? Use our prospecting list tool to create the ideal list (it's easy) or call our support team for assistance at 866.405.3638!