New Agent University: Walk your client through the title process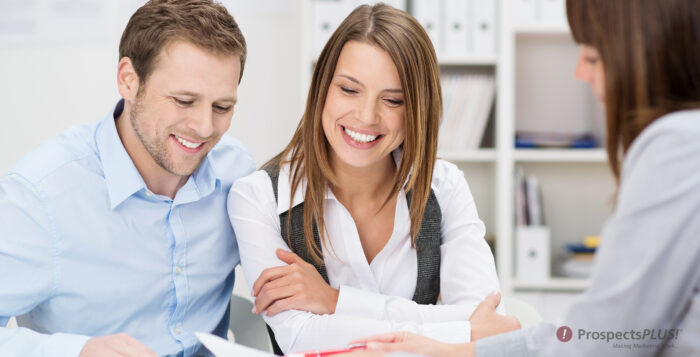 The real estate purchase is full of insurance. Private mortgage insurance (PMI or MIP in the case of FHA loans) is sometimes demanded by the lender to ensure the loan is repaid if the borrower defaults on the loan.
Homeowner's insurance is also a necessity to protect the lender's financial interests – it ensures the lender in case of damage of the loss of the loan's security – the house.
Finally, there is title insurance, typically a point of confusion for both buyers and sellers.
It's important for new agents to quickly get up to speed on all aspects of the purchase and sale transaction. When you can explain each step, each aspect, to your client, in easy-to-understand terms, they will appreciate your knowledge and professionalism.
Since this is a prerequisite to being referred to family and friends, let's get you familiar with the title insurance that your buyer most likely knows nothing about.
Some of this you may have learned in real estate school so feel free to skip over those parts.
What is it?
Title insurance proves that there is no other person or entity that has a claim against or lien on the title of the home the buyer is purchasing.
Some of the more common "clouds" on a property's title you learned about in real estate school so they're probably still fresh in your memory. Just in case they aren't, they include:
Fraud
Unpaid taxes
Forgery
Liens
Undisclosed heir of a previous owner
---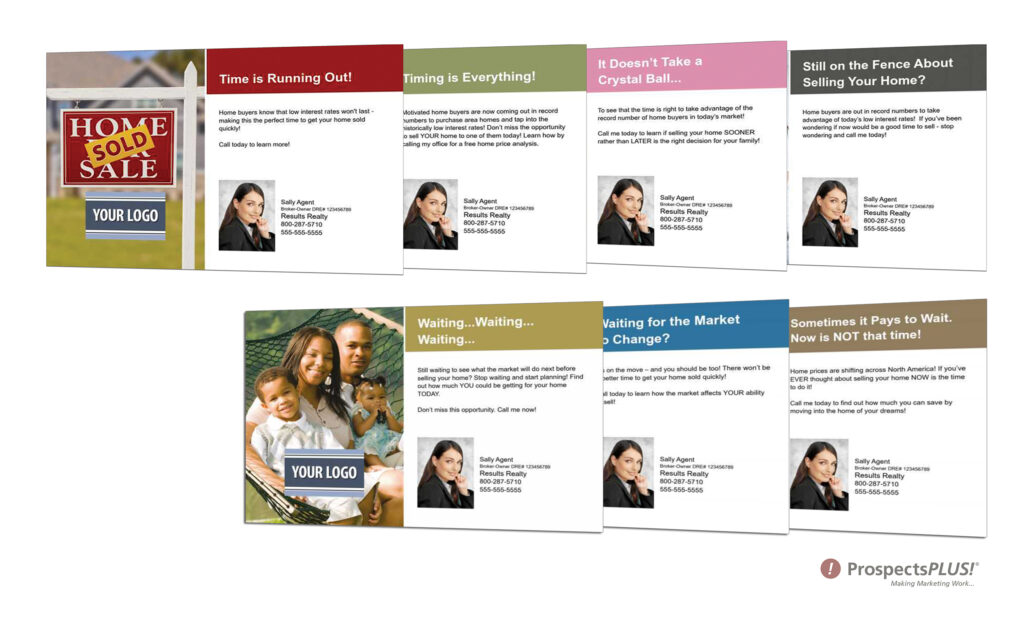 ---
There are two types of title insurance
The title insurance policy is typically paid for at closing and listed as an expense, either buyer's or seller's, on the closing disclosure.
One title policy covers the lender and the other covers the owner in the event that problems turn up that weren't found during the title search.
In most instances, the buyer pays for the lender's policy.
An owner's policy is not required and who pays for it is negotiable. Typically, it's the seller.
The Process
Shortly after escrow opens, someone will order a title search. You will most likely be the one to order it, but it varies by region.
Title officers use a number of different methods in their searches. Public records will tell them about liens or other claims. Some of the records searched include those located at county courts, the county recorder, tax assessors, surveyors.
Problems unearthed during the search are commonly called "clouds" on the title. Common issues include:
Unpaid taxes owed on the property
Liens
Boundary issues
Clerical errors
Encroachments
Errors in marital status
When a defect is found
Although it's not the end of the world as we know it, a cloud on the title can significantly slow down a transaction. The time it takes to clear it depends on the type of error.
Clerical errors are typically the easiest to clear. Finding lost heirs or the need to go to court to clear a defect may take a significant amount of time.
The prelim
If all goes well, your client will be given a preliminary title report ("prelim" for short). This report outlines the title investigation and what was found.
It's vital that you understand how to read the prelim and how to explain its contents to your client. While we don't have time to go over the intricacies, you'll find a brilliant YouTube video walk-through from Steve Ayers with Orange Coast Title Company, here.
As you walk your client through the prelim, keep your opinions of the contents to yourself. The most important thing to remember is to refer your client to a legal professional if the defect warrants it.
Never give your opinion or advice on legal matters. It's a sure path to court and one of the most common reasons agents end up there.
The title process is one that confuses most new agents. Do some research and read through some sample prelims so you can sail through the process when you're sitting with a client.
---
RIGHT NOW! FARM Scheduled Campaigns are on SALE 10% OFF!
---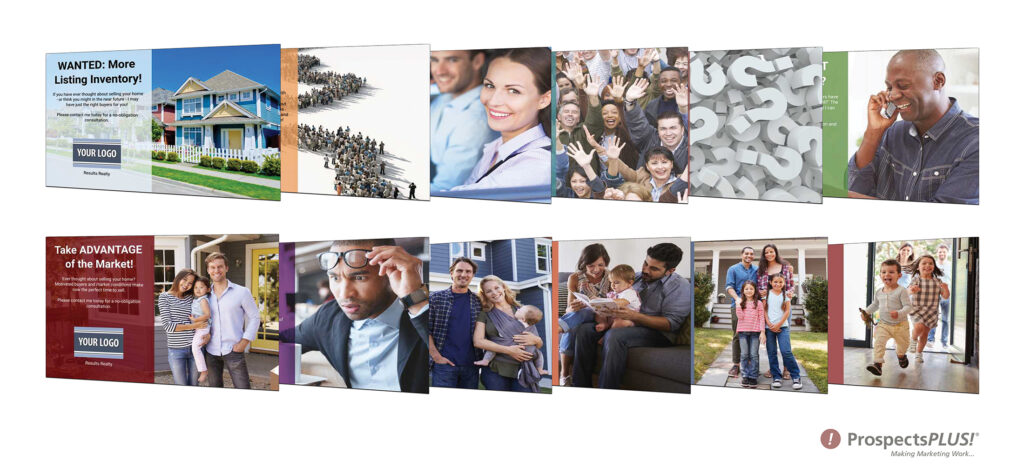 TO GET STARTED:
STEP ONE: Create your prospect list using the MapMyMail tool or Demographic Search tool, click HERE.
STEP TWO: Launch a FARM Scheduled Campaign by clicking on "FARM" on the Campaign page and following the prompts, HERE.
And, remember, with Scheduled Campaigns, YOU DON'T PAY until the mailing goes out (cancel or change up until the night before mailing).
Click the "GO NOW" button, to get started on your Get More Listings Scheduled Campaign (from a desktop or laptop computer).
Please reach out to our support team at 866.405.3638 with questions or if there is anything we can do to help you with your success.
---
PLUS: When you have time…here are some helpful resources we've made available to support your success.
1. The Free 12 Month Done-For-You Strategic Marketing Plan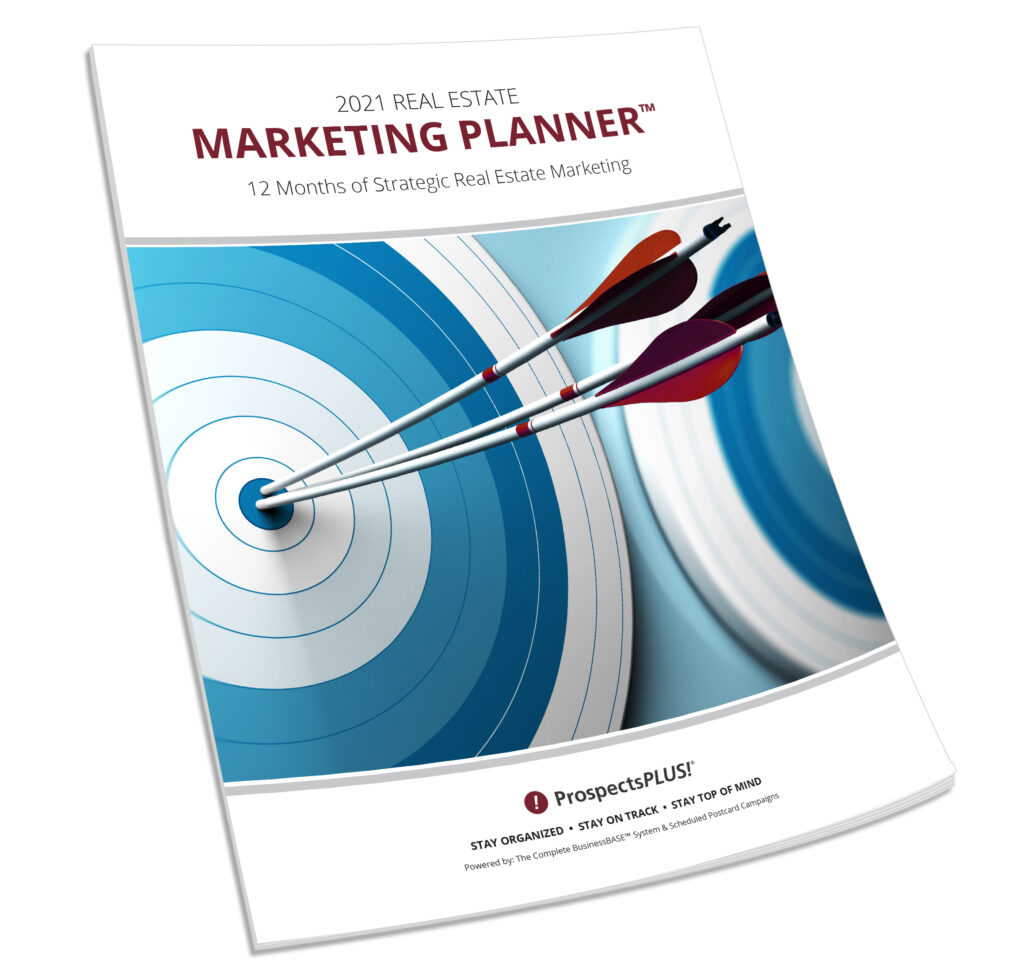 The Real Estate Marketing Planner is a powerful 12-Month-Guide that strategically defines what marketing to do when. Four key market segments are included, Niche Marketing, Get More Listings, Geographic Farming, and Sphere of Influence. –Click Here
2. The Free Interactive Real Estate Business Plan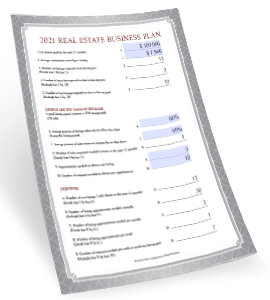 The Free Interactive Real Estate Business Plan allows you to enter your business goals for this year and get a breakdown of how many prospects, listings, closing, and so on are needed to reach your goals. – Click Here
3. Become a Neighborhood Brand
Become branded in a specific neighborhood with a 12X15 marketing piece sent automatically each month to an exclusive carrier route. Watch this video to learn more or Click Here.
4. The Free Real Estate Mailing List Guide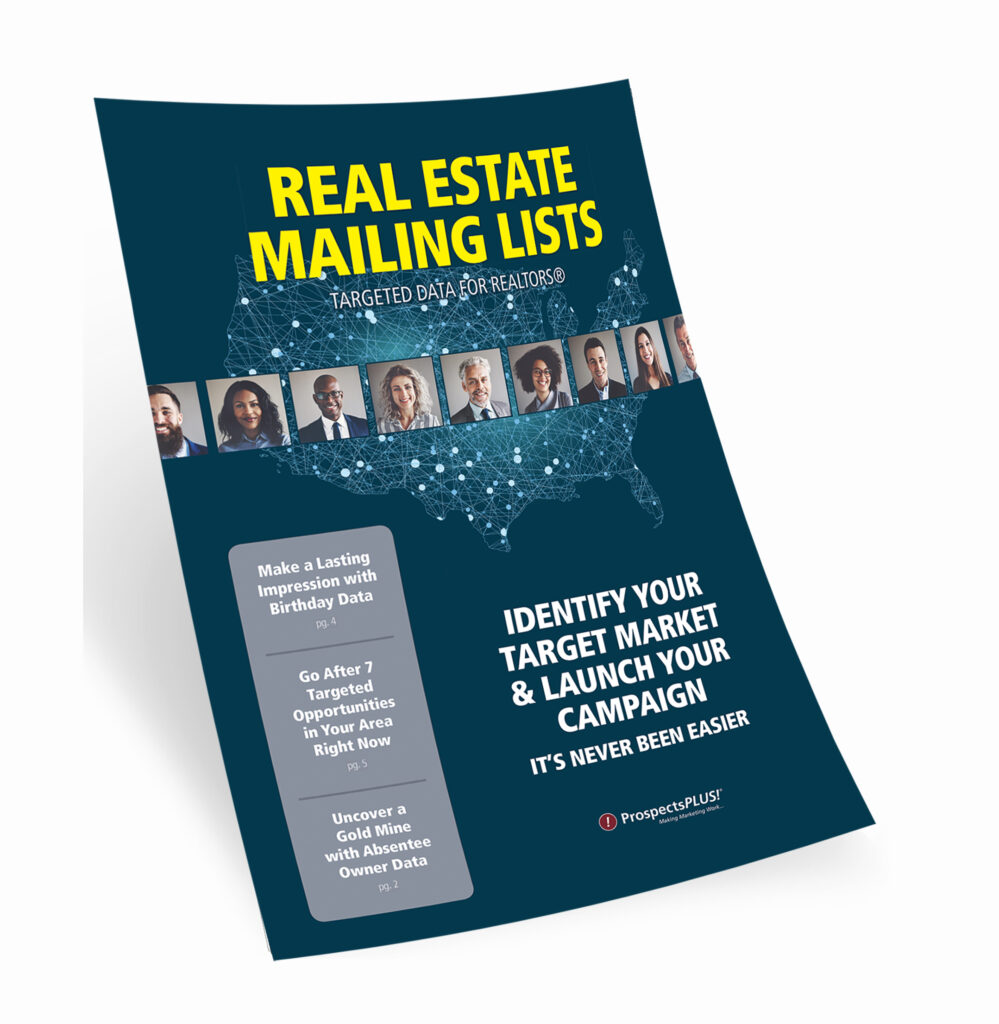 The Real Estate Mailing List Guide outlines the top tools for generating targeted prospecting lists including Baby Boomers, Empty Nesters, Investors, Lifestyle Interests, High-Income Renters, Move-Up Markets, and more. The Guide also defines done-for-you marketing campaigns to match these markets. –Click Here
5. Become a Listing Legend Free eBook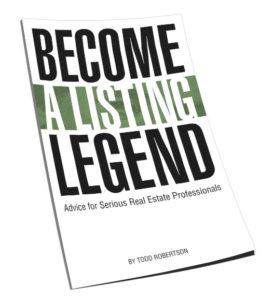 Ready to take a vertical leap in your real estate career? If you're looking for inspiration…and the tools and methods to dominate a market and go to the top in real estate…you'll find them in this free book. – Click Here
6. The Free Online ROI Calculator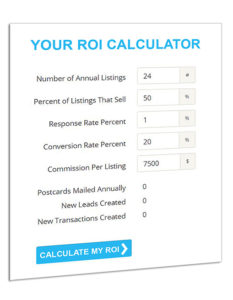 Consistency and automation are the keys to success. Discover how effective direct mail marketing can dramatically increase your bottom line. Enter your statistics in our Free online ROI Calculator and click the 'CALCULATE MY ROI' button to see your results instantly! –Click Here
7. The Free Real Estate Marketing Guide "CRUSH IT"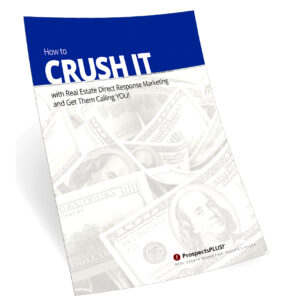 The "Crush It" Guide includes easy steps to launching an effective direct mail marketing campaign, how to create a targeted prospect list, the perfect way to layout marketing materials for success, seven opportunities available to target in your area right now. –Click Here