Take Advantage of 3 Red-Hot Freebies Perfect for Real Estate Agents!
One of my agent friends, a veteran of the industry, once told me that to get agents to attend her broker opens, she would serve food. Not cookies and coffee, but actual buffet-worthy goodies. Now, this was way before serving food at these events became commonplace.
She explained that not only do agents appreciate something to munch on early in the morning but that they also LOVE anything that's free.
If you're among the freebie lovers in the industry, take a look at the following list of free stuff that's perfect for real estate agents.
Thanks to the amazing Melissa Zevala's website for information on this freebie. Hosted by Steve Dotto, these tech videos seem custom-made for the real estate agent.
A random sampling of his YouTube channel's home page finds videos about Google Maps, Google Docs, Zoom tutorials, graphics tutorials, and more. If you're searching for anything regarding tech, content creation, and productivity, stop by Dotto's channel.
---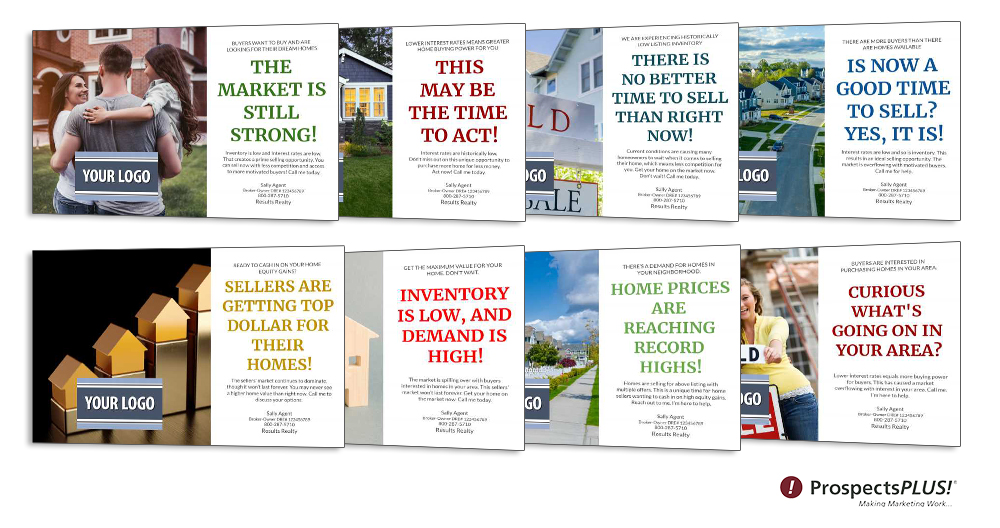 The Looking For Listings scheduled campaign is shown above. To see more, Click Here.
---
Ok, so it's not new. It is, however, among the coolest and most useful freebies an agent can have. Virtual appointments free the busy agent from the time suck that is driving all over town to visit clients in person.
"We've seen clients take multiple listings a day [via Zoom], and never leave their house. That's amazing," says Brian Icenhower at therealestatetrainer.com. He also suggests using Zoom for client check-ins, especially listing clients.
"Simply share your screen and show your clients the numbers firsthand! This is huge for your customer service, and a huge value add for your clients."
Zoom offers several pricing packages and the lowest price one (which is free) includes:
Hold as many meetings as you want with a 30-hour time limit per meeting (yes, the website says "30 hours").
Group and private chat
The ability to host up to 100 participants
See the rest of what comes with the free package at zoom.us.
Created in Australia and launched in 2013, Canva is hardly a piece of new technology. And at almost 20 years of age, it's hard to believe that most of its functionalities are free.
A graphics creation app, or as Dotto calls it, a "template-based graphics app," Canva is ideal for creating presentations, fliers, graphs and charts, social media graphics, business cards, photo editing, and more.
If you've never used Canva, you'll be happy to know that online tutorials abound. Canva, in fact, has an entire library, known as their "design school," that you'll find at canva.com. Need more? Head on over to YouTube.com.
Once you create a direct mail piece on Canva you can upload your design to ProspectsPLUS! to mail out. To make sure you have the correct dimensions to upload to ProspectsPLUS! check out this easy how-to.
While the above freebies are quite well-known, we've learned that they're highly recommended among real estate agents. If you have never used them, check them out!
---
PLUS: When you have time…below are some marketing tools to help support your success.
1. Put Your Real Estate Business a Step Above with Your Own Branded Magazine
Homes & Life Magazine is a customizable magazine, with rich, full-color content, and a sharp, professional esthetic. It includes compelling, direct response-driven articles written by real estate industry experts, combined with engaging lifestyle content. Send out Homes & Life Magazine in Just Minutes – No Minimums Required. Or we'll ship it to you.
Homes & Life Magazine is the ultimate "Coffee Table Lingerer"! …and, it costs less than sending a greeting card! – Click Here

2. The Free 12 Month Done-For-You Strategic Marketing Plan
The Real Estate Marketing Planner is a powerful 12-Month-Guide that strategically defines what marketing to do when. Four key market segments are included, niche Markets, geographic farming, sphere of influence, and past clients. – Click Here
3. The BusinessBase, SOI building system
The most effective thing you can do to build a real estate business is to become more visible, more likable, and remembered more often. The BusinessBASE™ not only checks all of these boxes, but it is a business building machine. In two easy steps, you can begin to build a robust sphere of influence that will provide you a lifetime of repeat business and referrals. – Click Here
4. The Free Interactive Real Estate Business Plan
The Free Interactive Real Estate Business Plan allows you to enter your business goals for this year and get a breakdown of how many prospects, listings, closing, and so on are needed to reach your goals. – Click Here
5. The Become a Listing Legend Free eBook
Ready to take a vertical leap in your real estate career? If you're looking for inspiration…and the tools and methods to dominate a market and go to the top in real estate…you'll find them in this free book. – Click Here
6. The Take a Listing Today Podcast
Watch the ProspectsPLUS!, Take a Listing Today Podcast for actionable content to help you get more listings. – Click Here
---