How to Help Your Clients Get Their Boomerang Kids Out and Building Equity
Gen X – those born between 1965 and 1976 – was the hardest-hit cohort during the 2007 Recession, with a nearly 60% drop in median household net worth. Blaire Briody, at BusinessInsider.com says that this is "the largest drop of all age groups."
Amazingly, this is also the generation who has seen the greatest comeback since then.
Between 2010 and 2018, "… the median net worth of Gen X households has risen 115 percent," according to Andrew Soergel at USNews.com, citing a researcher at Pew.
Today, we have a new crisis (the pandemic) and it's impacting members of two generations: Millennials (age 25 to 43 this year) and Gen Z (age 24 and younger).
To deal with closed college campuses and the financial impact, many of these younger folks have gone home, to Mom and Dad.
Many of their parents want to help. If you have clients who are parents of Millenials and Gen Z the following are ideas you can share with them to get their kids to finally and forever leave the nest to feather a nest of their own.
How to structure the deal
Many parents fear creating a financially-dependent, adult wanna-be by helping their Millennial or Gen Z child purchase a home.
If their son or daughter is generally mature and responsible and just needs a bit of temporary help, parents most likely have nothing to worry about.
A lot also depends on how they structure their assistance, and this is where you come in, offering solutions.
The different forms of "help"
Helping an adult child realize the dream of homeownership comes in many forms. Naturally, if your clients have the means, they may just want to purchase a condo or starter home outright and gift it to their child.
But there are alternatives, including:
Loaning the money, at a lower rate than lenders charge, which will help make the mortgage payments more affordable.
Buy a home using a share-equity agreement.
Gift the child the down payment and closing costs for a condo that he or she purchases.
The "Bank of Mom and Dad"
The best advice you can give your clients is to meet with their financial advisor, accountant and/or attorney to obtain advice about loaning the adult child the money for the home – either the down payment or the purchase price.
This way, they'll understand all of the ramifications and have legal documents drawn up to protect themselves.
Whether they will charge interest on the loan is up to them, but, again, urge them to get the advice and assistance of professionals.
The co-ownership option
Co-ownership of a condo or starter home offers parents the opportunity to share in the equity that is built up over the period of ownership.
This option isn't without its pitfalls, however. For instance, when the home is eventually sold, it may subject you to a capital gains tax.
"However, if parents are going into the purchase simply to help the kids qualify for the mortgage and intend their contribution to be a gift, they can structure ownership so that their interest is nominal, and work with a lawyer to place that interest in a trust for the benefit of the kids," according to Derrick Penner of the Globe and Mail.
The operative words there are "work with a lawyer." We cannot stress enough the importance of ensuring your clients get professional financial and legal advice.
Mom and dad own it and lease it to the kid
If your clients have been contemplating buying an investment property, this may just be the ideal way to get their child into homeownership. Your clients will retain the tax benefits of owning the condo and the rental agreement can be structured so that they gift a percentage of ownership annually until the child owns the condo outright.
There are a number of ways to help an adult child move into homeownership. Go through your CRM and make some phone calls to parents of young adults. You may just have found a goldmine.
Need help targeting a specific niche of buyers or sellers? Use our Demographic Search Tool to create the ideal list (it's easy). Or call our support team for assistance at 866.405.3638!
PLUS: When you have time…here are some helpful resources we've made available to support your success.
1. Become a Neighborhood Brand
Become branded in a specific neighborhood with a 12X15 marketing piece sent automatically each month to an exclusive carrier route. Watch this video to learn more or Click Here.
2. The Free Real Estate Mailing List Guide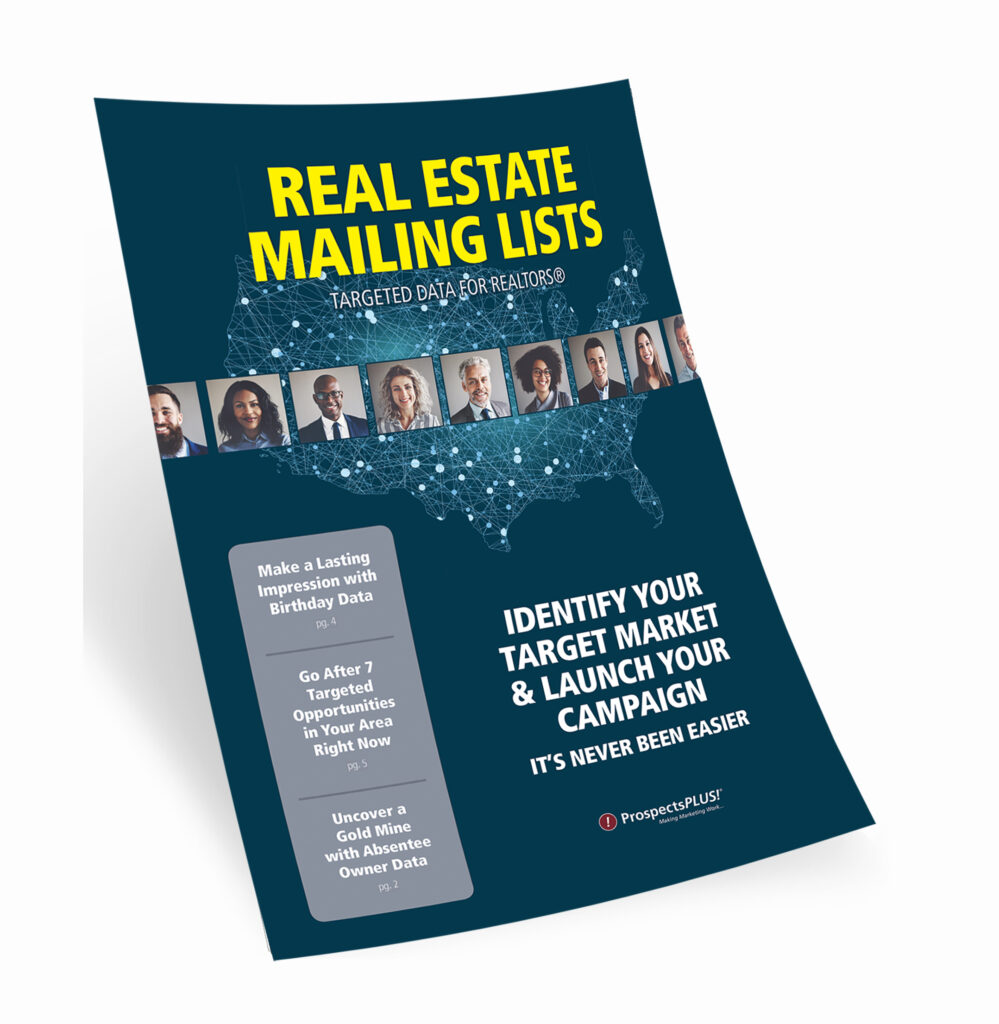 The Real Estate Mailing List Guide outlines the top tools for generating targeted prospecting lists including Baby Boomers, Empty Nesters, Investors, Lifestyle Interests, High-Income Renters, Move-Up Markets, and more. The Guide also defines done-for-you marketing campaigns to match these markets. –Click Here
3. The Free 12 Month Done-For-You Strategic Marketing Plan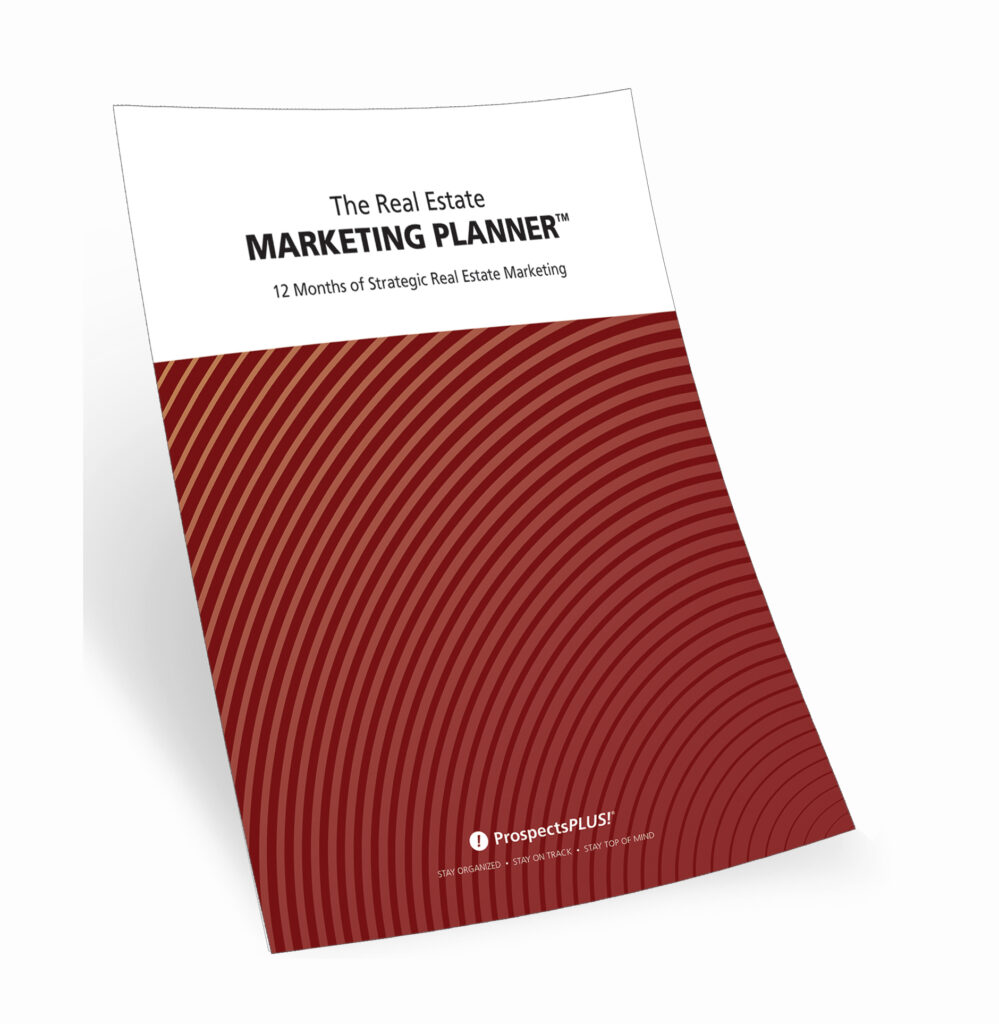 The Real Estate Marketing Planner is a powerful 12-Month-Guide that strategically defines what marketing to do when. Four key market segments are included, Niche Marketing, Get More Listings, Geographic Farming, and Sphere of Influence. –Click Here
4. The Free One-Page Real Estate Business Plan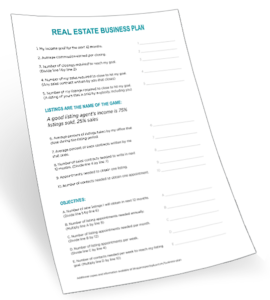 Treat your business like a business it is vital to long-term success in this industry. Some agents may put together elaborate business plans, yet there's something powerful about keeping it simple. Check out our one page Online Real Estate Business Plan. – Click Here
5. Become a Listing Legend Free eBook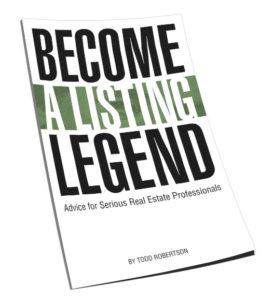 Ready to take a vertical leap in your real estate career? If you're looking for inspiration…and the tools and methods to dominate a market and go to the top in real estate…you'll find them in this free book. – Click Here
6. The Free Online ROI Calculator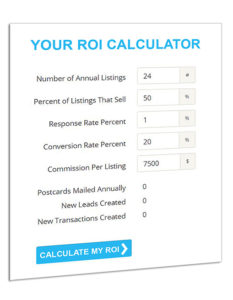 Consistency and automation are the keys to success. Discover how effective direct mail marketing can dramatically increase your bottom line. Enter your statistics in our Free online ROI Calculator and click the 'CALCULATE MY ROI' button to see your results instantly! –Click Here
7. The Free Real Estate Marketing Guide "CRUSH IT"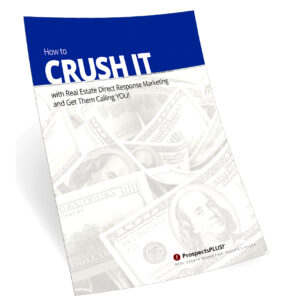 The "Crush It" Guide includes easy steps to launching an effective direct mail marketing campaign, how to create a targeted prospect list, the perfect way to layout marketing materials for success, seven opportunities available to target in your area right now. –Click Here