This Week's ProspectsPLUS! $125 Gift Card Winner is Sylvia Wright!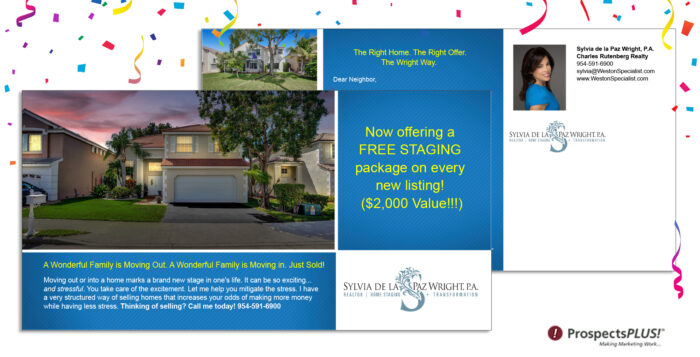 ---
Congratulations, Sylvia Wright, on winning this week's contest!
Sylvia, thank you for your supportive feedback! We are here for you.
---
Don't Forget to Enter For Your Chance to Win a $125 ProspectsPLUS! Gift Card! (see how below)*
What Can You Do With a $125 ProspectsPLUS! Gift Card? Here are 5 Things:
Launch and pay for the first month of a Sphere or Farm Scheduled Campaign consisting of 130 jumbo postcards.
Send 130 jumbo Just Listed or Just Sold Postcard to a radius surrounding your listing.
Send 130 Jumbo Get More Listings postcards to an area where you want more listings.
Create a niche prospect list (empty nesters, move-up market, etc.) and send a mailing of 130 jumbo postcards.
HOW TO ENTER: Just leave a review regarding how using marketing from ProspectsPLUS! has impacted your business, and you're automatically entered into our next contest.
*If you've already entered our contest in the past and haven't won, you don't need to enter again. Your entry remains valid and you still have a chance to win.
Don't forget to watch out for next Friday's email announcing the weekly winner!
---
PLUS: When you have time…below are some helpful tools to support your success.
1. The Free 12-Month Done-For-You Strategic Marketing Plan
The Real Estate Marketing Planner is a powerful 12-Month-Guide that strategically defines what marketing to do when. Four key market segments are included, niche Markets, geographic farming, sphere of influence, and past clients. – Click Here
2. The Free Interactive Real Estate Business Plan
The Free Interactive Real Estate Business Plan allows you to enter your business goals for this year and get a breakdown of how many prospects, listings, closing, and so on are needed to reach your goals. – Click Here
4. The Become a Listing Legend Free eBook
Ready to take a vertical leap in your real estate career? If you're looking for inspiration…and the tools and methods to dominate a market and go to the top in real estate…you'll find them in this free book. – Click Here
---
---