Educate Your Prospects Before They Become Your Clients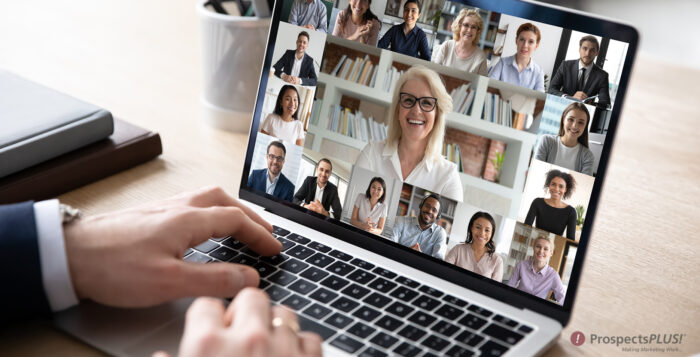 What if all of your clients knew exactly what to expect during the real estate transaction? Imagine how comfortable they would be, how less likely they will be to freak out over the smallest bump in the road. Taking the time to educate your clients takes this premise and makes it a reality.
Even better is to educate your prospects before they become clients.
Let's take a look at some of the ways agents across the country are educating prospects in their efforts to create savvy clients.
Educate the masses with virtual webinars
Homebuyer seminars are hardly innovative – agents and lenders have been organizing them for decades. The only necessary change, with the current distancing guidelines, is to turn your seminar into a virtual webinar.
Agent Deb Tomaro spoke about her buyer educational events, "Sure, the events help pull in prospects, but once converted, these people turn into the best kind of clients".
"They know what to expect, they know the process, so I'm not having to micromanage them," Tomaro explained. "They are able to keep things in perspective, they understand the big picture, and they know what they're doing."
The most important step when considering holding a virtual webinar is to determine your audience. This should be easy if you practice in a real estate niche. If you are a generalist, consider some of these audiences:
First-time homebuyer
Vacation property buyer
Government loan programs featuring low or no down payment
Senior buyers
Immigrant buyers
Mobile home buyers
New home buyers
Veterans
Horse property buyers
The toughest part of the process is the planning, but the Real Estate Buyer's Agent Council of the National Association of REALTORS (REBAC) has a handy online pamphlet that walks agents through each step.
Radio still has its place
Less than 1 percent of real estate agents use radio or television, according to Matt Wagner, founder of Radio and Television Experts.
Of the two, radio is by far the preferred medium if you plan on buying advertising or hosting your own real estate show. The main advantage of radio over television is the cost – radio is far less expensive.
For the purposes of educating prospects, you'll need more than a 30-second spot. The back and forth of a call-in talk show is ideal for educating prospects.
How much will this cost? It depends on the size of the market, the station's ratings and the time of day you choose. Stations in New York City and Los Angeles charge far more for advertising than those in Grand Forks, N.D., and Casper, Wyo.
Thankfully, real estate talk shows typically occur on weekends, when air time is the least expensive. If you live in a small enough market, and a station is in need of content, you may even end up with free air-time. But that would be the exception, not the rule.
Otherwise, many agents pound the pavement, or the telephone, to drum up sponsors for the shows, in exchange for mentions on the air. Good prospects are title companies, home inspectors and lenders.
Of course, there are ad agencies, radio air-time brokers and others, who will actually do all the groundwork for you, for a fee.
Teach through print
Although the final eulogy has yet to be written, newspapers are expected to someday go the way of the Pony Express. Only the largest, according to some forecasters, will survive.
Like real estate, however, print journalism is quite local. While many real estate consumers rely on the Internet for real estate listings and information, in some towns, it's the local newspaper that is still the go-to source.
Robin Shapiro, broker-owner of Robin Shapiro Realty in the Rockaways, finds great success with her hometown paper, The Wave. Before it was put online "people would actually cross over the bridge to buy it," she said.
If that sounds like the paper in your town, it may just be the place to offer your services as their real estate advice columnist. Call the editor and make the pitch.
Even if you don't fancy yourself a writer, you can hire an inexpensive freelance editor to go over your copy before sending it on to the paper.
Blog topics that educate
Blogging helps you educate prospects on a range of real estate issues. It's a great way to let them know about current market trends so they know what to expect when they decide to enter the market.
Examples of blog topics that help educate include:
Financing — this is such a confusing topic for real estate consumers. Make it easy for them to understand.
Common real estate terms and what they mean – just go through your listing or purchase agreement and you'll find a plethora of jargon that befuddles most real estate consumers. What's a contingency? What is "arm's length?"
Closing – aside from financing, the closing process is probably the most mysterious they'll encounter. Demystify it by explaining what happens, who will be there and the paperwork they'll be confronted with.
While there are many ways to educate your clients, why not choose a method that reaches a massive amount of people and combines lead generation with education?
Even if you have to pay for the method, you can bask in the fact that you're getting two results in one go.
Offer the 4 Home Seller Mistakes Direct Response Report in all of your marketing as an opt-in (including your emails, direct mail, and on your website).
Also, keep a stack available to add to your listing presentations and to give out at open houses.
Need help targeting a specific niche of buyers or sellers? Use our Demographic Search Tool to create the ideal list (it's easy). Or call our support team for assistance at 866.405.3638!
PLUS: When you have time…here are some helpful resources we've made available to support your success.
1. The Free Real Estate Mailing List Guide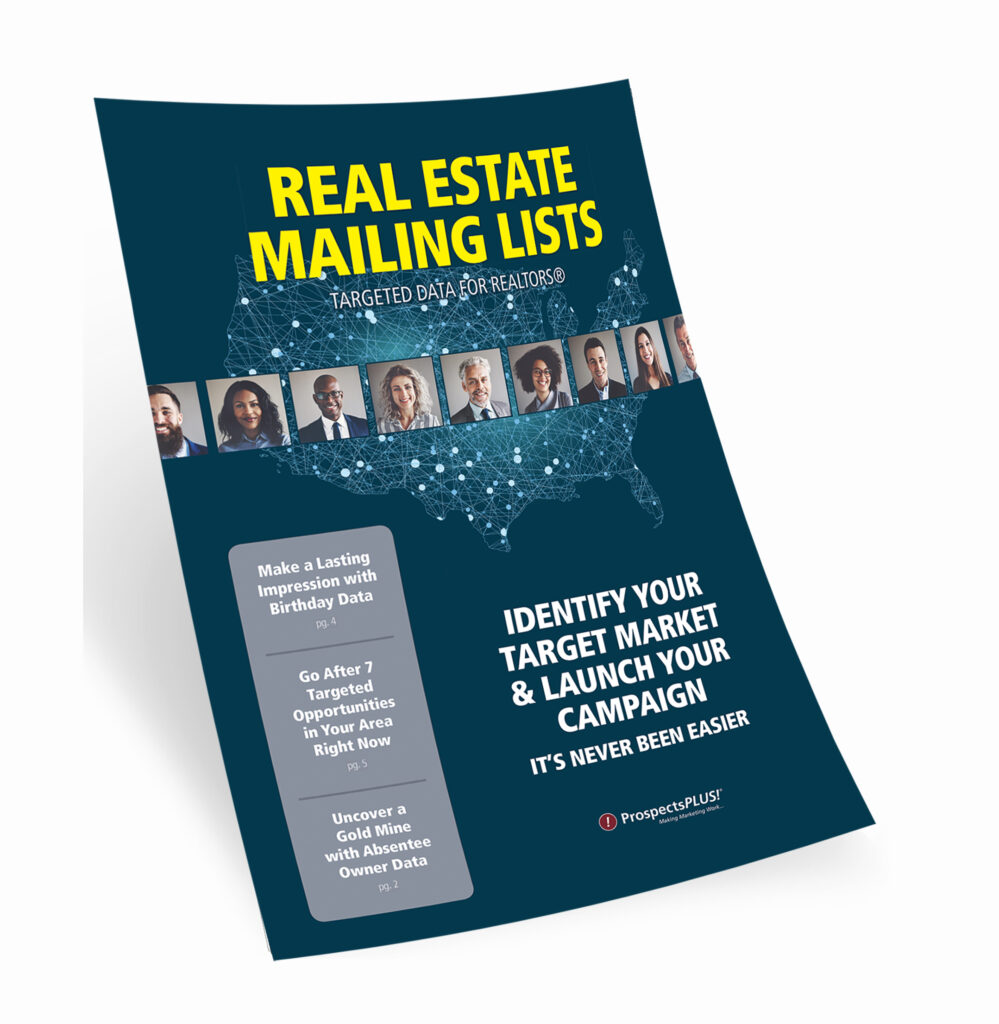 The Real Estate Mailing List Guide outlines the top tools for generating targeted prospecting lists including Baby Boomers, Empty Nesters, Investors, Lifestyle Interests, High-Income Renters, Move-Up Markets, and more. The Guide also defines done-for-you marketing campaigns to match these markets. –Click Here
2. The Free 12 Month Done-For-You Strategic Marketing Plan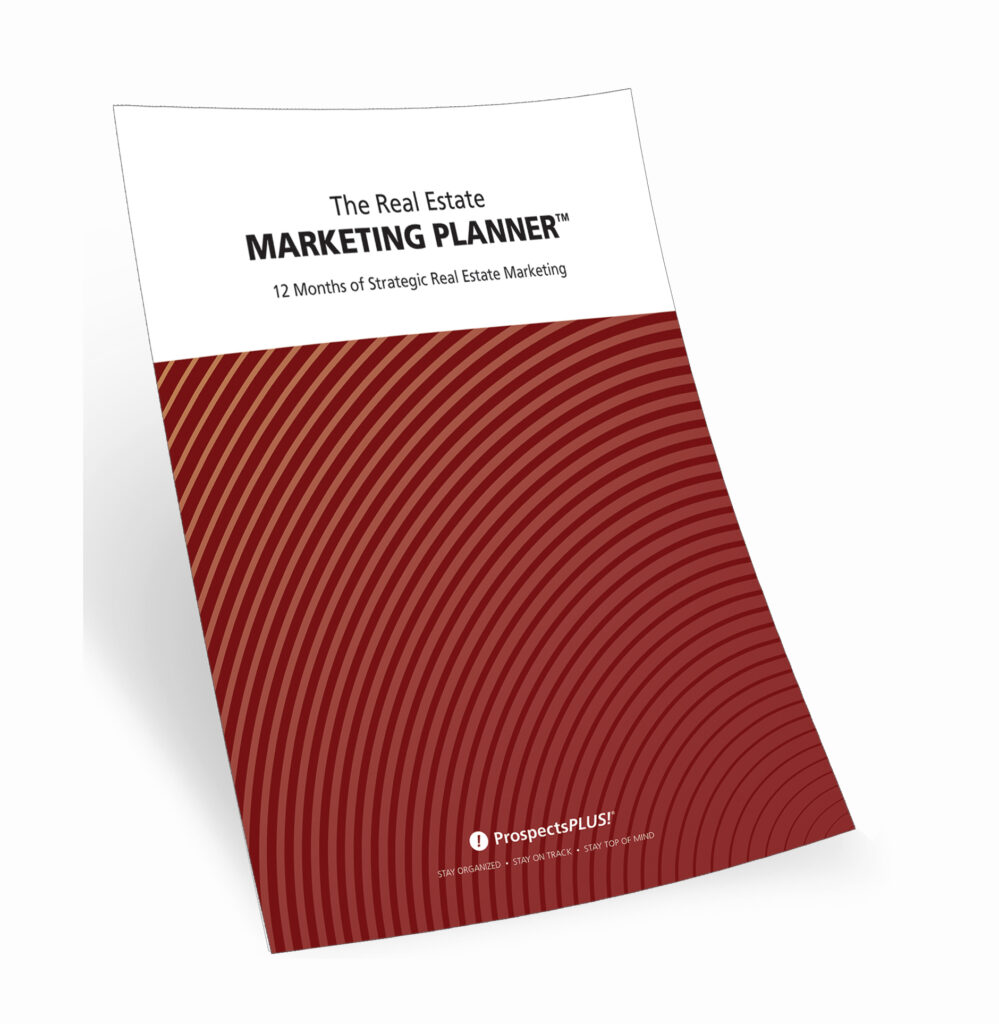 The Real Estate Marketing Planner is a powerful 12-Month-Guide that strategically defines what marketing to do when. Four key market segments are included, Niche Marketing, Get More Listings, Geographic Farming, and Sphere of Influence. –Click Here
3. The Free One-Page Real Estate Business Plan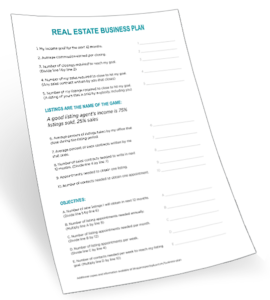 Treat your business like a business it is vital to long-term success in this industry. Some agents may put together elaborate business plans, yet there's something powerful about keeping it simple. Check out our one page Online Real Estate Business Plan. – Click Here
4. Become a Listing Legend Free eBook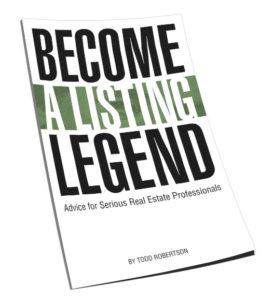 Ready to take a vertical leap in your real estate career? If you're looking for inspiration…and the tools and methods to dominate a market and go to the top in real estate…you'll find them in this free book. – Click Here
5. The Market Dominator
Become branded in a specific neighborhood with a 12X15 marketing piece sent automatically each month to an exclusive carrier route. Watch this video to learn more or Click Here.
6. The Free Online ROI Calculator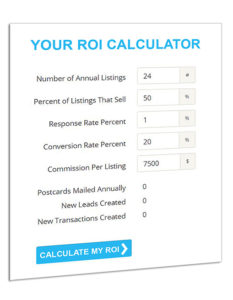 Consistency and automation are the keys to success. Discover how effective direct mail marketing can dramatically increase your bottom line. Enter your statistics in our Free online ROI Calculator and click the 'CALCULATE MY ROI' button to see your results instantly! –Click Here
7. The Free Real Estate Marketing Guide "CRUSH IT"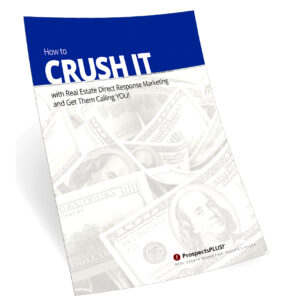 The "Crush It" Guide includes easy steps to launching an effective direct mail marketing campaign, how to create a targeted prospect list, the perfect way to layout marketing materials for success, seven opportunities available to target in your area right now. –Click Here