This Year's Client Predictions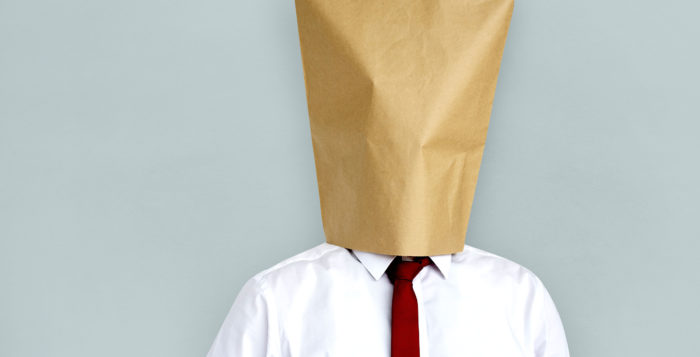 Meet your future clients
ProspectsPLUS! has dusted off the crystal ball and made your predictions for your 2018 listing clients.
Once you know your audience it's a lot easier to target your marketing, so read on to get to know these homeowners.
The oh-so-reluctant homeowner
If inventories remain as constrained as they were last year, finding listings is going to be like finding that elusive white rabbit in a snowstorm.
However, a recent survey by Value Insured has found that homeowners understand that they've built up considerable equity.  And, with interest rates so low, they now know it's truly a great time to sell.
But, many of these sellers will also be buyers.
They read and watch the news, and have heard the horror stories of bidding wars over too few homes on the market and home prices rising at alarming rates.
In fact, more than 60 percent of the homeowners surveyed said that despite the great timing to sell, they are going to wait until buying becomes easier.
Freddie Mac is optimistic that the wait won't be so long.
They're predicting that new construction will ramp up and, combined with higher interest rates, prices should moderate.
Homeowners that will jump into the market
Generation X – the 62 million folks who will be between the ages of 42 to 53 this year – comprised the largest listing pool last year.
The Value Insured study we referenced earlier found that more than 60 percent of them will be looking for a larger home in 2018.
A National Association of Home Builders (NAHB) survey finds that the average Gen X homeowner currently lives in a home with 1,880 square feet of living space.
And, what will they buy?
Gen X has more children still at home than any other generation. But, look at the age span and you'll agree that this group of real estate consumers has a diverse array of lifestyles.
Aside from the large group of families with children, the generation includes empty nesters, singles, and couples.
That said, studies show us a number of generalizations that can be made about Gen X housing preferences.
Lifestyle and neighborhood are more important than home amenities, according to the NAHB study.
Nearly three-quarters of Gen X homebuyers want a detached, single-family home with three or four bedrooms and at least 2,300 square feet of living space.
The older among them hope to age in place, so are demanding single-story homes.
Don't write off baby boomers
The media loves to vilify baby boomers – those who will be between the ages of 54 and 72 in 2018 – for the low housing inventory.
It isn't that simple, claims Trulia's Ralph McLaughlin. "Surprisingly, we find the share of owner-occupied homes owned by boomers is actually positively correlated with inventory."
He goes on to point out the real reason behind the inventory crunch is homebuilders.
"Homebuilding's impact – or a lack of it in some places – is by far and away the biggest influence when it comes to inventory woes." Ralph states. "This outweighs other explanations by a large margin."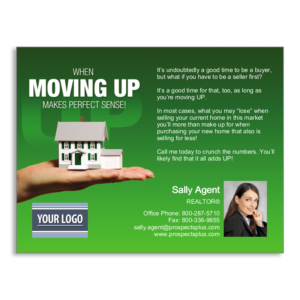 Many industry experts expect that 2018 may be the year boomers finally decide to sell.
And, if you sell real estate in Maine, New Hampshire, Montana or Vermont (the states with the largest populations of boomers), you may want to specifically target this generation.
But, some won't be buying another home
While Gen X home sellers will most likely be buyers as well, don't automatically expect two transactions from your boomer clients. "Baby boomers are the fastest-growing group of renters," according to Amy Zimmer at cnbc.com.
And, this group of would-be tenants state, overwhelmingly, that they will be renting so that they can ditch the maintenance headaches of homeownership.
"For many years I was responsible for a house, a family, corporation, and employees," says a forum poster at aarp.com.
"I don't have to worry about painting the house; the roof leaking; mowing the lawn; replacing the water heater." "I don't have to worry about a thing now," he says of his decision to sell his home and rent a condo.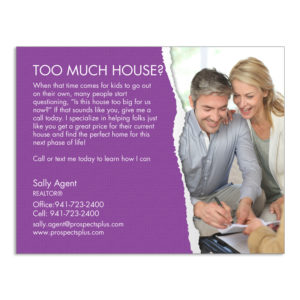 Those boomers who do plan on buying another home after they sell the current home will be looking for the following features, according to an NAHB survey:
Home office – Remember, many boomers plan on putting off retirement. A home office offers flexibility in transitioning from the brick-and-mortar, 9-to5 routine.
Tech and media centers, specifically wireless home networks that offer remote control of the home's features.
Good lighting and lots of natural light
Wider doorways and hallways – For boomers who hope to age in place.
Either one-story homes or homes with the master suite on the first floor. For some reason, our knees seem to be the first place on our bodies in which we begin to feel our age. Stairs are uncomfortable.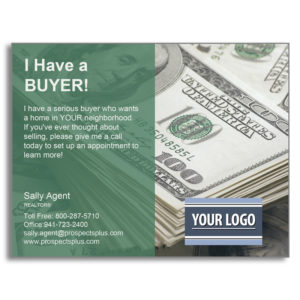 Listing agents have a lot to be optimistic about in 2018.
A healthy job market, rising home values and, hopefully, an ease in the housing shortage.
Target marketing to Gen X and baby boomers may just be your key to a prosperous year.
Send I Have a BUYER from the Listing Inventory Series to at least 100 new prospects in an area where you want more listings.
Create a Lifestyle Targeted mailing list here.
Need assistance taking your marketing to the next level?  Call our support team at 866.405.3638 today!  
PLUS: Whenever you have a moment…here are 3 things to check out that will help you CRUSH IT in 2018!
1. The Free 2018 Real Estate Business Plan
Treat your business like a business it is vital to long-term success in this industry. Some agents may put together elaborate business plans, yet there's something powerful about keeping it simple. Check out our one page Online Real Estate Business Plan – Click Here
2. The Online Sphere of Influence Calculator
Top real estate professionals state 66% of their business comes from their sphere of influence. So how many people do you need in your SOI? Check out our Sphere of Influence Calculator (from your desktop) to find out the answer – Click Here
3. The 12 Month Done-For-You Strategic Marketing Plan
The Real Estate Marketing Planner is a powerful 12-Month-Guide that strategically defines what marketing to do when. Four key market segments are included, Niche Marketing, Listing Inventory, Geographic Farming, and Sphere of Influence – Click Here
Also…check these out 🙂
3 Click Postcards – Just snap, tap, send all from your mobile phone
MLS Mailings – Automated Just Listed, Just Sold Postcards
Market Dominator System – Become a neighborhood brand