Working the Renter Niche
Most top agents focus their business marketing in three important areas:  their sphere of influence, their geographic farm, and a niche market.
One niche that gets a lot of attention is the renter market. With rents on the rise across the nation, interest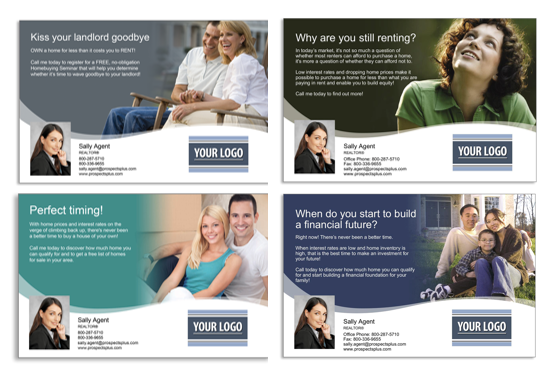 rates still historically low, and housing prices not yet scaling too quickly –it's the perfect opportunity for renters to kiss their landlord goodbye – as it says in one of our most popular postcards for agents working this market.
Consistency is Key
As with any marketing campaign, consistency is key. Our First Time Buyer/Renter series has eight postcards, which is perfect for a 6-8 month campaign. Here's what you do:
Choose some higher end rental properties or apartment complexes in your area and capture a mailing list.
On the reverse side of the postcard, make an offer for an item of value such as one of our free reports.
After each mailing has hit, be sure to follow up either by phone call or get out in the community and start meeting the people. Is there a Starbucks or coffee shop near the rental community? Let people know you'll be there to answer questions one morning at a specific time. You can even use the back of the postcards as an invitation!
Repeat this process once a month for the next six months.
Another great idea from the Master Marketing Schedule is to send the Kiss Your Landlord Goodbye postcard to 100 renters in your market.
Related: Attracting First Time Home Buyers
 Need help? Were here for you. Contact our support team at 866.405.3638 today.