Are you ready to take a giant leap forward in your real estate business in 2019? Then read on for 7 ways to up your game.
1. Plan a path to your destination
It is not only a business, but it is one in which you are the CEO. Therefore, if you haven't completed a business plan for 2019 yet, take advantage of our Free One-Page Business Plan to complete one.
If you're not thrilled about the idea of structuring a business plan, then think of it like planning a cross-country trip. For the best chance of success, you would sit down and plan a path to your destination.
The same is true for your business, if you would like to make $200,000 this year, you need to plan a path to this destination by creating a business plan. And, with the help of our One-Page Business Plan, you can even drill down to how many transactions, appointments, and contacts you will need to get to this destination.
Furthermore, once your business plan is completed, build a budget itemizing how much you'll spend on your marketing, your car, your dues, desk fees, E&O insurance and all the other things you spend money on in your business.
A budget is the only way to ensure you'll meet your income goals by the end of the year.
2. Learn from the past
Take time to reflect on what brought you success last year and plan to make that a part of your 2019 marketing.
Perhaps go old school and consider what tactics worked best for you as a new agent and add a few of them back into your rotation this coming year. Was it cold calling, attending more local events or monthly door knocking that made the biggest impact on your bottom line? Whatever it was, resurrect those activities that worked in the past and put them to work in the coming year.
3. Try something new
Try your hand at something you haven't done before such as automating your Just Listed/Just Sold Postcard mailing. It's easy to do, affordable and takes the ongoing stress of getting those cards out in a timely manner off of your shoulders.
By freeing up time from manually handling your Just Listed Just Sold Postcard mailing, you allow time for other areas of marketing that need more attention.
How about trying your hand at sending a newsletter? Las Vegas agent Debbie Drummond tells the story of how a newsletter helped her snag a client for a luxury high-rise condo after an agent who lived in the building failed to have success.
The couple ended up calling Debbie after they received her newsletter. "Sending a monthly newsletter has proven to be a money maker for me".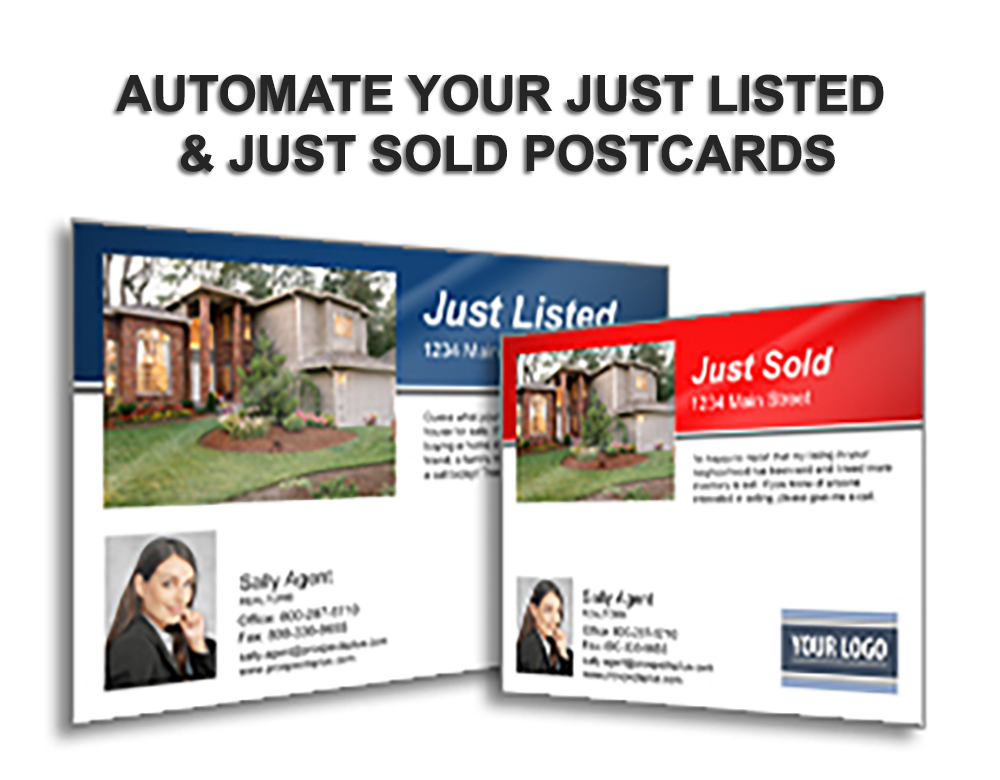 4. Hire help
The quickest way to scale out your real estate business and take it to the next level is to stop doing things that don't make you money. Hire an assistant to do them for you.
"If I had to touch every single task in my systems myself, I would never be able to produce high levels of volume," one of Las Vegas' top producers told the Las Vegas Review-Journal.
"You have to be efficient, and you have to leverage your systems (by hiring help)."
Think you can't afford an assistant? Try going the virtual route first. If you choose a virtual assistant who specializes in real estate you'll do away with the time and effort involved in training them.
Two companies to consider are Kim Hughes and Real Support. Both companies specialize in supporting real estate agents.
5. Pay tribute
To truly move your business to the next level it's time to focus, ongoing attention, on your past clients. To drive this point home, remember the cost to acquire a new client is five times higher than to cultivate repeat business from a past client.
In addition, nearly 41 percent of home sellers find their agent through referrals (according to the NAR).
6. If your website isn't effective, fix it
Who in your market ranks organically for your preferred keywords? If it isn't you, maybe you have some website issues. Check out the sites of those who do and follow their example.
What are they doing that you aren't? Typically, it's the agents who post content consistently that get the best organic rankings, but go through their site, page-by-page and learn from them.
7. Take time off
Taking time off actually increases our productivity by 80 percent, according to researchers at Alertness Solutions. They are a company founded by former NASA scientists that provide fatigue management consulting services.
In addition, research from Harvard University, however, cautions that unless your vacation is planned in advance and you travel away from your work, you won't get a good ROI on that time away.
Therefore, unplug – completely – while you're away and your focus will be stronger when you return to work, according to researchers at Boston College Center for Work and Family.
Rest and recharge your way to the next level in your real estate business.
Start the New Year right by sending at least 100 Community Newsletters to an area where you want more business.
Need help targeting the perfect niche of buyers or sellers? Use our mailing list tool to create the ideal list (it's easy) or call our support team for assistance at 866.405.3638!
PLUS: When you have time…here are 3 free ways we can help you STILL CRUSH IT this year!
1. Become a Listing Legend Free eBook.
Ready to take a vertical leap in your real estate career? If you're looking for inspiration…and the tools and methods to dominate a market and go to the top in real estate…you'll find them in this free book. – Click Here 
2. The Free 2019 Real Estate Business Plan.
Treat your business like a business it is vital to long-term success in this industry. Some agents may put together elaborate business plans, yet there's something powerful about keeping it simple. Check out our one page Online Real Estate Business Plan  – Click Here
3. The 12 Month Done-For-You Strategic Marketing Plan.
The Real Estate Marketing Planner is a powerful 12-Month-Guide that strategically defines what marketing to do when. Four key market segments are included, Niche Marketing, Listing Inventory, Geographic Farming, and Sphere of Influence – Click Here
4. The Free Online ROI Calculator. 
Consistency and automation are the keys to success. Discover how effective direct mail marketing can dramatically increase your bottom line. Enter your statistics in our Free online ROI Calculator and click the 'CALCULATE MY ROI' button to see your results instantly! – Click Here
Also…check out these cool tools 

 Three Click Postcards – Just snap a home photo & create a postcard all from your mobile phone
MLSmailings.com – Automated Just Listed, Just Sold Postcards
Market Dominator System – Become a neighborhood brand
The Power of a Recommendation. Our business flourishes from recommendations in the same way yours does. We would be very grateful for your recommendation of our products and services – Recommend us here
Want to Refer a friend or colleague? Refer them, Here. THEY get a Free $25 Gift Card and YOU become their hero. BTW, you also get a $25 Gift Card too (now that's what I'm talking about)!