Back Away From the Phone! Here are Three Alternatives to Cold Calling.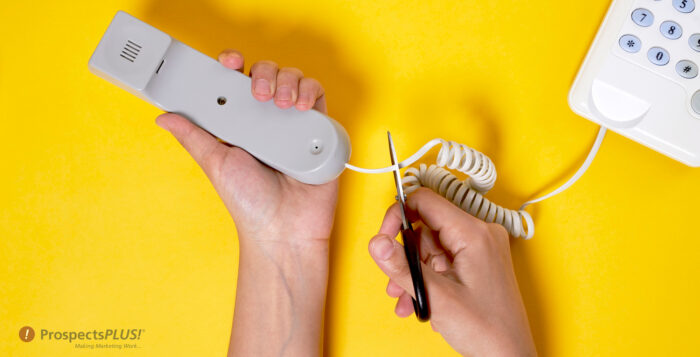 How many more hours will you sit in front of the phone, trying to gin up the motivation to pick it up and dial for dollars?
Is there anything more boring? Is there anything more stressful?
If cold calling is a mega lead generator for you, by all means, have at it. But, believe it or not, there are tens of thousands of agents who are sick of it (yes, we made up that number).
For these agents, we offer alternatives. No, they're not unique or even new. But we've met plenty of agents who've used at least one of these strategies with great success.
1. 'Til divorce do us part
"Every 42 seconds, there is one divorce in America," according to statistics gathered by Wilkinson and Finkbeiner, a San Diego, CA law firm.
We must warn you that working with divorcing couples isn't for the timid agent. It is, however, quite profitable for those agents who pride themselves on their ability to remain impartial and have tons of patience.
Once you're up and running with it, you'll likely find that lead generation is positively zippy compared to cold calling.
Since "Almost 50 percent of all marriages in the United States will end in divorce or separation" (Wilkinson and Finkbeiner), you'll have a steady stream of business.
Aside from the aforementioned impartiality and patience, divorce real estate agents must be consummate communicators, have endless patience, and exhibit utmost tact. Add to that someone who thrives on working under pressure, and you have the perfect person to work with clients in a deeply acrimonious relationship.
How to find these folks?
Get in touch with local divorce attorneys and solicit referrals
Buy a list through Rebogateway
Run Google or Social Media ads
Get more tips from watching these videos at YouTube.com:
2. Market to landlords
Sure, landlords are making bank right now, but there will always be some who just want out from under the burden of being a landlord.
Like other lead gen techniques, marketing to landlords takes persistence and consistency to work.
Again, direct mail is the most efficient way to build your pool of landlord leads. A current market report and/or CMA would be welcome and appreciated. Follow-up touches can include Just Listed/Just Sold homes near the rental and quarterly market updates.
3. Start a farm
Farming is an amazing way for people to become familiar with you and to build brand recognition.
Sure, you can create a real estate farm and cold-call homeowners, but the beauty of this lead gen technique is that you don't have to. There are plenty of ways to keep in touch with the homeowners in your farm area that don't involve using a phone.
Direct mail is the ideal vehicle, and you'll find a variety of products (from Get More Listings postcards to a Market Dominator newsletter (sent through EDDM) to Homes & Life Magazines and more, right here at ProspectsPlus.com.
Check out this blog post to learn much more about farming in general and circle prospecting in particular.
None of these real estate lead gen strategies will make you an overnight sensation. But choose one or two and vow to give it your all—to be consistent and persistent — for the rest of the year, and you may just find you'll never need to make another cold call.
---
PLUS: When you have time…below are some marketing tools to help support your success.
1. Put Your Real Estate Business a Step Above with Your Own Branded Magazine
Homes & Life Magazine is a customizable magazine with rich, full-color content and a sharp, professional aesthetic. It includes compelling, direct response-driven articles written by real estate industry experts combined with engaging lifestyle content. Send out Homes & Life Magazine in Just Minutes – No Minimums Required. Or we'll ship it to you.
Homes & Life Magazine is the ultimate "Coffee Table Lingerer"! …and it costs less than sending a greeting card! – Click Here

2. The Free 12-Month Done-For-You Strategic Marketing Plan
The Real Estate Marketing Planner is a powerful 12-Month-Guide that strategically defines what marketing to do when. Four key market segments include niche Markets, geographic farming, sphere of influence, and past clients. – Click Here
3. The BusinessBase, SOI building system
The most effective thing you can do to build a real estate business is to become more visible, more likable, and remembered more often. The BusinessBASE™ not only checks all of these boxes but is also a business-building machine. In two easy steps, you can begin to build a robust sphere of influence that will provide you a lifetime of repeat business and referrals. – Click Here
4. The Free Interactive Real Estate Business Plan
The Free Interactive Real Estate Business Plan allows you to enter your business goals for this year and get a breakdown of how many prospects, listings, closing, and so on are needed to reach your goals. – Click Here
5. The Become a Listing Legend Free eBook
Ready to take a vertical leap in your real estate career? If you're looking for inspiration…and the tools and methods to dominate a market and go to the top in real estate…you'll find them in this free book. – Click Here
6. The Take a Listing Today Podcast
Watch the ProspectsPLUS!, Take a Listing Today Podcast for actionable content to help you get more listings. – Click Here
---