Make 2021 the Year for Real Estate Domination! Here's the Plan.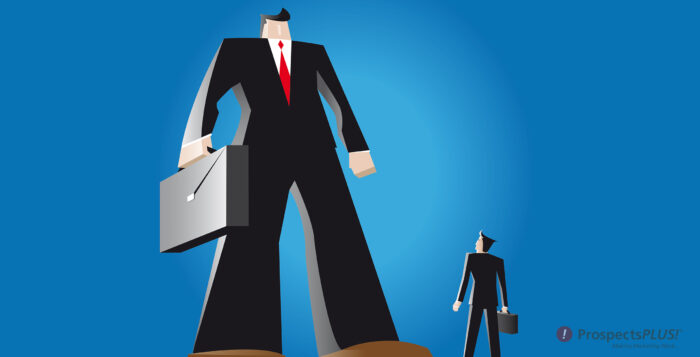 If you're still putting the finishing touches on your 2021 business goals, read on, for some great, actionable insight on how to make this year, your year for real estate domination.
If you don't want to end up someplace else…
You need to know where you're going, according to the late Yogi Berra. Unless, of course, you want to spend the entirety of this year, flailing about for leads, for prospects, for income.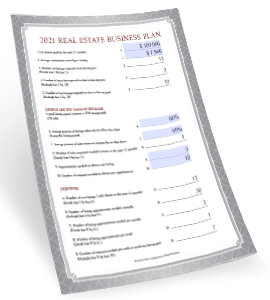 Decide on a destination, a goal to shoot for by year's end. Whether that's a specific GCI or a certain number of closed deals, this goal should define how you run your business in 2021.
And, how about making a vow that the journey to that destination is one that you'll enjoy?
"There is no one pathway to success. Set goals you enjoy traveling to not just goals that check out with your Broker, Team Lead, or Coach," suggests David Serpa at labcoatagents.com.
Learn from the past
Dig out your business plan from 2020 and take some time to ask yourself some questions:
Did you reach your goals?
If not, why? Were they unrealistic, was it due to the pandemic? Get clear on the why.
What is within your power to change so that you will hit your 2021 target?
Then, get clear on how many contacts you'll need to make to get the leads and prospects required to hit your income goal. The Free One-Page, Interactive Business Plan, and Free online SOI calculator are both perfect tools to help you do this fast.
Dust off your real estate business marketing plan
Marketing your services in a way that will grab consumers' attention is one of the most challenging aspects for many agents. With so many agents in a market, you may feel it's almost impossible to stand out from the crowd.
The 2021 Real Estate Marketing Planner is not only Free-To-You but an incredible tool that will help you to plan your marketing for the entire year.
When the pandemic broke out, in-person marketing, such as holding events, door knocking, and the like, were put on hold. If these were among your chosen marketing methods, you may need to still "pivot" in 2021.
Direct mail marketing will always remain a highly effective vehicle for agents.
Direct mail marketing is also an affordable way to put something tangible into the hands of your potential clients.
For instance, on ProspectsPLUS.com you can schedule a monthly campaign, that includes 150 jumbo-sized postcards, mailed standard-class for only $121.00.
Consider the potential outcome of these 150 postcards, touching your specified market every month – it's truly all upside.
Is this the year you'll hire help?
Determining your goals for the new year and how you'll reach them financially is the backbone of your business plan.
If your plan is aggressive, and it calls for making a massive move to the next level, you should probably consider hiring help of some kind. If you're brave enough to take your business to the next level, you shouldn't even wince at the thought of bringing someone on staff to help you.
Whether virtual or in-person, an assistant or transaction coordinator is a must, so tack on another transaction or two so you can pay him/her.
The time is now to let go of areas you fell short of your business goals in 2020, pivot, where necessary and move forward, armed with the tools and strategies needed to dominate in 2021.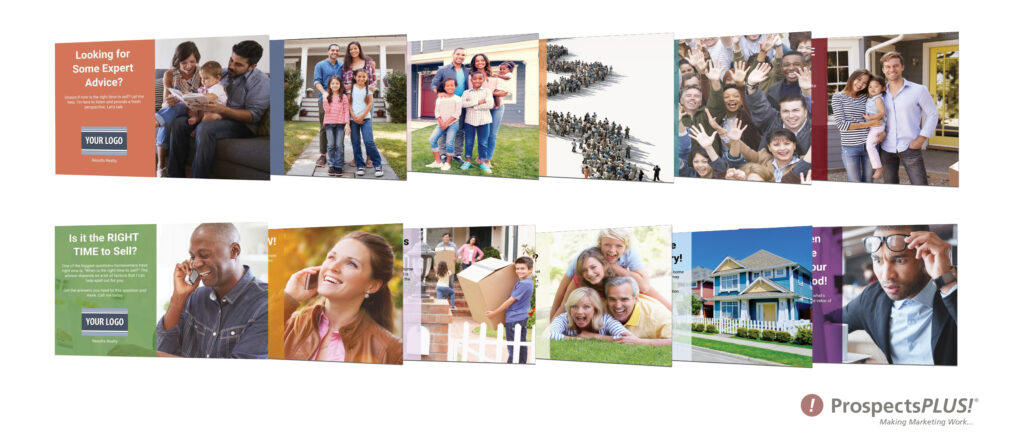 And, remember, with Scheduled Campaigns YOU DON'T PAY until each month's mailing goes out (you can change or cancel up until the night before mailing).
Don't put off until tomorrow what can get done today, because what GETS SCHEDULED, GETS DONE!
TO GET STARTED:
STEP 1: Choose the Geographic Farm Campaign, Get More Listings Series.
STEP 2: Then, choose your "Start Date" (See image illustration below), which postcards to send & for how long. It's that easy!
LAUNCH A CAMPAIGN NOW, CLICK HERE

The article, above, is highlighted in our New, Free Master Marketing Magazine.
You don't want to miss this magazine. It's overflowing with informative, actionable articles that will assist you in achieving your goals this year. To check it out now, Click Here.
Need help targeting a specific niche of buyers or sellers? Use our prospect list tools to create the ideal list (it's easy) or call our support team for assistance at 866.405.3638!
PLUS: When you have time…here are some helpful resources we've made available to support your success.
1. The Free 12 Month Done-For-You Strategic Marketing Plan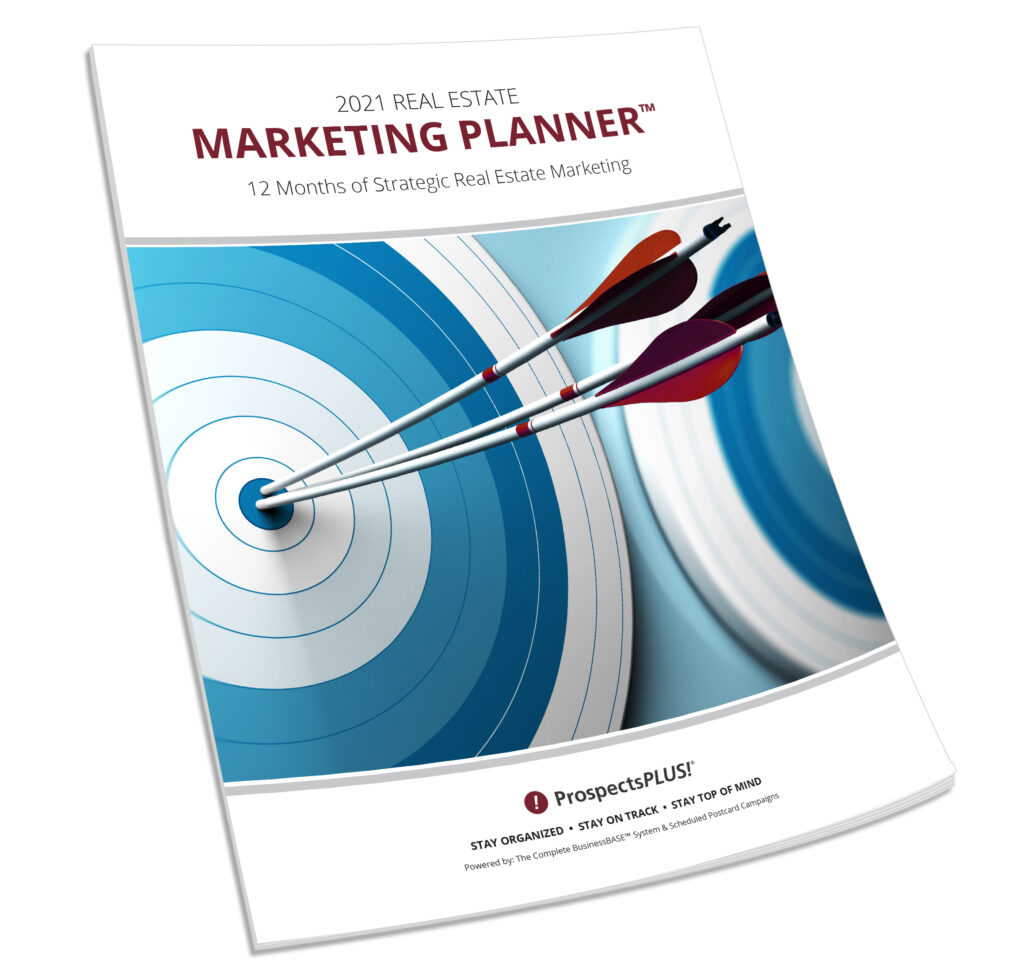 The Real Estate Marketing Planner is a powerful 12-Month-Guide that strategically defines what marketing to do when. Four key market segments are included, Niche Marketing, Get More Listings, Geographic Farming, and Sphere of Influence. –Click Here
2. The Free One-Page Real Estate Business Plan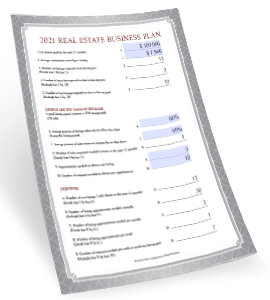 The Free Interactive Real Estate Business Plan allows you to enter your business goals for this year and get a breakdown of how many prospects, listings, closing, and so on are needed to reach your goals.  – Click Here
3. Become a Neighborhood Brand
Become branded in a specific neighborhood with a 12X15 marketing piece sent automatically each month to an exclusive carrier route. Watch this video to learn more or Click Here.
4. The Free Real Estate Mailing List Guide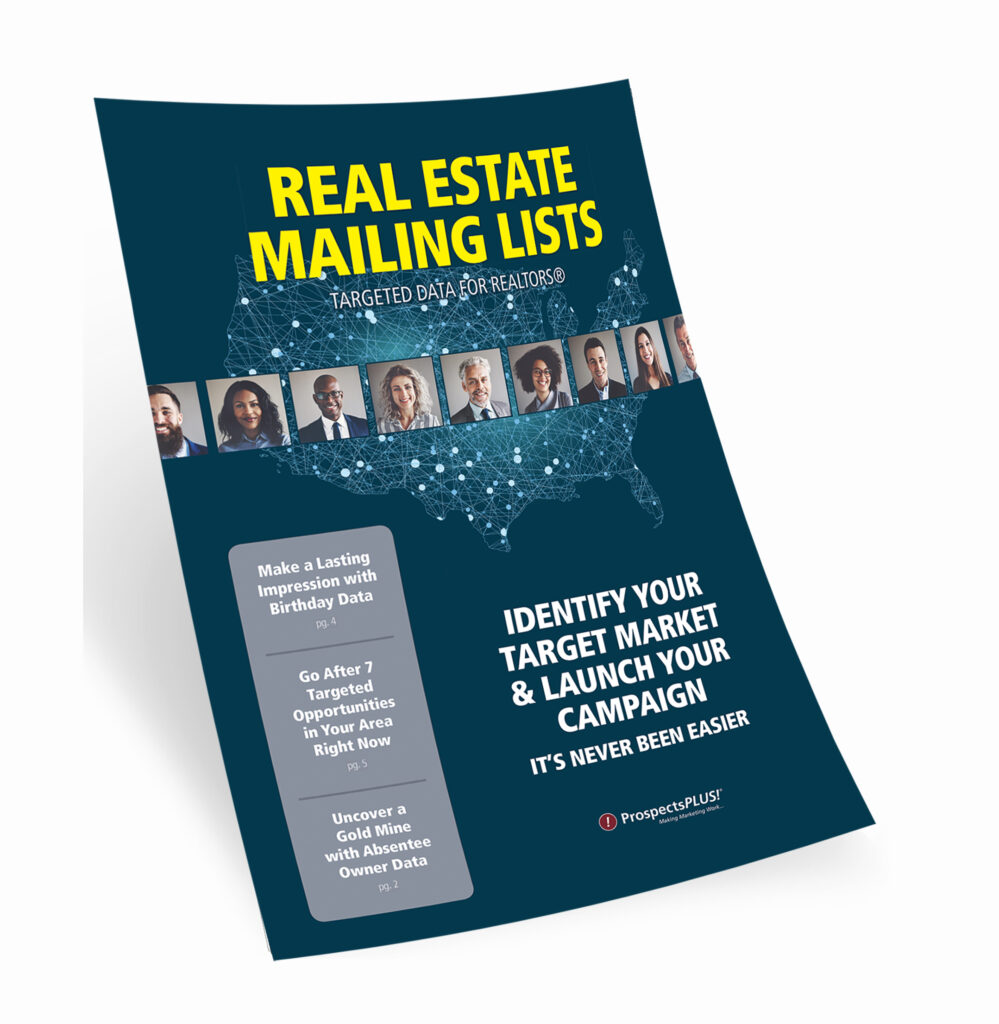 The Real Estate Mailing List Guide outlines the top tools for generating targeted prospecting lists including Baby Boomers, Empty Nesters, Investors, Lifestyle Interests, High-Income Renters, Move-Up Markets, and more. The Guide also defines done-for-you marketing campaigns to match these markets. –Click Here
5. Become a Listing Legend Free eBook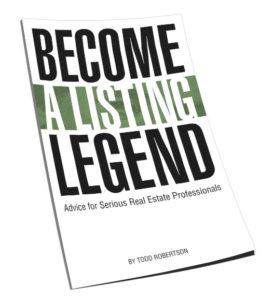 Ready to take a vertical leap in your real estate career? If you're looking for inspiration…and the tools and methods to dominate a market and go to the top in real estate…you'll find them in this free book. – Click Here
6. The Free Online ROI Calculator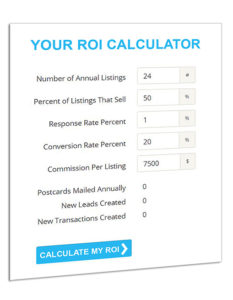 Consistency and automation are the keys to success. Discover how effective direct mail marketing can dramatically increase your bottom line. Enter your statistics in our Free online ROI Calculator and click the 'CALCULATE MY ROI' button to see your results instantly! –Click Here
7. The Free Real Estate Marketing Guide "CRUSH IT"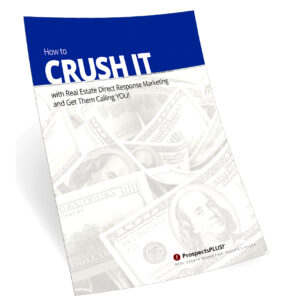 The "Crush It" Guide includes easy steps to launching an effective direct mail marketing campaign, how to create a targeted prospect list, the perfect way to layout marketing materials for success, seven opportunities available to target in your area right now. –Click Here