Vow to Leave These Dated Real Estate Practices Behind in 2022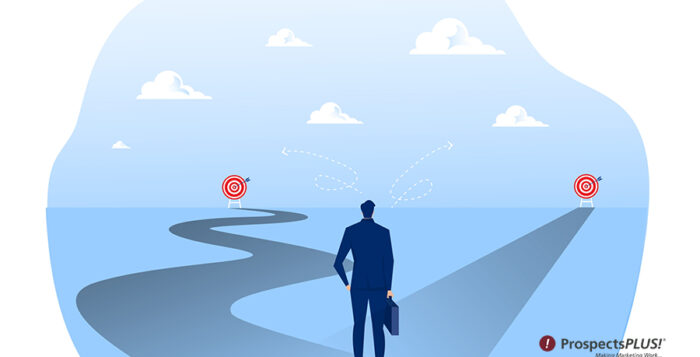 Every industry has ineffective practices that should've been dumped long ago and real estate is no exception.
Going into a new year, in a somewhat new world, let's vow to leave these 5 dated real estate practices behind.
1. Not making scripts your own
Yes, I know I may get flack for this one but I'll be brave and use it anyway.
Do you have any idea of how many agents hound FSBO's and expireds, using the exact same script?
I've been the victim of these calls so I can tell you that, more often than not, those unsolicited callers were using the same script.
Some delivered it better than others, but the words were always the same.
I get that there are certain turning points in some scripts that work to get the homeowner rolling in the direction you want them to go.
But even the best scripts don't work if they are identical to every other agent in town or if they can't be delivered in a natural way.
2. Not customizing and localizing template websites
Templates are just another version of scripts. How do consumers feel about your template emails, texts, and direct mail letters? "They are just basically form letters," one homeowner told the Austin Business Journal.
And what about the agents who spend time and lots of money on building a website that will hopefully generate leads and then not change the canned content that came with it?
All that time and money spent creating it is wasted. The agents who don't take the time to customize their sites are missing out on valuable opportunities, chief among these are organic traffic and trust-building.
If you haven't done so yet, make 2022 the year you pay attention to your site, localizing it wherever possible, adding gorgeous local images, and using those testimonials for all they are worth.
3. Take listings without the budget it takes to market them properly
If you can't afford to (or don't want to) pay for a professional real estate photographer, virtual tours, and other marketing tactics, you are doing the seller a disservice by taking the listing.
Perhaps you can work with buyers until you've built up enough of a budget to work with sellers.
4. Not being social on social media
In case you haven't heard, posting your listings and open houses, ad nauseum, is annoying. Not only that, it just doesn't get results.
It's not called "Marketing Media," but "SOCIAL media." Get social. Join pertinent groups and engage with people. A new year will be upon us before we know it. While penciling out your 2022 business goals, vow to leave the dated aspects of your business behind, where they belong.
---
Did you know our Farm, Fence Sitter Scheduled Campaign is currently on sale 10% OFF the first month?
SALE ENDS IN 3 MORE DAYS!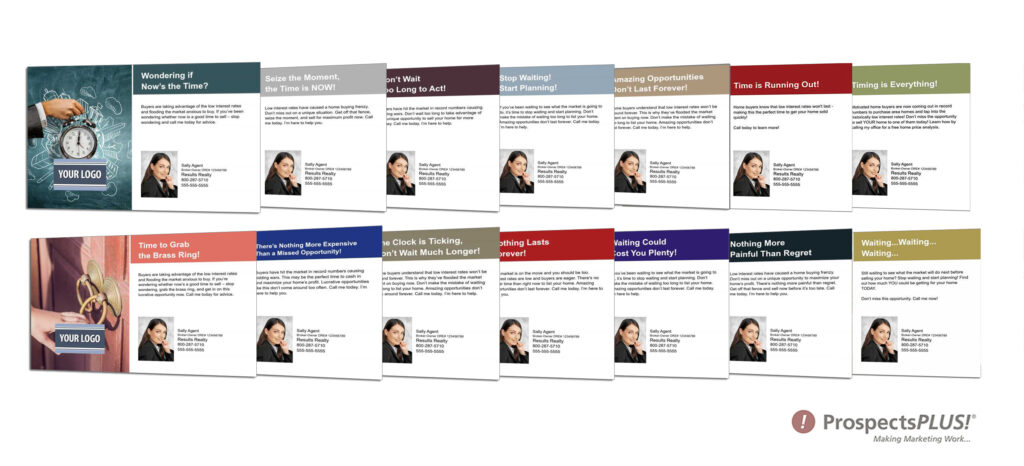 Farm, Fence Sitter Scheduled Campaign is shown above. Learn more, HERE
TO LAUNCH A FENCE SITTER CAMPAIGN:
Hit "CLICK HERE", below (from a desktop or laptop computer) and choose the Fence Sitter Series of postcards.
USE PROMO CODE: FENCE10 to get 10% Off at check out.
And, remember, YOU DON'T PAY for each mailing until it actually goes out (cancel or change each mailing up until the night before it goes out). This sale expires on 11/13/21.
Launch a Fence Sitter Scheduled Campaign now, CLICK HERE!
Please reach out to our support team at 866.405.3638 with questions or if there is anything we can do to help you with your success.
---
PLUS: When you have time…below are some helpful tools to support your success.
1. The Free 12 Month Done-For-You Strategic Marketing Plan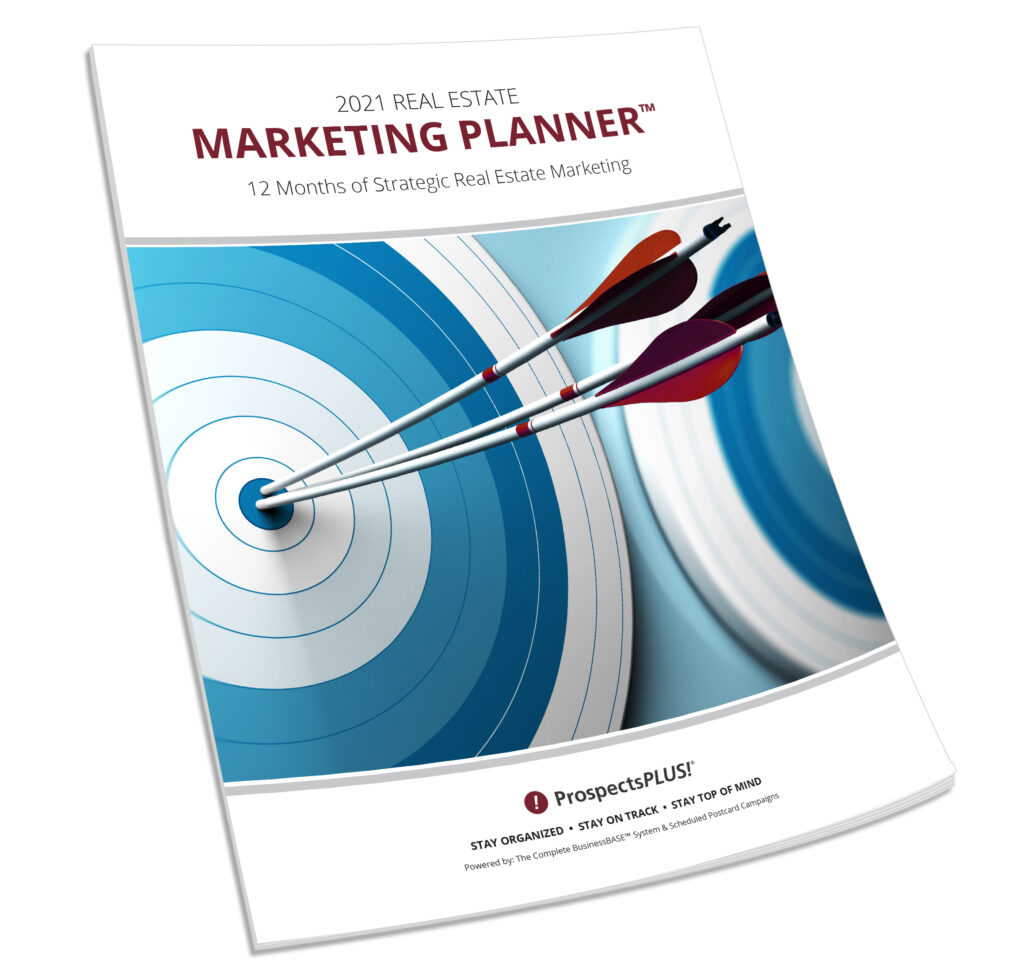 The Real Estate Marketing Planner is a powerful 12-Month-Guide that strategically defines what marketing to do when. Four key market segments are included, Niche Marketing, Get More Listings, Geographic Farming, and Sphere of Influence. –Click Here
2. The Free Interactive Real Estate Business Plan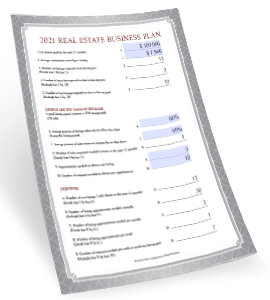 The Free Interactive Real Estate Business Plan allows you to enter your business goals for this year and get a breakdown of how many prospects, listings, closing, and so on are needed to reach your goals. – Click Here
3. The Automated Way to Become a Neighborhood Brand
Become branded in a specific neighborhood with a 12X15 marketing piece sent automatically each month to an exclusive carrier route. Watch this video to learn more or Click Here.
4. The Free Real Estate Mailing List Guide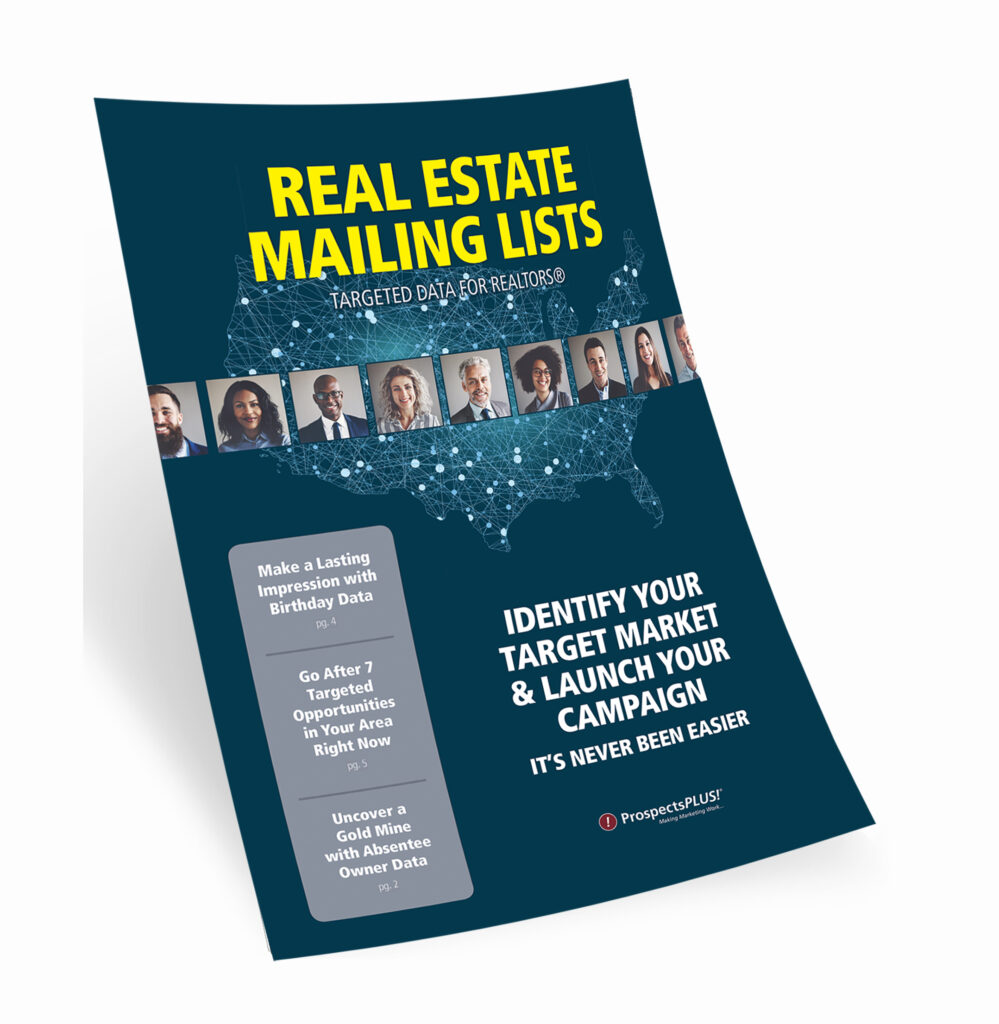 The Real Estate Mailing List Guide outlines the top tools for generating targeted prospecting lists including Baby Boomers, Empty Nesters, Investors, Lifestyle Interests, High-Income Renters, Move-Up Markets, and more. The Guide also defines done-for-you marketing campaigns to match these markets. –Click Here
5. The Become a Listing Legend Free eBook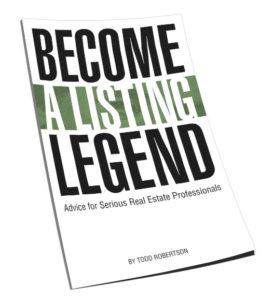 Ready to take a vertical leap in your real estate career? If you're looking for inspiration…and the tools and methods to dominate a market and go to the top in real estate…you'll find them in this free book. – Click Here
6. The Free Online ROI Calculator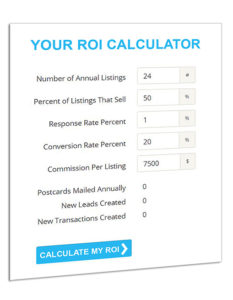 Consistency and automation are the keys to success. Discover how effective direct mail marketing can dramatically increase your bottom line. Enter your statistics in our Free online ROI Calculator and click the 'CALCULATE MY ROI' button to see your results instantly! –Click Here
7. The Free Real Estate Marketing Guide "CRUSH IT"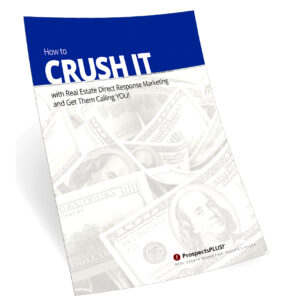 The "Crush It" Guide includes easy steps to launching an effective direct mail marketing campaign, how to create a targeted prospect list, the perfect way to layout marketing materials for success, seven opportunities available to target in your area right now. –Click Here