Taking the Guesswork Out of Real Estate Marketing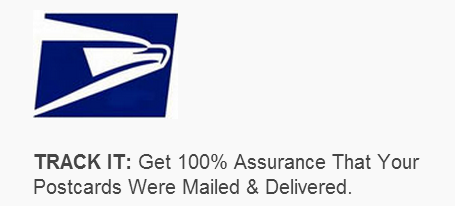 You've got to love technology right?  As real estate professionals in today's competitive world, every marketing step counts – and every marketing dollar is important.  We get that.  That's why we've been working overtime to put new systems in place that not only track a portion of our customer's mailings as we've done in the past, but to track 100% of the postcard and mailing orders across the board.  That way, you know what's been delivered, when there's an issue and exactly when you can start following up on your important real estate marketing mailing.
Here's a quick video to show you how it works:
As you kick your marketing and momentum into high gear – here are four things you should know:
1.       Track My Mail is a Resource You Can Trust.  We know that every dollar counts and you want to know that your marketing is not only being sent, but is being delivered.  We want the same.  Every time you place an order, you will be sent a link when that order is shipped so you can track your mail every step of the way. When we deliver it to the post office, when and where it's routed, and when it gets delivered.  That way you've got total confidence that your marketing is working for you. There's no extra cost, no fuss, no questions.  We've got you covered.
2.       There are LOTS of options available.  Marketing is a big decision for agents today, and budgets are a giant factor.  We've got tools that can match any budget, and can help you reach as far or as limited a target as you are comfortable with.  From Every Door Direct options that allow you to blanket entire geographic areas, to Just Listed/Just Sold Postcards which are a foundation for any real estate marketing plan, to the collateral pieces you need for fair trade items, blog fodder, consumer friendly website downloads and presentation content and more.  We can work with you one-on-one to meet your budget and extend your reach with ease.
3.       By real estate professionals for real estate professionals.  With our organization, you'll know that your marketing is being written and produced by people who have long ties and experience in this industry we love.  We're constantly watching market trends so we can keep you on the cutting edge when it comes to always having the right piece for the right person at the right time.  It's the difference – that makes all the difference.
4.       Totally editable.  We get that creating is HARD and clicking is EASY.  That's why we try to do as much of the 'heavy lifting' as possible so that when you choose your marketing materials  – be they real estate postcards, newsletters, flyers, brochures, or even kits – you don't HAVE to change a thing if you don't want to.  You can simply have our system apply your contact and profile information and go – but if you want?  You can totally change whatever you like.  Change the words. The images. Upload your own piece even.  Flexibility is key in today's busy world.  You have our commitment to continuously make that an easy solution.
We know that a successful agent is a busy agent.  And time – is really of the essence.  So giving you the options, materials, resources and support you need  is our top priority.  Call us today at 866.405.3638 and speak to one of our marketing professionals about building your book of business this year. We've got just what you need to succeed.
SHARE WITH YOUR FRIENDS