Staying top-of-mind in real estate is critical right now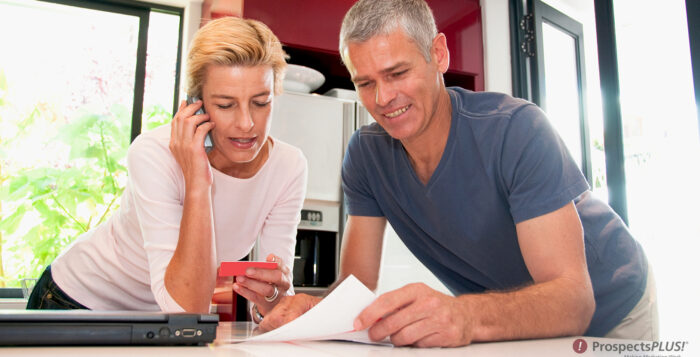 The world has changed. Whether we will ever return to pre-pandemic life remains to be seen. Take summer for instance.
Most summers, retailers consistently see an increase in consumer interest in ice cream makers, summer dresses and beer pong.
Summer 2020's shopping list, on the other hand, features none of the items we longed for in the past. Roller skates, inflatable pools and sidewalk chalk are in such demand right now that even Walmart can't keep up the supply.
We think it's safe to say that consumers, even those actively thinking about buying or selling a home, aren't thinking about real estate agents. They're far too distracted.
This is why it's critical that you become proactive and remind them (especially past clients and your SOI) that you are a real estate agent. By reaching out to them you will also remind them that they know, like and trust you.
Don't allow anyone you know to do a real estate transaction like those interviewed by NAR every year (working with the first agent they speak with).
We've rounded up some tips from other agents as to how they're keeping top-of-mind with those in their CRM.
Kick hyper-local marketing to the curb
Hyper-local isn't enough right now. Zoom in to make your marketing hyper-hyper local. Choose a highly specific geographic area around your target's home using the Map My Mail tool. This may mean that you're targeting just a few streets, or blocks for each campaign.
If you currently farm, this one will be easy for you. Choose a neighborhood in which a former client or anyone in your sphere lives and start your hyper-hyper local marketing direct mail blitz there.
Also, consider holding a neighborhood event. To comply with COVID-19 safety measures, hold it outdoors and encourage social distancing. A picnic or barbecue would lure house-bound families to their neighborhood park.
Another idea that agents use is a movie in the park. Social distancing should be easy with this one.
Start a campaign
With so many people still housebound, the internet serves as a lifeline. Seniors, especially, are turning to social media to keep up with friends and family.
Before you poo-poo the seniors, understand that the baby boomer niche is the largest seller demographic. The 2020 NAR Generational Trends survey finds that 45% of the seller pool is made up of older Americans, born between 1946 and 1964.
During the lockdown, those seniors living away from their children and grandchildren were awash in loneliness, especially those without a spouse or partner. Look for them to decide to sell to move closer to their loved ones.
Although you can target your Facebook campaign to any group (we aren't talking ads here, but your business page and engagement on others' pages), we think starting with boomers might just get you the most success.
If you've set up your CRM with demographic tags, finding your targets will be easy. If not, combing through all those names could become tedious. Hire someone at Fiverr.com or Upwork.com to do it for you.
Then, get busy finding these people on Facebook, post items of interest to them (especially if this content leads back to the blog on your website), and engage on their pages frequently. Keeping your name in front of them is critical. Consider adding a targeted baby boomer direct mail campaign.
Pick up the phone and call your Sphere
Go through your CRM and pick out past clients and those in your SOI who you've been in touch with over the past year and give them a call.
The call serves several purposes:
It's a personal touch – and those are always memorable
It's a reminder that they know a real estate agent (just in case someone asks!)
Ask the right questions and you'll be able to fill in missing information in their CRM file
Subtly remind them that home values haven't decreased, as many Americans are assuming
What will you say?
Ask how they are faring during the pandemic. If they have a family, inquire about their well-being.
If asked about the current market, explain it without sounding salesy.
Most of all, listen.
Finally, follow up the call a week later with a hand-written note on a notecard sent via the mail.
Year after year, the NAR's surveys say that although buyers and sellers claim they will use their agent in the future, yet most of them don't.
In fact, 75% of buyers and an equal number of sellers choose the first agent they contact to assist in the purchase or sale of a home.
Don't assume that because you worked with a client in the past, they will remember you years from now. They won't unless you keep in touch consistently.
Send the Gardening Fun postcard from the CVID: AT Home Series to your Sphere of Influence.
Need help targeting a specific niche of buyers or sellers? Use our Demographic Search Tool to create the ideal list (it's easy). Or call our support team for assistance at 866.405.3638!
PLUS: When you have time…here are some helpful resources we've made available to support your success.
1. The Free Real Estate Mailing List Guide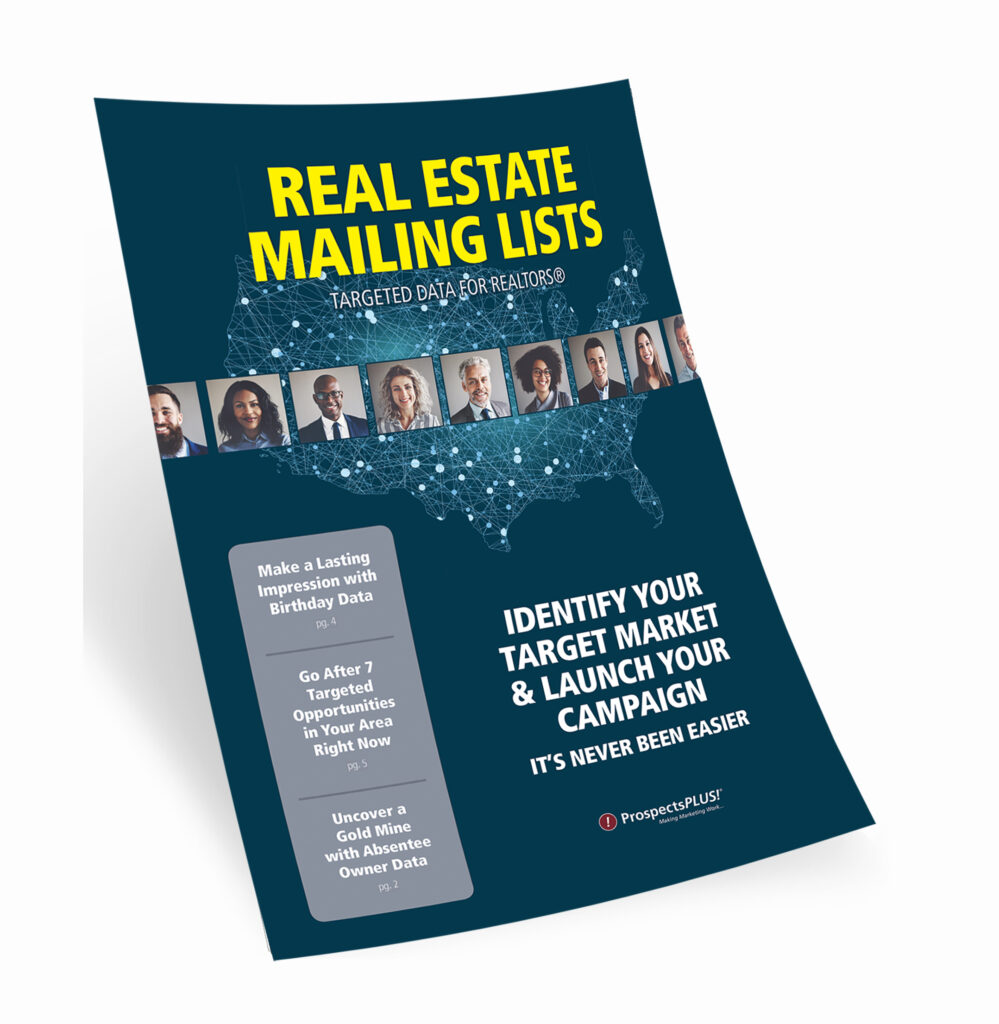 The Real Estate Mailing List Guide outlines the top tools for generating targeted prospecting lists including Baby Boomers, Empty Nesters, Investors, Lifestyle Interests, High-Income Renters, Move-Up Markets, and more. The Guide also defines done-for-you marketing campaigns to match these markets. –Click Here
2. The Free 12 Month Done-For-You Strategic Marketing Plan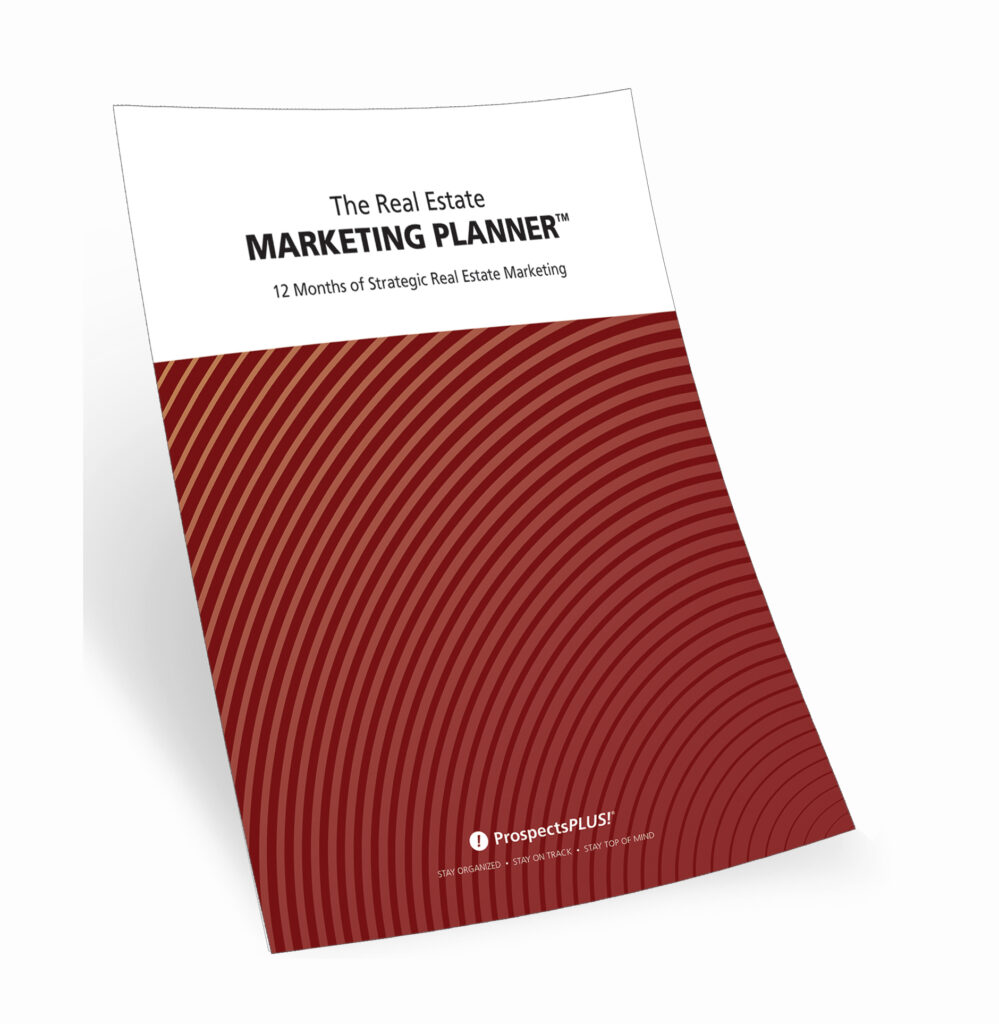 The Real Estate Marketing Planner is a powerful 12-Month-Guide that strategically defines what marketing to do when. Four key market segments are included, Niche Marketing, Get More Listings, Geographic Farming, and Sphere of Influence. –Click Here
3. The Free One-Page Real Estate Business Plan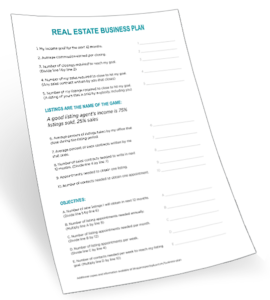 Treat your business like a business it is vital to long-term success in this industry. Some agents may put together elaborate business plans, yet there's something powerful about keeping it simple. Check out our one page Online Real Estate Business Plan. – Click Here
4. Become a Listing Legend Free eBook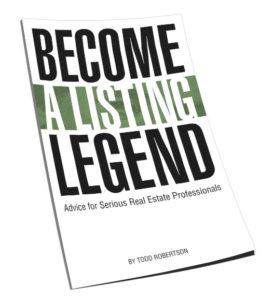 Ready to take a vertical leap in your real estate career? If you're looking for inspiration…and the tools and methods to dominate a market and go to the top in real estate…you'll find them in this free book. – Click Here
5. The Market Dominator
Become branded in a specific neighborhood with a 12X15 marketing piece sent automatically each month to an exclusive carrier route. Watch this video to learn more or Click Here.
6. The Free Online ROI Calculator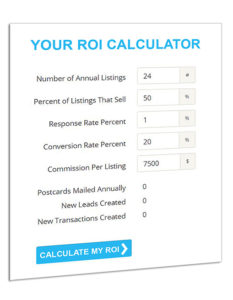 Consistency and automation are the keys to success. Discover how effective direct mail marketing can dramatically increase your bottom line. Enter your statistics in our Free online ROI Calculator and click the 'CALCULATE MY ROI' button to see your results instantly! –Click Here
7. The Free Real Estate Marketing Guide "CRUSH IT"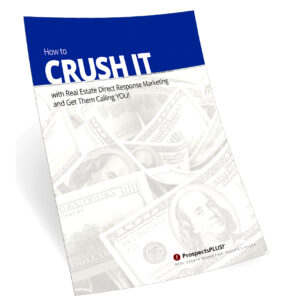 The "Crush It" Guide includes easy steps to launching an effective direct mail marketing campaign, how to create a targeted prospect list, the perfect way to layout marketing materials for success, seven opportunities available to target in your area right now. –Click Here