Spring Real Estate Blog Topics Every Agent Should Consider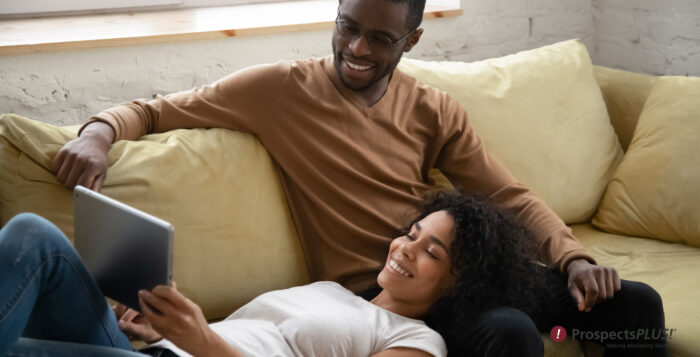 What agent doesn't relish the thought of ranking high in Google searches? Doing so without having to pay for ads is even better.
The best route to that end is by blogging, consistently.
Choosing topics can be challenging. They should be local and, when possible, timely. To help you out, we've come up with some topics for spring that you're welcome to steal.
Audience: Home Buyers
Topic: "3 Things you Must Know about Buying a Home in [name of your market] this Spring"
This will be a post of what you expect from the local real estate market this spring. Remember, the key word here is "local."
Don't be lazy like the Minneapolis agent we came across who regurgitated what the national media is forecasting.
His introduction to the piece was even worse: "Here's what a few industry experts have to say about the housing market …"
Wait—aren't agents supposed to be the industry experts?
Check out these examples of market forecasts done right:
Additional homebuyer-focused topics to consider:
The importance of preparing to enter the market. Urge them to get preapproved early in the process. Talk about ways to keep motivated during multiple offer situations. How about backup offers?
The most popular neighborhoods for homebuyers and the challenges of shopping for a home within them.
Any COVID-related restrictions still in place in your market.
Audience: Home Sellers
Topic: "3 Things you Must Know about Selling your [name of your market] Home this Spring
This should be an easy topic since we're still in a hot seller's market. Many homeowners, however, have concerns about being able to find a replacement home. Address this concern and any others that are prevalent in your market.
Other spring home seller topics to consider:
The importance of curb appeal in spring. Offer suggestions (again, keep it local) with mentions of local gardening outlets.

Recommended repairs to make before the home hits the market.

What to expect when offers roll in. Remind them that sometimes better terms trump a higher price.
Audience: Your social media followers
Topic: Community Content
Although you should share all of your blog posts to your social media feeds, community content is immensely more sharable. Check out some of these ideas:
Have COVID restrictions been relaxed in your market? Share what's open, what's closed, and alternatives to the latter.
A post on local parks, with a quick review of each one.
Activities for kids during spring break. Your local Parks and Recreation Department and school websites may offer ideas.
Suggest day trips for weekends.
Best places in town to have brunch on the patio.
How to start a vegetable garden.
Posts on the best places in your market to:
Ride a bike
Go hiking
Camp out
Fish
Shop at flea markets or go antiquing
Dine outdoors
Picnic
Swim
Golf
Take your dog (dog-friendly dining, beaches, parks, etc.)
Best beach
Have a staycation
Finally, one of our favorite local topics is "Why we love spring in [name of market]." Get inspiration for this one from timeout.com and toronto.com.
Hurry! Fence Sitter Scheduled Campaigns are on sale 10% OFF the first month for ONLY 3 MORE DAYS! (sale ends 3/27/21).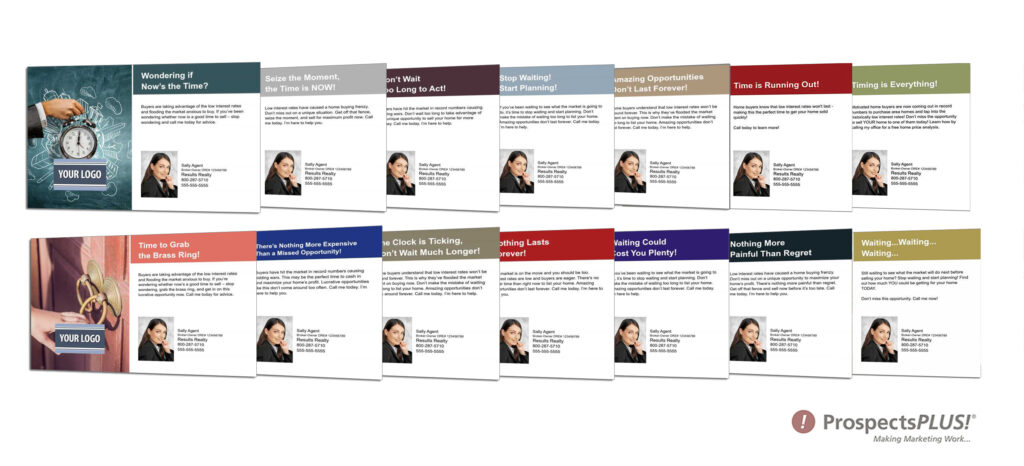 TO LAUNCH A FENCE SITTER CAMPAIGN:
STEP ONE: Create your Fence Sitter prospect list using the Demographic Search tools, search by homeowners 7+ years, click HERE.
STEP TWO: Then, click on "FARM" on the Campaign page, select the Fence Sitter Series, and follow the prompts, HERE.
And, remember, YOU DON'T PAY for each mailing until it actually goes out (cancel or change each mailing up until the night before it goes out. The price shown at check out is per mailing, not campaign total).
Hit "CLICK HERE", below, to get started on your Fence Sitter Scheduled Campaign (from a desktop or laptop computer).
Please reach out to our support team at 866.405.3638 with questions or if there is anything we can do to help you with your success.
---
PLUS: When you have time…here are some helpful resources we've made available to support your success.
1. The Free 12 Month Done-For-You Strategic Marketing Plan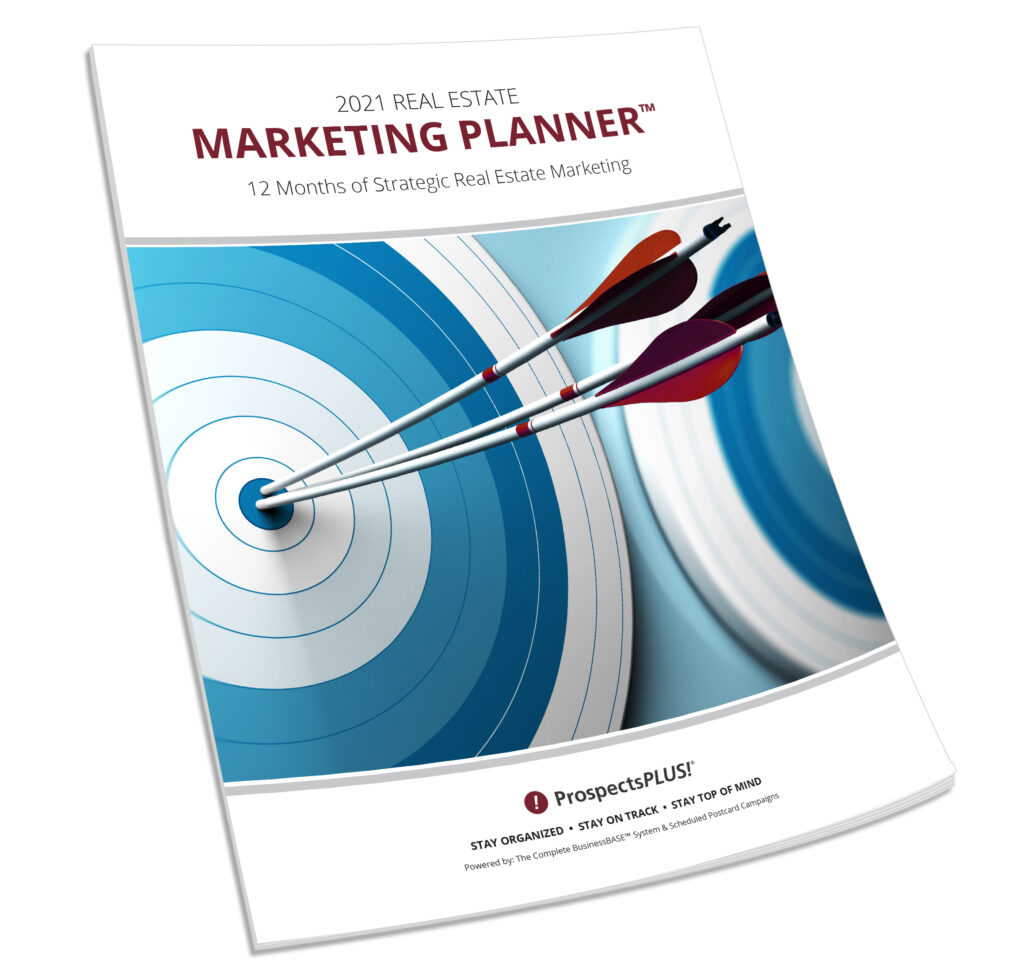 The Real Estate Marketing Planner is a powerful 12-Month-Guide that strategically defines what marketing to do when. Four key market segments are included, Niche Marketing, Get More Listings, Geographic Farming, and Sphere of Influence. –Click Here
2. The Free Interactive Real Estate Business Plan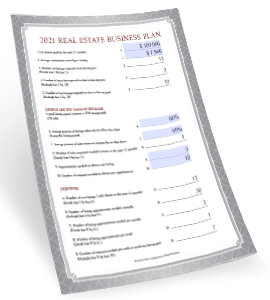 The Free Interactive Real Estate Business Plan allows you to enter your business goals for this year and get a breakdown of how many prospects, listings, closing, and so on are needed to reach your goals. – Click Here
3. Become a Neighborhood Brand
Become branded in a specific neighborhood with a 12X15 marketing piece sent automatically each month to an exclusive carrier route. Watch this video to learn more or Click Here.
4. The Free Real Estate Mailing List Guide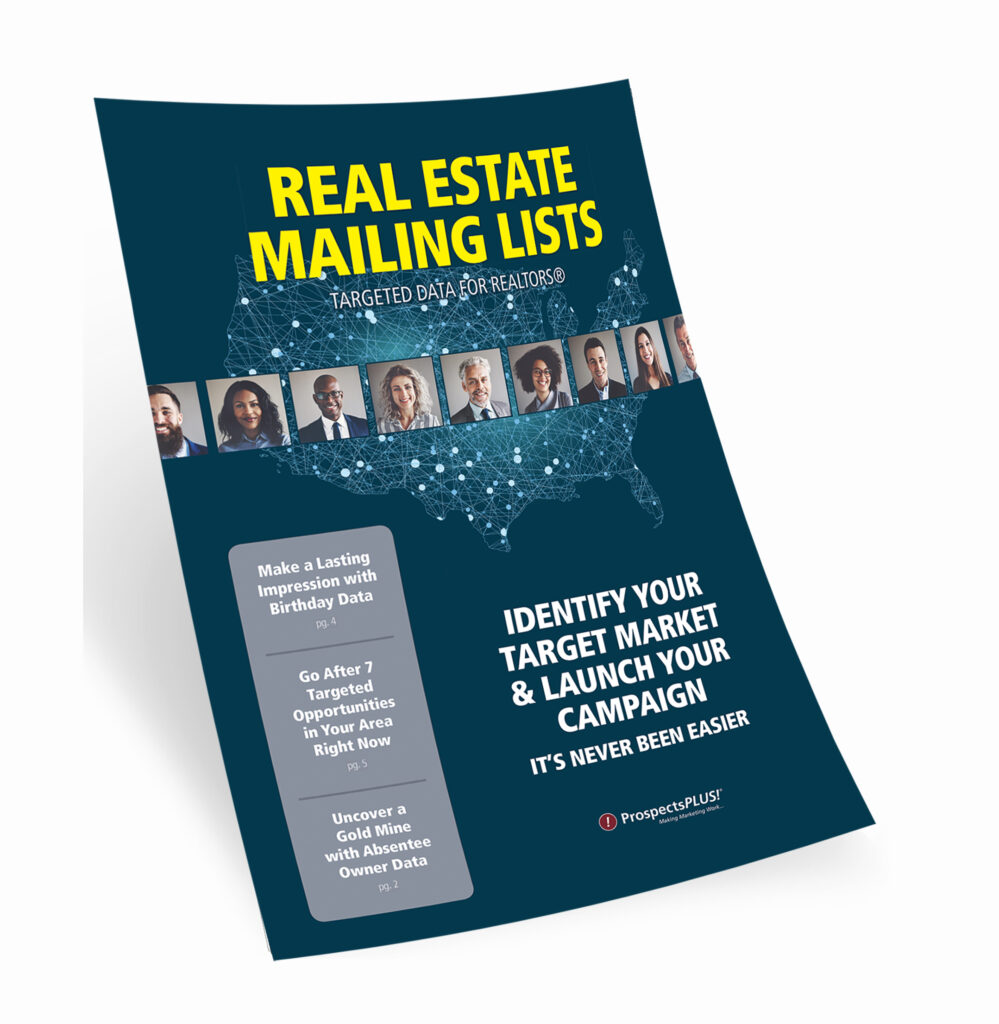 The Real Estate Mailing List Guide outlines the top tools for generating targeted prospecting lists including Baby Boomers, Empty Nesters, Investors, Lifestyle Interests, High-Income Renters, Move-Up Markets, and more. The Guide also defines done-for-you marketing campaigns to match these markets. –Click Here
5. Become a Listing Legend Free eBook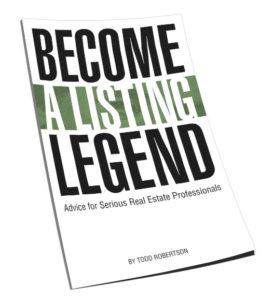 Ready to take a vertical leap in your real estate career? If you're looking for inspiration…and the tools and methods to dominate a market and go to the top in real estate…you'll find them in this free book. – Click Here
6. The Free Online ROI Calculator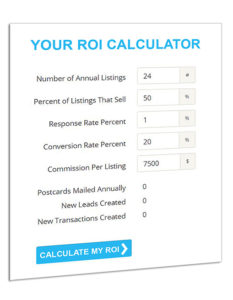 Consistency and automation are the keys to success. Discover how effective direct mail marketing can dramatically increase your bottom line. Enter your statistics in our Free online ROI Calculator and click the 'CALCULATE MY ROI' button to see your results instantly! –Click Here
7. The Free Real Estate Marketing Guide "CRUSH IT"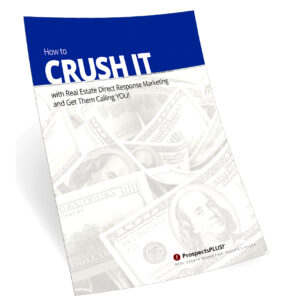 The "Crush It" Guide includes easy steps to launching an effective direct mail marketing campaign, how to create a targeted prospect list, the perfect way to layout marketing materials for success, seven opportunities available to target in your area right now. –Click Here