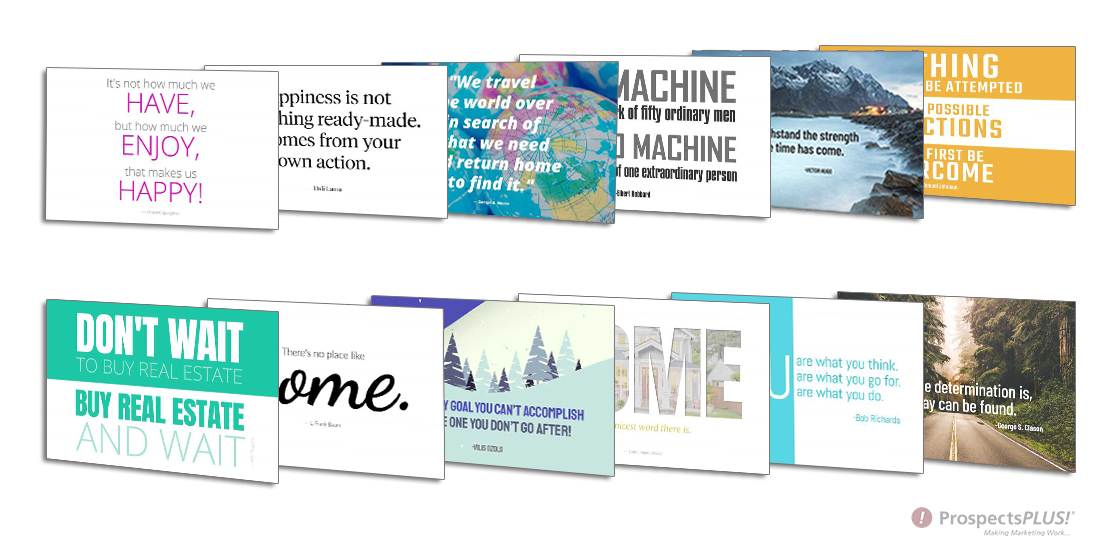 Simply schedule a one-year SOI Marketing Campaign, that sends a minimum of 150 postcards per month.
If after 6 months you don't have 1 extra closing, reach out to us at: 877-351-3663
If by the end of this one-year campaign you haven't generated 3 extra closings, and have incorporated the Free BusinessBASE™ tool, we will refund you the total amount of money you spent on your SOI Scheduled Campaign mailings, guaranteed.
To launch a scheduled campaign click the CLICK HERE
---
---
---
To take advantage of the guarantee, the user must do the following:
Order a pre-defined SOI Campaign from www.prospectsplus.com with these minimum requirements:  
A minimum of one (1) mailing per month

A minimum of 150 people in each mailing

A campaign duration of at least 12 months

A Jumbo size or Panoramic size postcard, mailed standard class

To be eligible for the guarantee, you must place a Scheduled Campaign order of twelve (12) mailings from any SOI Campaign. A mailing of at least 150 addresses must occur at least once per month.
The maximum amount is equivalent to 150 panoramic postcards, mailed standard class, × 12 months.
If, after the sixth (6th) mailing, you have not closed at least one (1) transaction as a result of the SOI campaign, you must contact a ProspectsPLUS!® Campaign Specialist at (866) 405-3638 or support@prospectsplus.com for a professional review and recommendations. 
If, after the twelfth (12th) mailing, and after following the recommendations from the professional review, you have not closed at least three (3) transactions as a result of the SOI campaign, ProspectsPLUS!® will refund the money spent on the Scheduled Campaign (up to $1,800.00 plus sales tax, if applicable).
If you have any additional questions or concerns please contact us at (866) 405-3638 during business normal business hours or email us at support@prospectsplus.com.
SHARE WITH YOUR FRIENDS