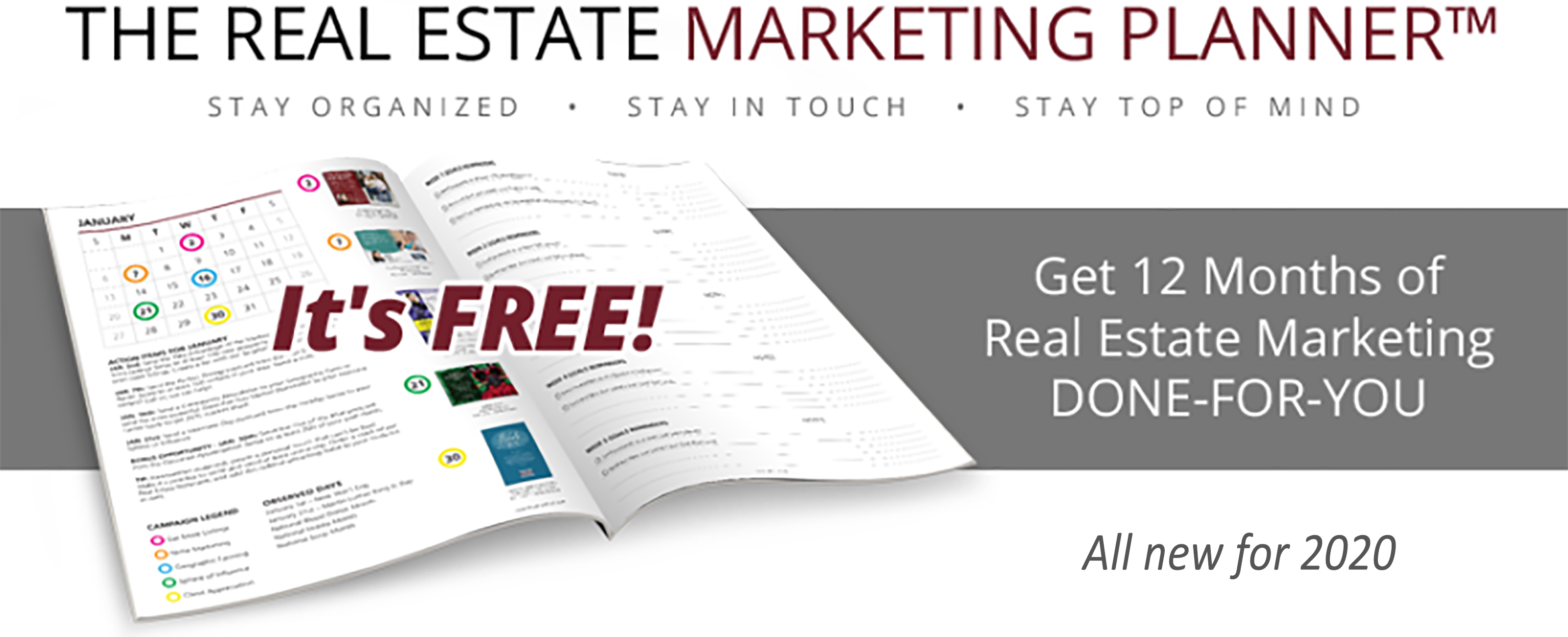 ---
The Real Estate Marketing Planner is a powerful 12-Month-Guide that strategically defines what marketing to do when throughout the year. Each month key market segments are represented and color-coded with detailed, targeted strategies including:
O Get More Listings  O Niche Marketing  O Geographic Farming  O Sphere of Influence O Customer Appreciation
Statistically, 66% of your business will come from family, friends, referrals or hand-raisers from one of these four segments. Each month of the Real Estate Marketing Planner includes:
A calendar highlighting what dates to take action

An action item list with four results-focused tasks

A tip of the month with creative strategies to get you noticed

A weekly goals and reminders section

Monthly observances

A series postcard image for each market segment activity
Or Download the Real Estate Marketing Planner to your Google, Apple or Outlook Calendar Now:
July Fun Days and Ways to Connect:
1 – Creative Ice Cream Flavors Day. Ben & Jerry's "Imagine Whirled Peace" is a good one to try. What's your favorite?
4 – National Country Music Day. Break out your 10-gallon hat, and crank up the country station!
4 – Sidewalk Egg Frying Day. Many places in the Northern Hemisphere are hot enough during this time of the year to crack an egg on the sidewalk and cook it. Just don't eat it!
5 – Workaholics Day. Can you really take a day to celebrate if you're a workaholic? There's a question for you!
6 – National Fried Chicken Day. Grab a big bucket, and deliver it to your favorite client's office with a note to enjoy… and don't forget the coleslaw!
7 – Chocolate Day. Any day that's got chocolate in it has to be a good day, right? Grab 10 of those little "sampler" boxes of chocolates, and deliver them to 10 of your best clients with a note thanking them for being such a treat!
7 – National Strawberry Sundae Day. Invite someone – a client, a friend, a kid, anyone – out for a sundae, and have some fun.
8 – Video Games Day. Almost every family has old video games that they don't play anymore. Host a VIDEO ROUNDUP – in your office, neighborhood or farm area – and donate the games to your local children's hospital or home.
9 – National Sugar Cookie Day. Deliver cookies to offices of six professionals such as CPAs, attorneys, doctors and mortgage professionals whom you'd like to align yourself with, and tell them you've got clients who could use their services. Ask them to tell you a little about their "best" customer so that when you run across people who fit the bill, you can send them their way. Ask if they'd do the same for you.
12 – Pecan Pie Day. Pick three clients to deliver a pie to, and tell them you're NUTS about being their agent of choice!
13 – Embrace Your Geekness Day. If you or someone in your life or office is a true geek, today is the day to celebrate and be proud!
17 – Peach Ice Cream Day
20 – National Lollipop Day
21 – National Junk Food Day. It's only one day, so grab some fries and enjoy! Tomorrow, though? Back to the healthy stuff!
30 – National Cheesecake Day. Deliver a cheesecake sampler to three of your favorite clients, and thank them for making appreciating them as a customer a piece of cake!
August Fun Days and Ways to Connect:
1 – Campfire Day
2 – National Ice Cream Sandwich Day. Love these tasty treats! Deliver some to a client!
3 – National Watermelon Day. Head to your local produce stand, buy six melons, and drop off for six favorite clients to enjoy!
4 – Coast Guard Day. If you have a local branch of the Coast Guard near you, call the family services representative, and let him or her know that you're honored to work with our military members and that there are special mortgage programs designed just for them.
9 – Book Lover's Day
10 – National S'mores Day.Mmmm… love a good s'more! Too hot for a campfire? Make them in the microwave! Stack one graham cracker, one piece of chocolate bar and one marshmallow, and microwave for 10 seconds (fun to watch). Top with a second graham cracker.
14 – National Creamsicle Day. Share the kid-like feeling of enjoying a creamsicle with at least three clients. Grab a few boxes of these tasty treats, and make yourself the "ice cream man (or woman)" for the day! Share in your neighborhood farm area.
18 – Bad Poetry Day. Have some fun at the office with this one today. Find some of your favorite bad limericks (keep them clean!), and share with your team!
19 – Aviation Day. Order cardboard or paper airplanes from and pass them out to your farm area with a note that reads, "Buying and selling real estate takes an experienced pilot. I can help ensure you have a terrific landing. Call me today!"
20 – National Radio Day. Stop by or contact your local radio stations, and let them know you'd love to do an on-air Q&A about the difference between "national" and "local" markets and ensure their listeners know the facts about local real estate.
21 – Senior Citizens Day. Grab a few people (coworkers, teenagers, kids), and take a trip to your local nursing home to brighten some days. Tell some stories (and listen to a few, too; they've got a lot to teach us), play some games, take some time, and come away feeling like you've made someone smile. That's worth a million!
26 – National Dog Day. Got a pooch? Head to your local grocer, and ask that nice guy behind the meat counter for a big ol' bone for your furry friend. Fido will love you for it!
31 – National Trail Mix Day. Grab a few bags of these tasty treats, and pass them out or mail to your clients with a note that reads, "Real estate will always be 'happy trails' with me as your guide! Got questions? I've got answers! Call me today!"
September Fun Days and Ways to Connect:
5 – National Cheese Pizza Day. Order pizza for four of your favorite clients, or send a pizza gift card with a note that reads, "Happy Cheese Pizza Day from your favorite neighborhood specialist! If you need any piping hot real estate ideas, give me a call!"
6 – Read a Book Day
8 – International Literacy Day. Host a neighborhood book drive in your farm area. Donate the books to a local library, children's home or inner-city school. Books open minds, and open minds open doors for a lifetime!
9 – Teddy Bear Day
12 – National Chocolate Milkshake Day. Make it a Milkshake Tuesday! If you're doing any corporate marketing, consider bringing a milkshake surprise to the "gatekeepers" or executive administrators at six of the corporate offices you're prospecting!
13– Fortune Cookie Day. You can have fortune cookies custom made with your message inside. What a great treat and way to share your good fortune with your sphere or farm.
13 – National Peanut Day. Head to your local warehouse club, and buy a big box of individual packets of peanuts. Attach a note to each packet that reads, "I'm nuts about great clients like you! Call me with all of your real estate questions or needs!"
16 – Working Parents Day. Celebrate your successes. Juggling kids and careers has its challenges! Get a few fellow working parents together for a cookout.
18 – National Cheeseburger Day. Invite four to six clients or friends (or both!) over for a cheeseburger cookout.
19 – National Butterscotch Pudding Day. If you've never tried butterscotch pudding, today is the day to see what all the fuss is about.
21 – World Gratitude Day. The PERFECT reason to contact at least 20 people in your sphere. Call your client base, and let them know that you're grateful for them on this very special day… and remind them that you're always just a phone call away!
26 – Johnny Appleseed Day. Grab some apples to share with clients and colleagues today. (Planting seeds doesn't always involve gardening; sometimes it just means connecting with people. Ol' Johnny would have liked that!)
28 – National Good Neighbor Day. This is the perfect opportunity to walk your neighborhood farm.
October Fun Days and Ways to Connect:
1 – International Coffee Day
1 –  International Homemade Cookie Day
4 – National Golf Day. Invite a few of your top clients out for a round of golf today.
5 – World Teachers' Day. Teachers are some of the hardest-working folks around. Stop by your neighborhood school with a nice treat for the teachers with a note attached that reads, "From your friendly neighborhood REALTOR® on World Teachers' Day – THANKS for all you do! Teachers RULE!"
6 – Physician Assistant Day. Recognize the PA's in your area today by stopping into five local physician groups and leaving a muffin or apple or small token for them with a nice note that reads, "Thank you for all you do to keep our community healthy! If you ever need a prescription for a real estate problem, I'm happy to help!"
7 – Yom Kippur
10 – Angel Food Cake Day
14 – Emergency Nurses Day. Head down to your local ER with a basket of muffins and a handful of cards, and show a little extra appreciation for the ER nurses in your market! Nurses are a terrific source for referrals!
14 – National Dessert Day. Stop at your local bakery, and pick up some sweet treats for three clients.
16 – Dictionary Day. A great day to find a great word! Our pick? per·se·ver·ance [pur-suh-veer-uhns] noun 1. Steady persistence in a course of action, a purpose, a state, etc., especially in spite of difficulties, obstacles or discouragement.
22 – National Nut Day. Head to your local warehouse club, and buy a big box of packaged nuts. Attach a label to each one that reads, "I'm NUTS about being your local real estate specialist!"
25 – World Pasta Day. Who among us can't TOTALLY get behind this day! Pasta is one of the world's most favorite foods. Did you know that there are more than 600 pasta shapes?
27 – Navy Day. Honor the Navy servicemen and women in your sphere or farm today by delivering flags to the homes of those you know are either active duty or retired.
November Fun Days and Ways to Connect:
2 – National Deviled Eggs Day. A great day to celebrate this all-time favorite party food. Whip up a few batches, and deliver them to five or six of your favorite clients with a note attached that reads, "Thanks for being an eggs-tra special client. I'm here when you need me!"
3 – Sandwich Day. Head over to your local Subway, deli or sandwich shop, and pick up five gift cards for five favorite referral clients. Deliver them with a thank you card.
6 – Saxophone Day. Who doesn't love the soothingly smooth sounds of a good sax? This classical woodwind instrument – invented around 1840 by Adolphe Sax, is essential in jazz bands, symphonic bands, marching bands and more.
10 – Forget-Me-Not Day. Traditionally a day to remember people in your life whom you haven't been in touch with for a while. Perfect for those of you who haven't touched base with your sphere or farm in a while.
10 – USMC Day. God bless our military men and women! Honor the Marines in your life and in your sphere or farm today with a special card, or even just a call thanking them for their service.
12 – Chicken Soup for the Soul Day. Pick up a copy of your favorite Chicken Soup book (or a few pints of ACTUAL chicken soup from your local restaurant or deli), and deliver to five top clients with a note that reads, "Thanks for being part of my recipe for success! Enjoy!"
13 – Sadie Hawkins Day. It's the girls' turn to ask the boys out! Have fun, ladies!
13 – World Kindness Day. We can't have enough of this in today's world, now can we? Practice and promote random acts of kindness today.
17 – World Peace Day. If ever there was a time when we need to find more peace and less hatred in the world, it's now.
17 – Homemade Bread Day
20 – Beautiful Day. Today, like every day, is a beautiful day!
21 – World Hello Day. The objective of this day is to promote world peace by saying hello to at least 10 people.
23 – National Cashew Day. Head to your local warehouse club, and pick up a big box of cashew packets. Attach a note to each one that reads, "I'm NUTS about helping people with their real estate questions or needs!"
28 – French Toast Day. A great day to take your electric griddle to the office and surprise your coworkers by cooking up some French Toast for breakfast.
December Fun Days and Ways to Connect:
1 – Eat a Red Apple Day
3 – National Roof over Your Head Day. Well, this is a perfect one for the real estate profession! Share with your sphere on Facebook, and celebrate the roof over your head!
4 – Santa's List Day. Have you been naughty or nice? Get your list together, and put your holiday hats on!
5 – Repeal Day. Today celebrates the end of the 21st Amendment and Prohibition.
7 – Letter Writing Day. When was the last time you wrote a good, old-fashioned LETTER? Pick five clients, and send a personal greeting letting them know how very much you appreciate them!
7 – Pearl Harbor Day. Click here to gather all kinds of information on this infamous day in history!
9 – Christmas Card Day. Don't feel like addressing and stamping your cards this year? Send our fun and beautifully designed postcards in minutes – and check this one off your holiday to-do list!
9 – National Pastry Day. Stop by your local bakery, pick up some sweet pastry treats for five of your favorite clients, and deliver with a note thanking them for trusting you with their business!
12 – Poinsettia Day. Poinsettias are plentiful now. Pick up 10 small ones, and deliver to 10 of your best clients with a holiday note and an attitude of gratitude!
13 – Ice Cream Day. Head to your local ice cream shop, and pick up gift cards for five great customers. Send them out, or hand-deliver with a note that reads, "Thank you for being such a COOL customer! Happy Ice Cream Day!"
15 – Bill of Rights Day. Learn more about the Bill of Rights here!
18 – Bake Cookies Day
20 – Go Caroling Day. Invite some friends and neighbors to go caroling – or get a group from the office together, and Carol in each other's farm neighborhoods as a company event!
21 – Humbug Day. Don't be a Scrooge! Turn that frown upside-down, and do something wonderful for someone today!
23 – Festivus. Don't want to take part in the commercial holiday hustle and bustle? That's why Festivus was created! Enjoy a laugh by watching (and sharing) this great video from Seinfeld!
27 – Make Cut Out Snowflakes Day. Who didn't love doing this as a kid? Click here for a cool website for making them – VIRTUALLY! (Less mess – still fun!)
SHARE WITH YOUR FRIENDS