A Winning Combination to Find Real Estate Hand-Raisers

By Julie Escobar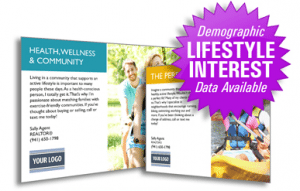 What makes people sit up and take notice of your marketing? When it speaks directly to them.  Now, there is a powerful new way to do just that for specialty niche markets.  You may have seen our recent posts regarding specialty data lists that are now available where agents are able to search by selects such as age,
income level, and length of residency.  Now, there is the ability to drill down even further to include lifestyle interests such as boating, golfing, do-it-yourself fans, health and wellness etc.
What that means is if you are an agent that loves to work with folks with those interests and specialize in
golf communities and waterfront properties with docks?, your job just got a whole lot easier.  We've created an entire series with a set of three postcards for each demographic to make connecting a whole lot easier.
Here's how it works:
Login to www.prospectsplus.com.
Head over to our Specials Page to grab your money-saving promo codes for the month.
Click on our New Series – Lifestyle Interest Postcards (look for the purple starburst).
Pick a postcard design for the lifestyle segment that most resonates with you. We currently have boaters, golfers, tennis enthusiasts, Do it Yourself (DIY) Living, and the all new Health & Wellness versions! In the coming months you'll find new series for Arts, Aviation, Gardening fans, RV enthusiasts, and Equestrian. We'll have at least 3 cards per interest to start so that you can use as a three-month campaign to your new list.
Customize your card however you like!
Click on the button that says Click to Start Mailing List, then click on the Purchase list option. Next, use the Demographic Search function, select the geographic area you want to target, then click on Lifestyle Interests. In the next screen, choose the segment that you want to target, then click search.  It will populate as many records as you would like to choose for that area.  Choose your desired amount of records and save your list.
Apply your promo code and check out!
Put a reminder in your calendar to take a few minutes at the first week of the next few months to send the next card in the series to the same list.
Follow up with these VIPs.
The more you can resonate with a prospective customer, the higher your chances are at finding the hand-raisers who are ready, willing, and able to either work with you – or refer work to you.  Matching your messaging is one powerful way to help you do that.
We recently hosted a webinar on the topic – you can watch it on demand below!
Got questions?  Call our marketing team today at 866-405-3638. They are there to help!