3 Essential Branding Tips For The New Real Estate Agent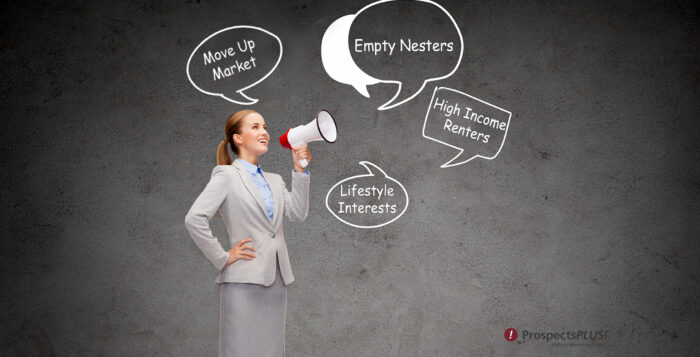 Welcome to the world of real estate, soon-to-be-wildly-successful agent. Your spanking new license, hung with a broker you probably just recently met, is your ticket to the big bucks – or so the story goes.
Between now and then, you may be hungry. You may be frightened about the future. You most likely will be financially challenged. Your sole focus will definitely be on securing one client – one deal – to help you stay in business long enough to get to the next one.
The ideal vehicle to get you to that deal – indeed, the very bedrock of your nascent real estate business — is personal branding.
Creating an impression, and the reputation you will eventually build, combine to generate your personal brand. Constructing your brand is job number one as soon as you've hung your license. Everything else falls into place once this is accomplished.
Read on for three essential tips guaranteed to help you fire up the iron and stick it strategically to your hide.
1. What makes you Remarkable?
"Unique" is a word that gets tossed around a great deal when it comes to discussions on branding. Among real estate agents, however, commonalities are more obvious than differences.
Let's face it; the basic duties of every real estate agent are the same: you list homes, fill out paperwork, show houses and act as your client's intermediary.
This is where personal branding comes into play. What makes you different from most of the others? Perhaps it's your education – an agent with a juris doctorate or even a staging certificate has an angle that many other agents lack.
Previous careers often play into an agent's branding efforts as well.
As a former TV news anchor, Bob Sokoler with Re/Max Properties East in Louisville, KY is undoubtedly the best real estate video producer among the agents in the area. It makes him stand out, and he uses that as part of his branding.
Answer the following questions to help determine what makes you different:
What are your interests and passions? What motivates you?
What are your strengths? What behaviors, attitudes and abilities have consistently produced positive outcomes in your life?
Consider your education and previous work experience.
Get clear on what makes you remarkable. Those qualities, those aspects of you, are what will keep you from being a dime-a-dozen agent.
Then, state those qualities, commodities or even quirks in a declarative statement that helps you get a handle on your brand. "I am a high-end real estate agent giving the sophisticated consumer a stylish and tailor-made real estate experience," wrote a luxury agent.
2. Who is your Target Client?
Radio DJs are taught early in their careers to get a clear image of who they're talking to every time they open the microphone. They're told to imagine one person, and to speak directly to him or her.
Define your target client. It may help to create an actual profile of this person. For instance, if your passion for golf has lead you to decide to concentrate on golf course homes, your ideal client is, obviously, someone who plays a lot of golf. Is he retired with lots of spare time or a weekend warrior that hits the links as soon as the tie comes off? Golf isn't cheap, so this client most likely has disposable income.
Once you know who your target client is, you'll be in a better position to start thinking about how you'll brand yourself to attract this client and others like him.
"A brand has to resonate with the target market by standing out in the sea of sameness, and fit like a glove based on one's personal preferences," suggests Ron & Alexandra Seigel of Napa Consultants, International
3. Try it on
You know what sets you apart, you have a handle on the types of clients you'll attract, now you need to try some stuff on and see how they fit and how they'll be perceived in the marketplace.
"Are you flashy, edgy, comforting, or sophisticated? Does that fit the consumer base you're looking for?" asks Seattle broker Sam DeBord.
The "feel" you want to promote dictates how you'll build the basics of your brand, such as "logos, fonts, colors and graphics that fit the theme and relate it to your customers," DeBord says
Once you've found a good fit, you'll need to build that brand into your website, blog, business cards, brochures and everything else that makes up your business' public face.
"Not every agent can be the top salesperson in town, but each can find their own branding niche: dog-friendly agent, houseboat sales team, modern design brokerage, stone-cold investment-negotiation expert," DeBord explains.
"Then find visual guidelines and a business process to inform your specific customers that you are the right professional for their needs."
What will you be known for in the marketplace? It pays to take the time to figure that out.
Hurry! Empty Nest Scheduled Campaigns are on sale 10% OFF the first month for ONLY 3 MORE DAYS! (sale ends 3/20/21).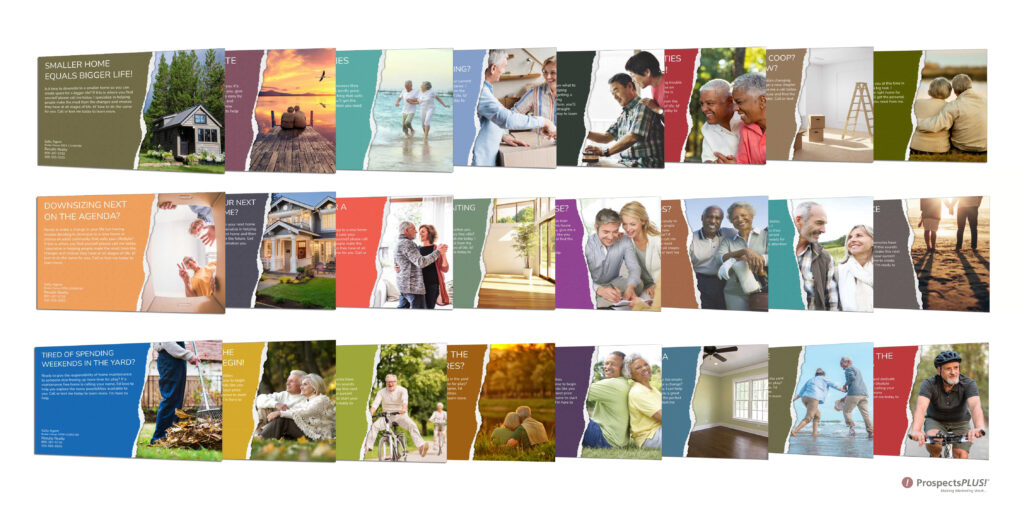 TO LAUNCH AN EMPTY NEST CAMPAIGN:
STEP ONE: Create your empty nest prospect list using the MapMyMail tool or Demographic Search tool, click HERE.
STEP TWO: Then, click on "FARM" on the Campaign page, select the Empty Nest Series, and follow the prompts, HERE.
And, remember, YOU DON'T PAY for each mailing until it actually goes out (cancel or change each mailing up until the night before each mailing goes out. The price shown at check out is per mailing, not campaign total).
Hit "CLICK HERE", below, to get started on your FARM Scheduled Campaign (from a desktop or laptop computer).
Please reach out to our support team at 866.405.3638 with questions or if there is anything we can do to help you with your success.
---
PLUS: When you have time…here are some helpful resources we've made available to support your success.
1. The Free 12 Month Done-For-You Strategic Marketing Plan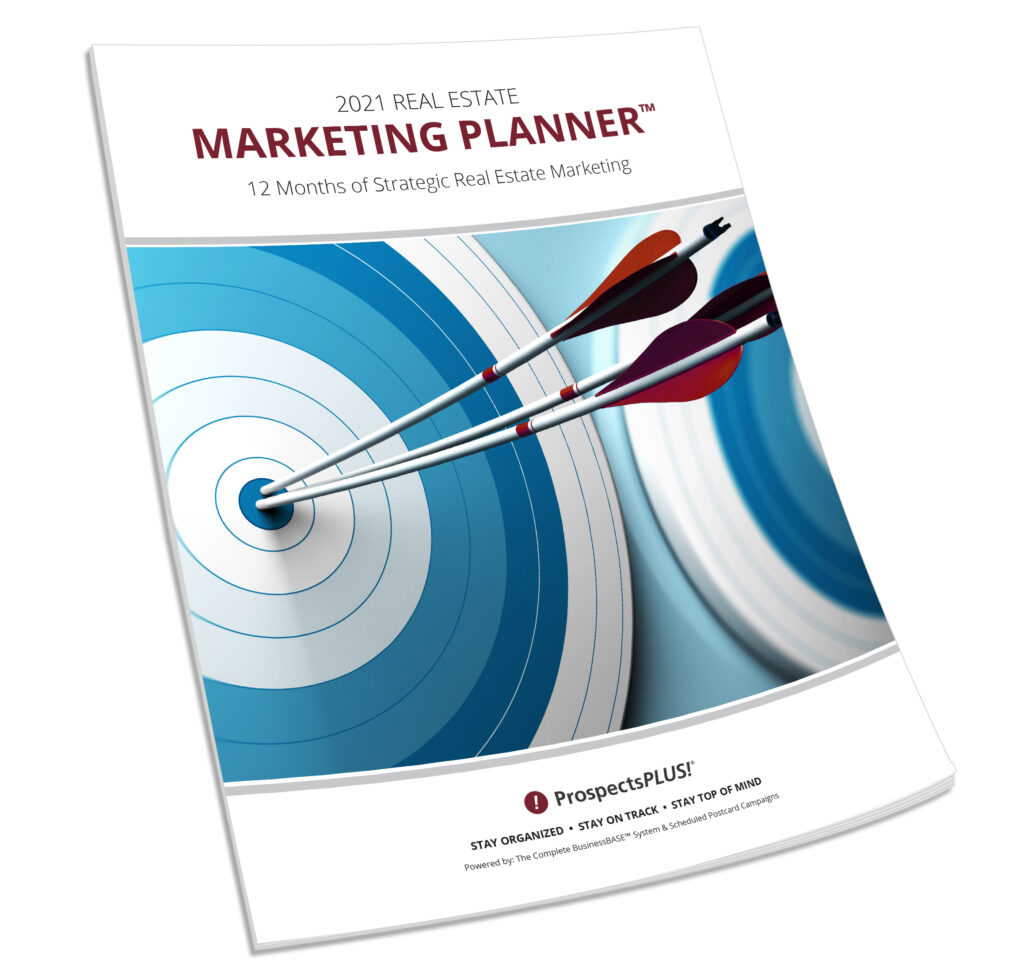 The Real Estate Marketing Planner is a powerful 12-Month-Guide that strategically defines what marketing to do when. Four key market segments are included, Niche Marketing, Get More Listings, Geographic Farming, and Sphere of Influence. –Click Here
2. The Free Interactive Real Estate Business Plan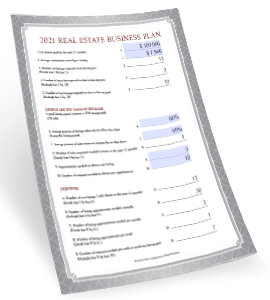 The Free Interactive Real Estate Business Plan allows you to enter your business goals for this year and get a breakdown of how many prospects, listings, closing, and so on are needed to reach your goals. – Click Here
3. Become a Neighborhood Brand
Become branded in a specific neighborhood with a 12X15 marketing piece sent automatically each month to an exclusive carrier route. Watch this video to learn more or Click Here.
4. The Free Real Estate Mailing List Guide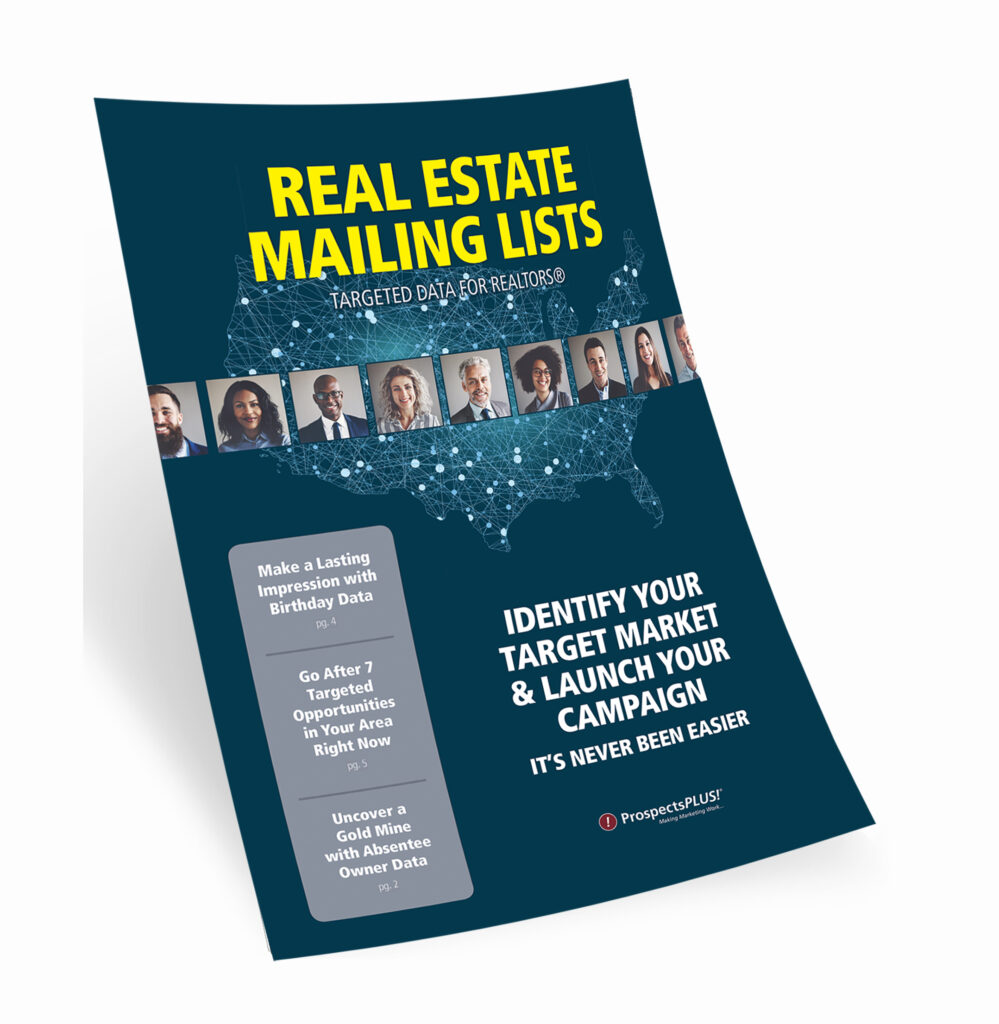 The Real Estate Mailing List Guide outlines the top tools for generating targeted prospecting lists including Baby Boomers, Empty Nesters, Investors, Lifestyle Interests, High-Income Renters, Move-Up Markets, and more. The Guide also defines done-for-you marketing campaigns to match these markets. –Click Here
5. Become a Listing Legend Free eBook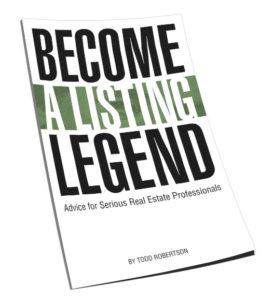 Ready to take a vertical leap in your real estate career? If you're looking for inspiration…and the tools and methods to dominate a market and go to the top in real estate…you'll find them in this free book. – Click Here
6. The Free Online ROI Calculator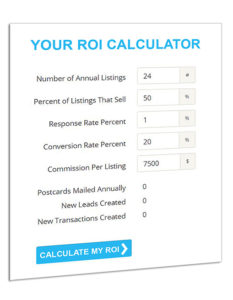 Consistency and automation are the keys to success. Discover how effective direct mail marketing can dramatically increase your bottom line. Enter your statistics in our Free online ROI Calculator and click the 'CALCULATE MY ROI' button to see your results instantly! –Click Here
7. The Free Real Estate Marketing Guide "CRUSH IT"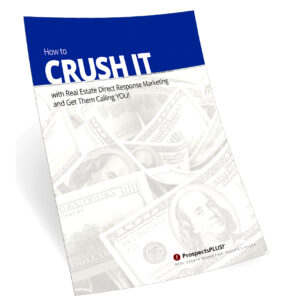 The "Crush It" Guide includes easy steps to launching an effective direct mail marketing campaign, how to create a targeted prospect list, the perfect way to layout marketing materials for success, seven opportunities available to target in your area right now. –Click Here