Confessions of First-Time Home Sellers: The 3 Things They Wish you knew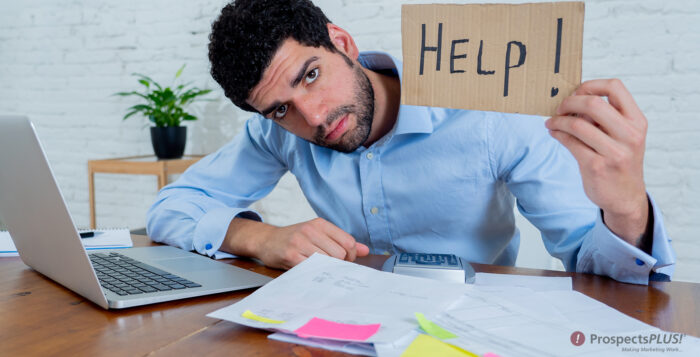 No matter how many homes your client has sold, the whole process of selling may still tie them up in knots.
They're scared.
Heck yeah, they're scared. Ninety five percent of the time the homeowner doesn't know you from Adam, yet here they are, putting what might be their biggest investment in your hands.
You breeze in, hand them a pen and a contract and walk out mumbling something about the MLS and a sign and lockbox.
Home sellers probably won't express their fears to you (you are a stranger, after all), but they'll stay awake at night, scary thoughts running through their heads. Tempers are short in a seller's home.
If they were to confess their fears to you, what do you suppose they would tell you and how can you help them overcome the anxiety?
1. How does this work?
If you purchased your home before you joined the real estate industry, you'll no doubt recall how weird the whole process felt. Your agent threw words around that you may have never heard before and she seemed to expect you to know what they meant.
Escrow, earnest money deposit, contingency and comps – these are words that aren't in the non-real estate person's lexicon. How exactly does the MLS work, anyway? Why does the buyer have to pay an earnest money deposit and a down payment?
While not completely understanding the listing and sales process may not keep your client awake at night, there's always that nagging fear of what may be coming next.
The fear of the unknown is common and so easy to remedy when it comes to your listing clients.
Walk them through it. Write up a Home Selling 101 course, in basic English, and include it in your listing package. Step-by-step, teach them how it's done so they don't have to guess at – or fear — what's next.
2. I'm Nervous
Buyers don't have a corner on the anxiety market. Sellers are anxious that the home won't sell, that they won't get the price they need or that they may end up with two house payments or, worse yet, end up homeless.
Even though the housing market has pretty much recovered from the pandemic, homeowners also still harbor a lingering sense of dread over how much equity they may have lost, regardless of how much they've regained.
The great-big fear that you'll purposefully underprice the home to get a quick sale is usually not mentioned by the homeowner. It exists, nevertheless.
Again, knowledge is power. Take the mystery out of the whole issue of market value by giving them a basic tutorial on how it is determined, both by you and by the lender's appraiser.
There are also ways around the "should I sell before I buy" conundrum, so that one is easy to deal with.
If it's equity they're worried about you can help them find out exactly what they owe on the home. You are the problem solver, and they should know that. It might just put them at ease enough to share other concerns with you.
3. I'm Scared of Someone Stealing from me
Believe it or not, this is a huge fear for homeowners. Will people rifle through their drawers? Will they steal from them? It's an understandable worry – there are strangers wandering through their home.
You know how to deal with this, but for the new agent, let's walk through it. All items of value, especially small, pocket-size pieces should be either locked away or removed from the home while it's on the market. This includes prescription medications and, especially, weapons.
Don't throw this suggestion out half-heartedly. Let your client know that thefts do happen and the only way to protect their belongings is to remove the temptation for those less-than-honest folks who may be going through their house.
Honorable Mention
If you work with seniors, even occasionally, take the previously mentioned angst, multiply the fear factor by three and throw in the following:
More than one-third of seniors who are moving are afraid of change. They are anxious about leaving the familiar for a strange place.
Many are sad about leaving their neighbors.
Many have an intense emotional attachment to the home.
Understanding that your listing client may harbor these concerns allows you to face them head-on, before he or she gets seller's remorse.
While nobody expects you to be part psychologist in a real estate transaction, it's important to understand that your listing client's curious behavior may stem from confusion about the process.
You, as his or her agent, are the only person in a position to ease the anxiety and all it takes to do so is slowing down long enough to provide clear, basic guidance and advice.
If you knew that your client is a nervous wreck, what would you do or say to help? It's important to dig deep to find out, first, if they're anxious, and, second, why. Then you can help solve the problem.
Send the Take Advantage of the Market postcard from the Get More Listings Series to promote your new listing to the surrounding area.
Need help targeting a specific niche of buyers or sellers? Use our Demographic Search Tool to create the ideal list (it's easy). Or call our support team for assistance at 866.405.3638!
PLUS: When you have time…here are some helpful resources we've made available to support your success.
1. The Free Real Estate Mailing List Guide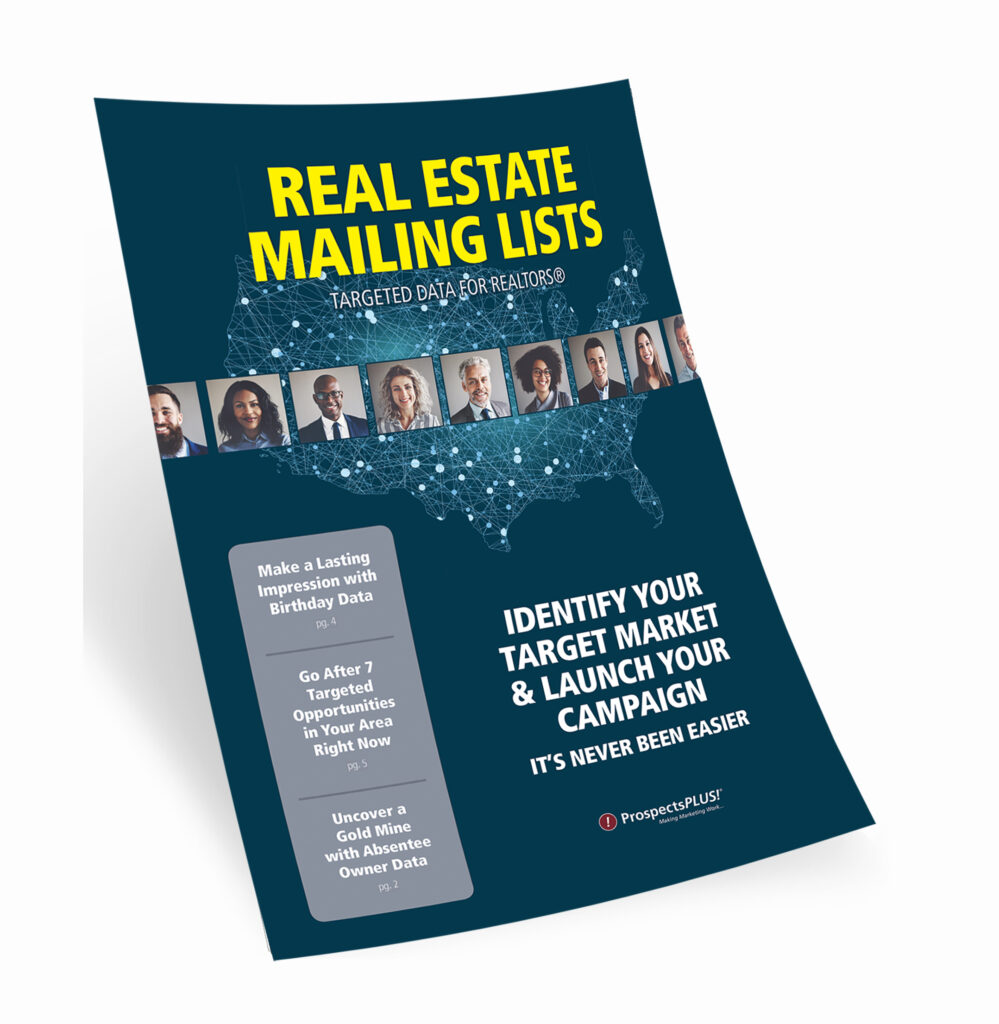 The Real Estate Mailing List Guide outlines the top tools for generating targeted prospecting lists including Baby Boomers, Empty Nesters, Investors, Lifestyle Interests, High-Income Renters, Move-Up Markets, and more. The Guide also defines done-for-you marketing campaigns to match these markets. –Click Here
2. The Free 12 Month Done-For-You Strategic Marketing Plan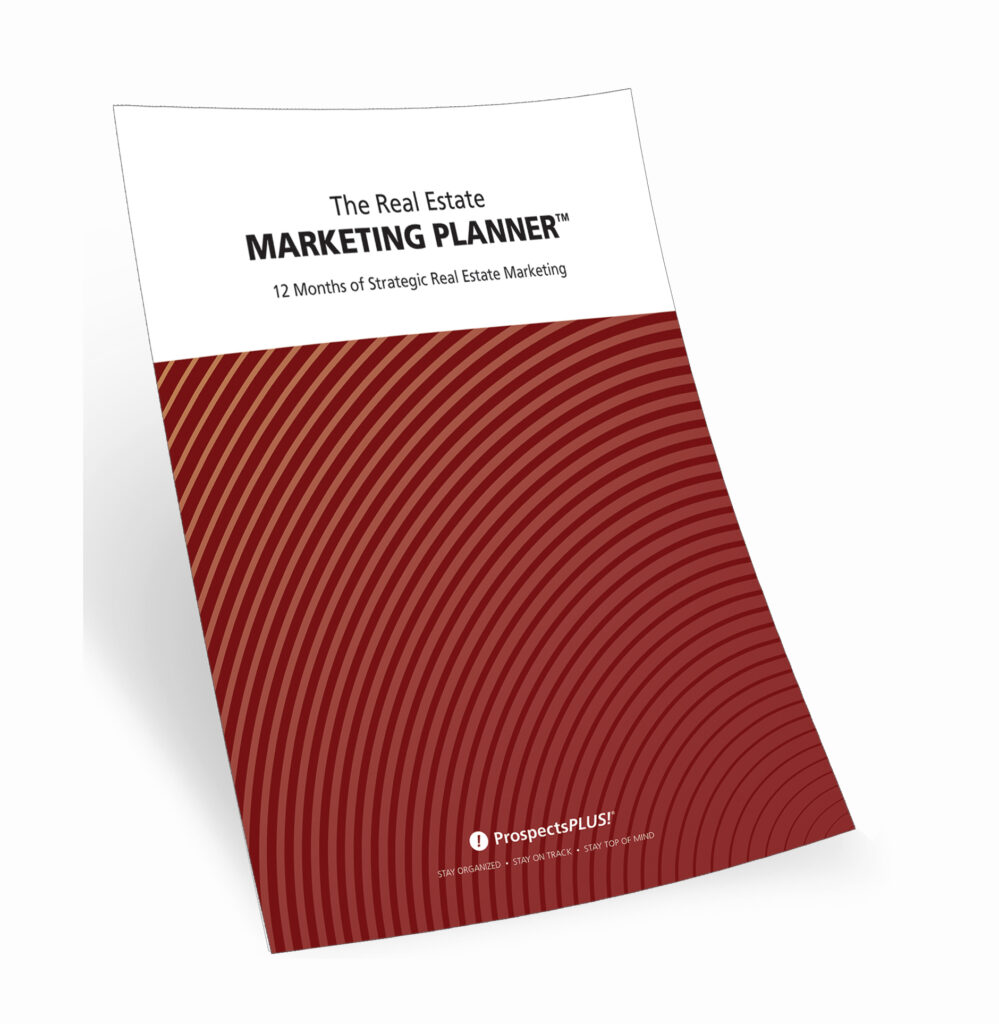 The Real Estate Marketing Planner is a powerful 12-Month-Guide that strategically defines what marketing to do when. Four key market segments are included, Niche Marketing, Get More Listings, Geographic Farming, and Sphere of Influence. –Click Here
3. The Free One-Page Real Estate Business Plan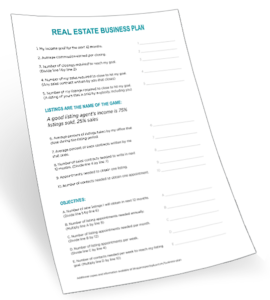 Treat your business like a business it is vital to long-term success in this industry. Some agents may put together elaborate business plans, yet there's something powerful about keeping it simple. Check out our one page Online Real Estate Business Plan. – Click Here
4. Become a Listing Legend Free eBook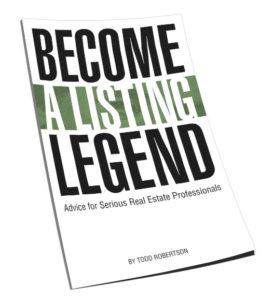 Ready to take a vertical leap in your real estate career? If you're looking for inspiration…and the tools and methods to dominate a market and go to the top in real estate…you'll find them in this free book. – Click Here
5. The Market Dominator
Become branded in a specific neighborhood with a 12X15 marketing piece sent automatically each month to an exclusive carrier route. Watch this video to learn more or Click Here.
6. The Free Online ROI Calculator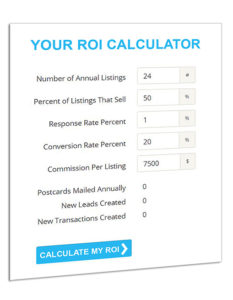 Consistency and automation are the keys to success. Discover how effective direct mail marketing can dramatically increase your bottom line. Enter your statistics in our Free online ROI Calculator and click the 'CALCULATE MY ROI' button to see your results instantly! –Click Here
7. The Free Real Estate Marketing Guide "CRUSH IT"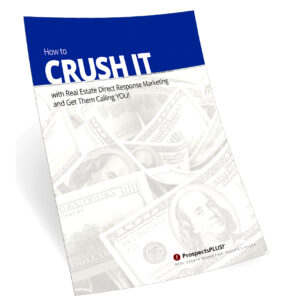 The "Crush It" Guide includes easy steps to launching an effective direct mail marketing campaign, how to create a targeted prospect list, the perfect way to layout marketing materials for success, seven opportunities available to target in your area right now. –Click Here