With Geographic Farming Done Right
By Julie Escobar
Geographic farming has roared back to the marketing forefront for agents in our industry in ways we haven't seen in years. Why? Because – when done right – it works.
And what exactly is "done right"? It's when agents who are committed to consistency step up to make themselves known in a neighborhood in real and meaningful ways – getting out into communities, shaking hands, meeting people, making introductions and making a difference.
To talk about one creative tool for geographic farming, the Market Dominator, I sat down with Dominator Director Todd Robertson to learn a little more about the system, the agents who are using it and what it takes to really make an impact on a market area.
Q: Todd, you work with agents across the country who are growing their market share by doing smart geographic farming. Can you tell us a little about the Market Dominator?
A: Sure! This product evolved out of necessity. Agents around the country were asking for a consistency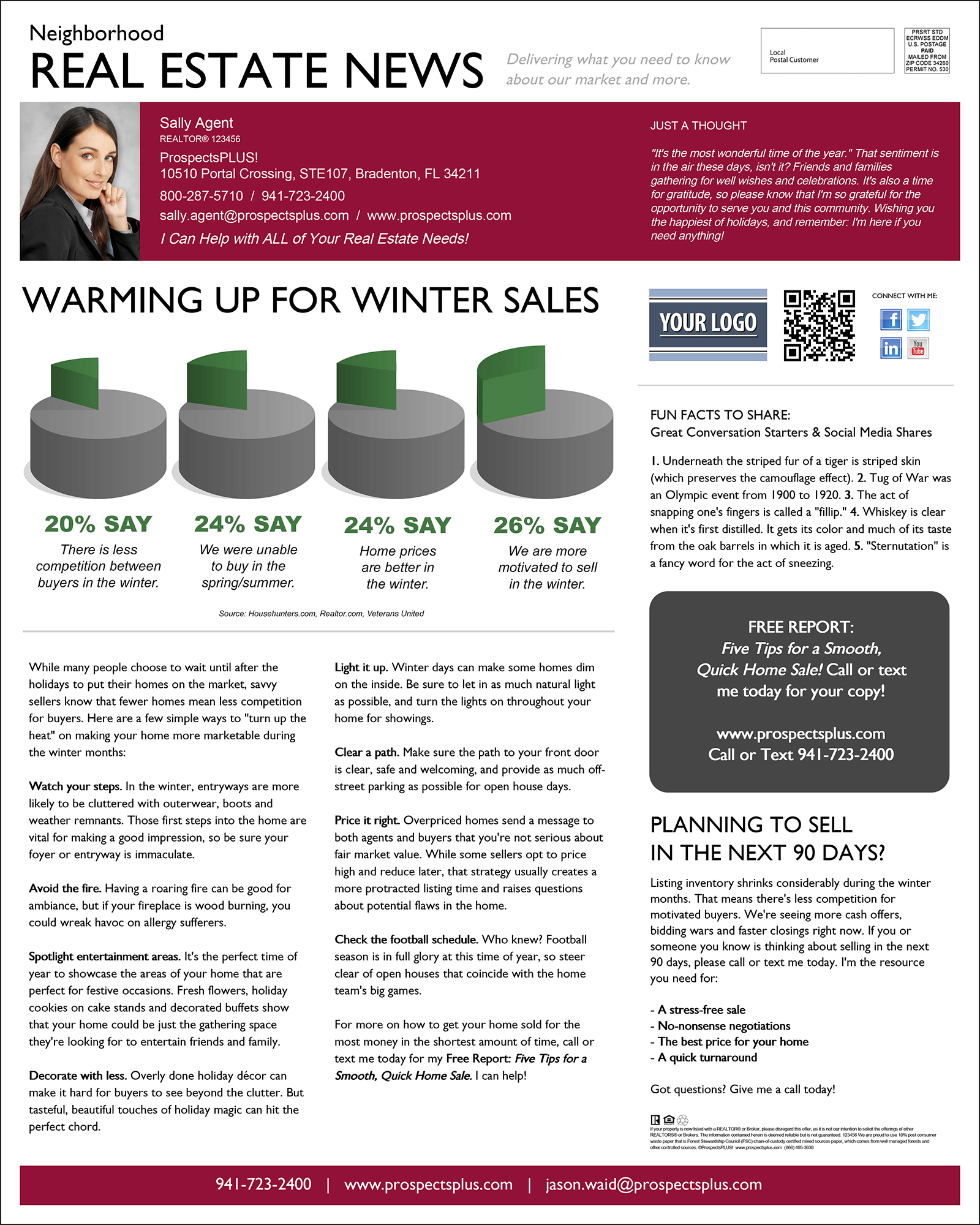 program that would allow them to truly dominate a neighborhood or piece of geography. After six months of research with our team, we came up with the product for our agents called the Market Dominator, which utilizes Every Door Direct Mail with the USPS. At 12" x 15", it's the largest legal size that can be sent through the mail, so it doesn't get overlooked in the mailbox. The content is created every month by our team of writers, who do an outstanding job of weaving in the eight best practices of direct mail. And agents love it because it's either 100% done for them or 90%, meaning they can make some changes to the back. And with our national sponsors on board now, we can literally send it for the price of a first-class postcard. The other great thing about it is that it's a two-year campaign… kind of like joining the gym, your personal trainer makes you go.
Q: We both have been in this industry for a long time, and we both know that marketing alone is not what takes agents to the top of their game. It's follow up and relationship building. Can you tell us some of the powerful ways Market Dominator members are going above and beyond to support their marketing mailing efforts by connecting with the folks in their farm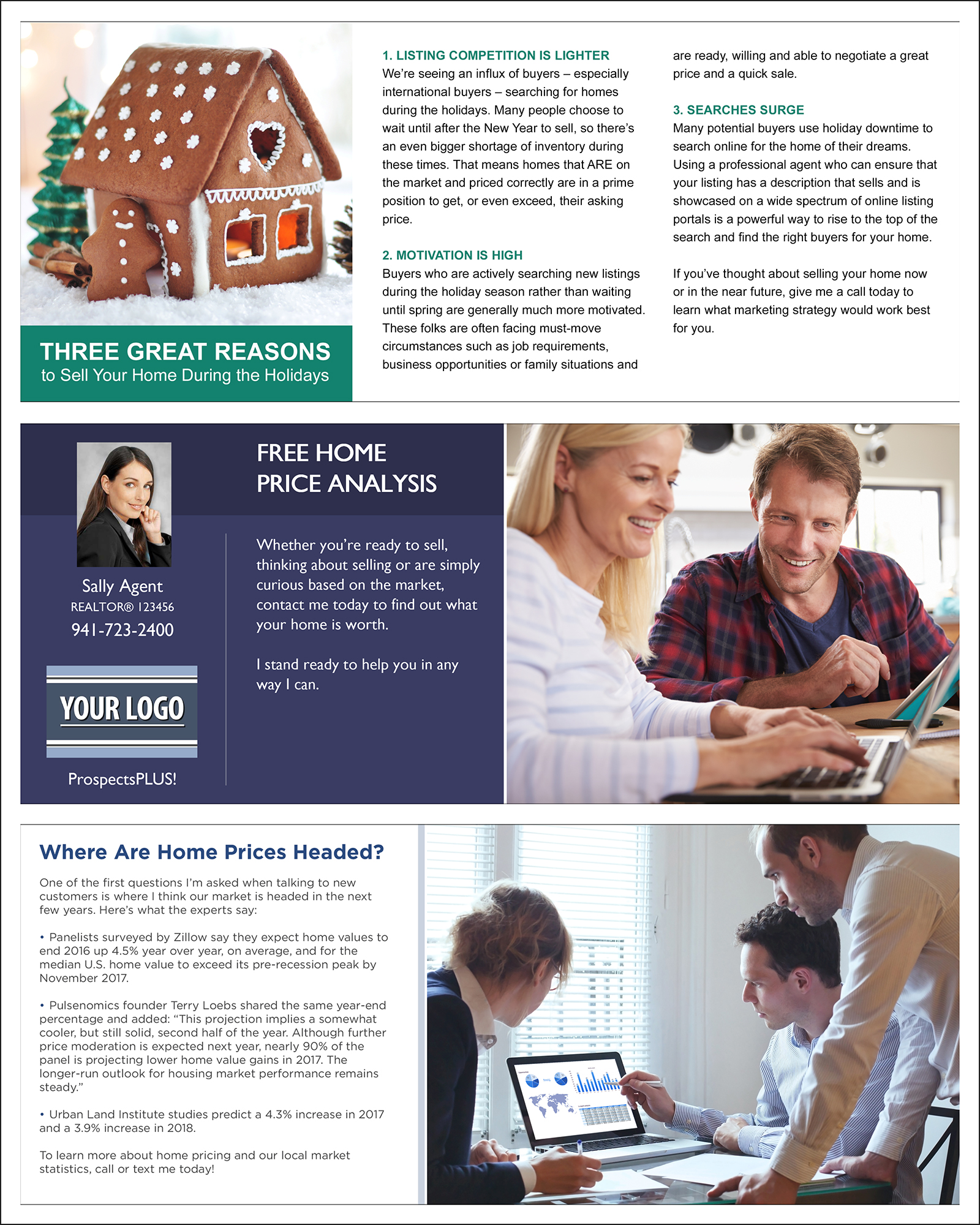 neighborhoods?
A: In terms of what our best agents are doing supplementing the Market Dominator to increase their success rate in their numbers, we're seeing them do things like canvassing their farms with door hangers,  introducing themselves to everybody in the neighborhood, being consistent in sending out new on the market or Just Listed postcards when they get a listing and holding open houses in their carrier routes and making a splash in the area with signs and balloons on every street, every artery when they do. That way, when the Market Dominator shows up in that mailbox, the homeowners will see it and say, "Oh yeah, that's Susie. I see her all over the place; she's the neighborhood specialist."
Q: We've talked about the tremendous opportunity agents have to reach out to the businesses that surround or are in their farm area to build reciprocal referral relationships. Can you share your thoughts on that?
A: Some of our Market Dominator members have given us ideas that we never thought about before that we try to share with our new members. One of them is to go after the local businesses in and/or around that carrier route. It's really an outstanding strategy, because they can utilize the extra 20 Dominators that we give them each month in a clever way.
One of our great agents up in the Northeast simply takes her 20 and goes to every business where people have to wait, such as a hair salon, oil change shop and restaurants. She said the best was actually auto dealerships. What she would do in auto dealerships is first go in and make an introduction to the general sales manager that goes something like, "Hi, I'm Susie with XYZ Realty. I'm the neighborhood real estate specialist in this area. Would you mind if I leave a couple of these in the lobby of your service department?"
What's great about that strategy is, number one, she's prospecting the service manager, who becomes a mover and shaker on her SOI list – meaning she visits every month and has offered to let him or her know if a great listing comes on the market. Think about how most cities have what they call "auto dealership row," where several dealerships are all on the same street. If you're like Susie, you go right down that strip and pass out two or three Dominators in each dealership, meet some incredible new people and start establishing relationships in a pretty short period of time.
Number two, she's leaving valuable content, with her name, face, contact information and calls to action in a place where a lot of people congregate. Think about when you have to have your car serviced, and you've had to wait anywhere from an hour to a full day in the guest services lounge. What are most people doing when they're waiting? They're looking at their phones or whatever magazines are sitting there, right? Imagine if two or three Market Dominators were sitting there with Ritz Carlton quality, filled with great information for people to peruse. Agents who are utilizing this tiny local business strategy with consistency, who have mastered their presentation skills and aren't afraid to follow up, could find themselves with anywhere from two to 20 extra closings per year.
Q: What about agents who are afraid to follow up, either in person (door knocking) or on the phone? Any advice for them?
A: Some agents just want to send their marketing out, then sit back and see what happens. In my mind, to be great in real estate you have to be obsessed, or you end up being average. By "obsessed," I mean you've already made a commitment to your neighborhood farm, so why not stretch yourself a little and go make an introduction? One way or another, knowing that you're simply providing a great service to help these people buy or sell real estate is powerful motivation to meet people.
I also would say if somebody is still afraid or hesitant to follow up, spend a couple days and get so good at your listing presentation, get so great at overcoming objections, so great at your value proposition that you can't help but have a relaxed sense of confidence. This will do a couple of things for you: It will get you excited to go out and meet people and prospect, which is the one thing most people hate doing (usually because they aren't as confident in their presentation), and it will force you to fine-tune your skills, which will help you enjoy a long-term career.
Q: Consistency and sticking to a plan is a powerful combination for success in our business. Will you share why making the Dominator part of a consistent marketing plan is a smart strategy?
A: In terms of doing any marketing, consistency has to be part of the plan – whether it's in real estate marketing, building wealth or getting in shape. The Market Dominator gives agents what they told us for many years they wanted: a two-year campaign. According to the National Association of REALTORS®, if your competition is going to do any marketing, history says they quit after the third contact. Yet we know that most activity doesn't happen until after the fifth contact. So staying in the game for the duration is vital.  
Q: Any last words of advice for our readers?
A: First, I would say that if you're reading this article or reading our magazines or blogs and looking for real estate strategies and insights, you've already separated yourself from the competition. Because for you and me to get great at anything, we must remain a student of life. So I congratulate you on taking that step. Whether it's the Market Dominator, one of our other great products or you just want to call our home office and brainstorm, our team is always willing to help you find the real estate marketing product that best fits your needs, your market and your area.
Thanks for the information and insight, Todd!
If you'd like to learn more about the Market Dominator System, visit www.prospectsplus.com/dominator, or call Todd directly at 855-383-6646.