What You Do Defines Your Course of Success
by Todd Robertson
There's a saying that sticks in my head from my days training for Floyd Wickman. He used to say, "there's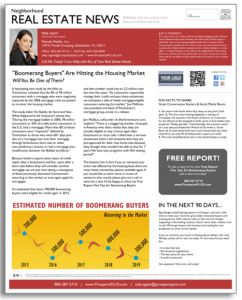 nothing special about special people – it's what they DO that makes them special."  How true. So many people go through the motions of working in and on their business – but stop short of taking the massive, pro-active action that it takes to get extraordinary results.  I just recently had a conversation with one of our Market Dominator customers who believes in taking action in big ways, and in turn, is getting big results.
First, a disclaimer. Of course we recognize that there are different markets out there, and different results for different agents depending on those markets as well as agent experience and skill level.  What we also recognize after more than 25 years in this industry is that two factors really stand out when agents are firing on all levels:  skills and motivation.  This week, I challenge your to rate yourself in both categories and see if there is room in either to raise the bar so that you can raise your results.
Our Dominator Member, Patrick, dug in and took massive action. He not only signed on for the two year campaign, but he's sending 5,000 of the 12 x 15 Market Dominator pieces per month.  Most folks take one or two carrier routes, which average anywhere from 500-1000 homes.  Patrick is sending to 5,000 each and every month.  He recently shared that after just the first couple mailings he's taken three listing calls and recently took one listing that he listed and sold before the sign went up, getting both sides of the transaction.  That's extraordinary, but it also showcases how he's working and raising the bar in those two areas — skill and motivation. To generate listings and sales the way he does he has to not only market effectively, but be able to execute on that marketing.  He has to be on the top of his game in three additional areas:  presentation, qualifying people, and pricing property right the first time.  And given his results, I'd say he's crushing all three.
Analyze yourself, your skills and motivation from 1-10.  What's your energy level?  Your enthusiasm?  Your willingness to prospect? (Most agents least favorite thing to do.) Your listing presentation?  Your ability to price it RIGHT not just tell the seller what they want to hear? How are your negotiation skills? What's your follow up look like? Ask yourself if you are at a 1-4 on any of those levels — how do you get to a 10?
Here's why:  action supersedes everything.  If you're willing to take your game from a 1 or a 3 to a 10 in every area of your business – do you think it might bee worth 5, 10 or even 20 additional listings per year?  I can tell you from experience — it absolutely can.  We're only in month two of the year.  Are YOU ready to take ACTION?
Need help? Contact our marketing team at 866.405.3638. They're ready to help with all your marketing needs.  Interested in learning more about the Market Dominator?  Contact Todd Robertson today via call or text at 702-683-1967