Want to Increase Brand Exposure and Stay Relevant? Automate Your Marketing!
You have created your real estate business, and you have poured your heart and soul and
countless hours into building up a marketing strategy, curating a prospect list, and strengthening
network ties.
It all takes so much time, and you wear a dozen different hats in the office trying to balance everything and keep things moving in a positive direction.
When clients need a real estate agent, it pays to have an easily recognizable name at your client's fingertips. But coming up with fresh, eye-catching content and sticking to a regular schedule is so time-consuming.
Build your brand and build trust with automated marketing campaigns. Make efficiency work for you.
Put Your Time to Better Use
Automating your marketing ensures you adhere to your long-term marketing strategies and you never miss a single campaign.
Scheduling postcard campaigns to go out automatically at regular intervals frees up time to
focus on prospecting, handling listing appointments, and developing other business growth strategies.
Meanwhile, targeted campaigns are working in the background to drive customer engagement and
ensure clients have your name in mind when it is time to list a home or find a new property.
---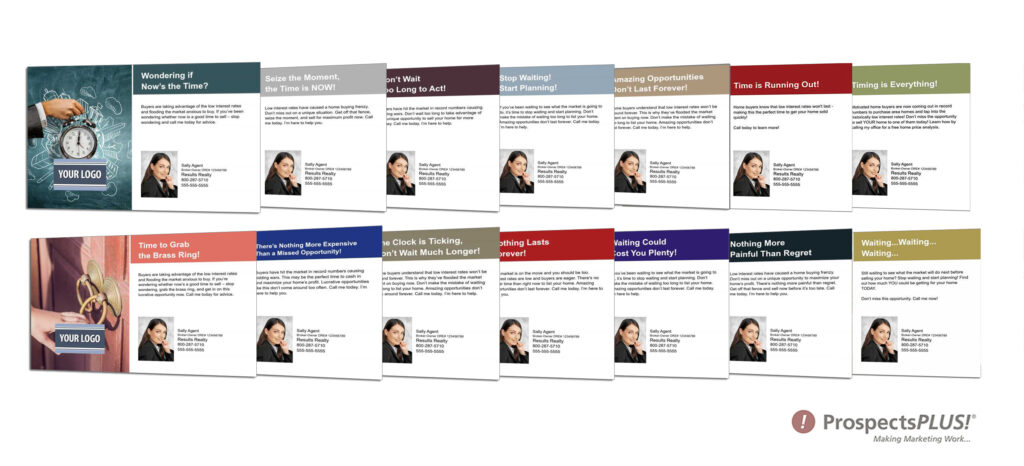 The Farm, Fence Sitter automated campaign is shown above. See more, HERE.
---
Scheduled postcard campaigns give you the competitive edge
Now more than ever, your time is valuable. Real estate marketing must keep up with fast-paced
market demands. The supply-and-demand crunch in the real estate market continues.
When you automate your marketing with a scheduled postcard campaign, you can invest the remaining time in staying competitive.
Regardless of speculated market shifts, homebuyers and homeowners will continue to look to trade up or relocate and will be reaching out to agents to take the plunge.
With an ongoing scheduled postcard campaign, you ensure your name is front and center with your target market when they are ready to strike.
In addition, you can customize your campaign message to better fit your local housing market. For instance, many fence-sitting homeowners are unsure this is the right time to sell.
The Fence Sitter postcard campaign is designed with the ideal message that speaks to their looming concerns.
The smart money is on automation
According to Lenskold Group,
78% of marketers reported marketing automation increased revenue for them.
And, 75% of brands saw a return on investment within 12 months as a result of using automated marketing campaigns (Focus Research study).
Designing a campaign from scratch that looks professional and hits the right notes is no easy feat. The pressure to consistently come up with unique campaigns can take time away from listing presentation prep and new networking efforts.
The best way to make every moment count, raise your brand profile, and stay relevant, is by launching an automated marketing campaign. To get started, click here.
---
PLUS: When you have time…below are some marketing tools to help support your success.
1. Put Your Real Estate Business a Step Above with Your Own Branded Magazine
Homes & Life Magazine is a customizable magazine, with rich, full-color content, and a sharp, professional esthetic. It includes compelling, direct response-driven articles written by real estate industry experts, combined with engaging lifestyle content. Send out Homes & Life Magazine in Just Minutes – No Minimums Required. Or we'll ship it to you.
Homes & Life Magazine is the ultimate "Coffee Table Lingerer"! …and, it costs less than sending a greeting card! – Click Here

2. The Free 12 Month Done-For-You Strategic Marketing Plan
The Real Estate Marketing Planner is a powerful 12-Month-Guide that strategically defines what marketing to do when. Four key market segments are included, niche Markets, geographic farming, sphere of influence, and past clients. – Click Here
3. The BusinessBase, SOI building system
The most effective thing you can do to build a real estate business is to become more visible, more likable, and remembered more often. The BusinessBASE™ not only checks all of these boxes, but it is a business building machine. In two easy steps, you can begin to build a robust sphere of influence that will provide you a lifetime of repeat business and referrals. – Click Here
4. The Free Interactive Real Estate Business Plan
The Free Interactive Real Estate Business Plan allows you to enter your business goals for this year and get a breakdown of how many prospects, listings, closing, and so on are needed to reach your goals. – Click Here
5. The Become a Listing Legend Free eBook
Ready to take a vertical leap in your real estate career? If you're looking for inspiration…and the tools and methods to dominate a market and go to the top in real estate…you'll find them in this free book. – Click Here
6. The Take a Listing Today Podcast
Watch the ProspectsPLUS!, Take a Listing Today Podcast for actionable content to help you get more listings. – Click Here
---